Cygnus® 2
Controllers
Cygnus® 2
The Best Measurement Precision Possible for OLED Applications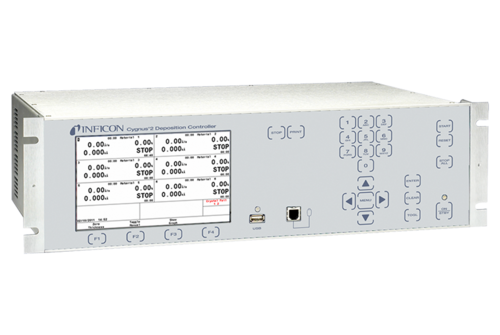 Product configurator
Gemini™ MxG5xx
Flange connection to vacuum chamber
Your configuration has been successfully sent!
Cygnus 2 Thin Film Deposition Controller provides exceptional value by combining the proven performance of INFICON thin film controllers with unique features, all designed for you to achieve the most from your OLED process.
Cygnus 2 uses our ModeLock frequency measurement system to provide stable, high-resolution rate and thickness measurement with an industry-leading rate resolution of .00433 Å/s every 1/10 second. No other quartz crystal controller has the performance, quality, and features of Cygnus 2, allowing you to make excellence repeatable.
Features
INFICON ModeLock technology ensures the most stable, highest resolution rate and thickness measurement available, even at very low rates
Auto Z improves thickness accuracy by automatically determining the Z-ratio as material is deposited
Up to six sources can be controlled simultaneously, independently or in any combination by one Cygnus 2, relieving the need for two or three controllers
Color TFT LCD display makes it easy to see what's going on with your process
10 Hz measurement
+/-0.0035 Hz over 100ms sample
USB data storage for screen shots, recipe storage and data logging
Thickness summing of multiple sources
Measurement rate averaging for low density, very low rate materials (up to 30 seconds for use with stable sources for very low rate OLED dopant material deposition)
Display rate resolution of up to 0.001Å
4 meter XIU option provides the ability to use long in-vacuum sensor cables for large systems
Non-deposit control allows for continuous source control as substrates are cycled through the deposition chamber
6 DAC outputs standard, 6 additional optional for source control, rate or thickness monitoring
Optional Ethernet communications
RoHS compliant
Specifications
Measurement Performance
Thickness and rate resolution/measurement (1)
±0.00433 Å
Measurement frequency range
6.0 to 4.5 MHz (fixed)
Process Recipe & Data Management
Material programs
6 independent materials
Number of sources (2)
up to 6
(1) Tooling/density = 100/1, fundamental frequency = 6 MHz
(2) Cygnus 2 has 6 DAC outputs standard, 6 more can be added as an option. Any of the 12 can be configured as source control voltages or recorder outputs however the number of sources that can be controlled simultaneously is 6
Part Number
Accessories
Accessories and Replacement Parts
Consumables
| | |
| --- | --- |
| Part Number | Description |
| 779-220-G1 | CrystalTwo® Switch, 15.2 cm (6 in.) BNC Cables |
| 779-220-G2 | CrystalTwo® Switch, 50.8 cm (20 in.) BNC Cables |
| Oscillator kits | (Includes oscillator and cables) |
| 781-611-G15 | XIU PKG with 4.6 m (15 ft.) cable - For use with Cygnus 2, IC6, or XTC/3 |
| 781-611-G30 | XIU PKG with 9.1 m (30 ft.) cable - For use with Cygnus 2, IC6, or XTC/3 |
| 781-611-G50 | XIU PKG with 15.2 m (50 ft.) cable - For use with Cygnus 2, IC6, or XTC/3 |
| 781-611-G100 | XIU PKG with 30.5 m (100 ft.) cable - For use with Cygnus 2, IC6, or XTC/3 |
| 781-612-G15 | 4m XIU PKG with 4.6 m (15 ft.) XIU cable - Includes 4 m in-vacuum cable and 6 in. BNC (XIU to feedthrough) cable - For use with Cygnus 2, IC6, or XTC/3 |
| 781-612-G30 | 4m XIU PKG with 9.1 m (30 ft.) XIU cable - Includes 4 m in-vacuum cable and 6 in. BNC (XIU to feedthrough) cable - For use with Cygnus 2, IC6, or XTC/3 |
| 781-612-G50 | 4 m XIU PKG with 15.2 m (50 ft.) XIU cable - Includes 4 m in-vacuum cable and 6 in. BNC (XIU to feedthrough) cable - For use with Cygnus 2, IC6, or XTC/3 |
| 781-612-G100 | 4m XIU with 30.5 m (100 ft.) XIU cable - Includes 4 m in-vacuum cable and 6 in. BNC (XIU to feedthrough) cable - For use with Cygnus 2, IC6, or XTC/3 |
| 781-613-G15 | 4m XIU PKG with 4.6 m (15 ft.) XIU cable - Includes 3.5 m in-vacuum cable and 20 in. BNC (XIU to feedthrough) cable - For use with Cygnus 2, IC6, or XTC/3 |
| 781-613-G30 | 4m XIU PKG with 9.1 m (30 ft.) XIU cable - Includes 3.5 m in-vacuum cable and 20 in. BNC (XIU to feedthough) cable - For use with Cygnus 2, IC6, or XTC/3 |
| 781-613-G50 | 4m XIU PKG with 15.2 m (50 ft.) XIU cable - Includes 3.5 m in-vacuum cable and 20 in. BNC (XIU to feedthrough) cable - For use with Cygnus 2, IC6, or XTC/3 |
| 781-613-G100 | 4m XIU PKG with 30.5 m (100 ft.) XIU cable - Includes 3.5 m in-vacuum cable and 20 in. BNC (XIU to feedthrough) cable - For use with Cygnus 2, IC6, or XTC/3 |
| Oscillator Only | (No cables included) |
| 781-600-G1 | XIU (oscillator) - For XIU to sensor head cable lengths of 15 to 183 cm (6 to 72 in.) - For use with Cygnus 2, IC6, or XTC/3 |
| 781-600-G2 | XIU (oscillator) - for XIU to sensor head cable lengths of 3 to 4 m (118 to 157 in.) - For use with Cygnus 2 or IC6 |
| Cables | |
| 755-257-G6 | 15.2 cm (6 in.) BNC cable, XIU to vacuum feedthrough |
| 600-1261-P15 | 4.6 m (15 ft.) cable, Cgynus 2, IC6 or XTC/3 controller to XIU |
| 600-1261-P30 | 9.1 m (30 ft.) cable, Cygnus 2, IC6 or XTC/3 controller to XIU |
| 600-1261-P50 | 15.2 m (50 ft.) cable, Cygnus 2, IC6 or XTC/3 controller to XIU |
| 600-1261-P100 | 30.5 (100 ft.) cable, Cygnus 2, IC6 or XTC/3 controller to XIU |
Part Number
The product is used in the following markets