Mobile Air Conditioning (MAC) Systems
Mobile Air Conditioning (MAC) Systems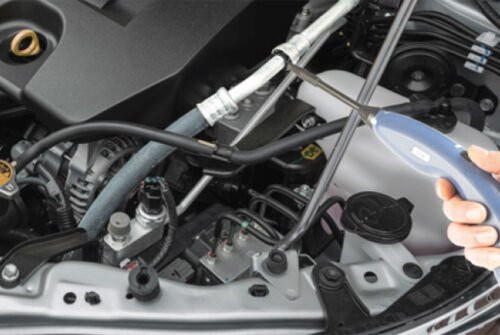 R1234yf has now replaced the climate-harmful R134a in almost all car air conditioners. The new refrigerant can be operated in AC systems at the usual pressure of 10 to 15 bar. Some manufacturers in the luxury segment avoid any potential problems with the flammable R1234yf by using CO2 (a.k.a. R744) at higher pressures, and also with greater design complexity. In any case, follow the established rule of thumb of a maximum leak rate of 2-5 g of refrigerant per year.
This refrigerant leak rate is equivalent to testing against a helium leak rate of 2∙10-5 mbar∙l/s. During production, most air conditioning components are tested against leak rates in the range of 10-5 mbar∙l/s. When leak testing with the INFICON LDS3000 in the vacuum chamber, you achieve particularly short cycle times. Evaporators, condensers, hoses or filling valves can also be leak tested with the more cost-effective accumulation method and the LDS3000 AQ.
Aftermarket MAC repair must be performed thoroughly and properly the first time to avoid repeat repair work and unsatisfied customers. With INFICON Automotive Service Tools (AST), repair technicians can be confident they will find small leaks that would have caused big problems. This line of handheld tools is designed specifically for the automotive aftermarket repair industry, and can be trusted for any application, from standard refrigerants such as R134a and R1234yf, to CO2 and hydrogen forming gas.
We are happy to support you in finding the solution that best fits your needs! Just contact us!
You want to learn more about leak testing of Mobile Air Condioning Systems?
Check out our application notices!
Download Free Leak Testing E-Book