Cool Drawer Dual Sensor
Sensors & Feedthroughs
Cool Drawer Dual Sensor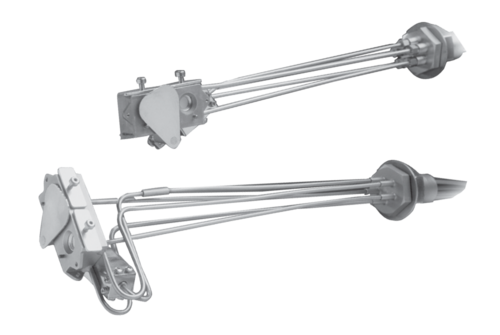 Product configurator
Gemini™ MxG5xx
Flange connection to vacuum chamber
Your configuration has been successfully sent!
The Cool Drawer Dual Sensor is designed for use in critical processes where it is desirable to have a second crystal in the vacuum chamber.
Water cooled, cast stainless steel sensor body, two Cool Drawer crystal holders and a pneumatically actuated shutter provide for a rugged sensor head with the extra reliability of a backup crystal. A cleaner, more reliable vacuum system installation is possible as there are no coaxial cables inside the chamber.
Features
Dual crystals
Cool Drawer crystal holder
No internal cables
Crystal shutter
Available with: CF40 feedthrough and 2.54 cm (1 inch) bolt feedthrough
Bakeable if ordered with welded CF40 flange
Adjustable length if ordered with compression fittings
Sensor/feedthrough combinations available welded to customer specified lengths
Specifications
Cooling water
Minimum water flow of 150 to 200 cm³/min using 1/8 in. O.D. tube, 30°C max. (Do not allow to freeze)
Materials
304 stainless steel, ceramic, beryllium nickel
1 in. bolt and compression fitting sealed terminations
Temperature
Operational environment to 300° C with water cooling or 165° C without
Download full specifications
Part Number
| | |
| --- | --- |
| Part Number | Description |
| 750-420-G1 | Solenoid Valve, 24V (for use with shuttered and multi-crystal sensors) |
Part Number
Spare Parts
| | |
| --- | --- |
| Part Number | Description |
| 123259 | Cool Drawer Sensor Crystal Retainer |
| 123261 | Cool Drawer sensor Drawer |
| 123260 | Cool Drawer Sensor Drawer and Retainer Combo |
| 147206-2 | * Bellows with 35 in. tube |
| 147207 | Bellows and cover assembly (Includes all parts marked with *) |
| 147401 | Shutter |
| 147402 | Link |
| 147403 | * Actuator |
| 147406 | * Bellows support |
| 147407 | * Bellows Cover |
| 147408 | * Threaded shaft |
| 147411 | Spacer |
| 147424 | * Bellows tube |
| 082-026 | # 2-56 Nut (part of heat shield assembly) |
| 082-064 | * Lockwasher |
| 084-205 | * #4-40 x 3/16 Phillips screw |
| 800128 | #4 Lockwasher |
| 800371 | Shoulder Screw |
| 800372 | Washer |
| 800416 | * 6-32 x 3/16 in. set screw |
| 803313 | * Spring |
| 123223-2 | Conduit brazed assembly - short pin |
| 803102 | O-ring for 5 port adjustable feedthrough |
| 803261 | Washer for 5 port adjustable feedthrough |
The product is used in the following market