XTC/3
Controllers
XTC/3

Advanced, Affordable Rate Control for Single or Multiple Layers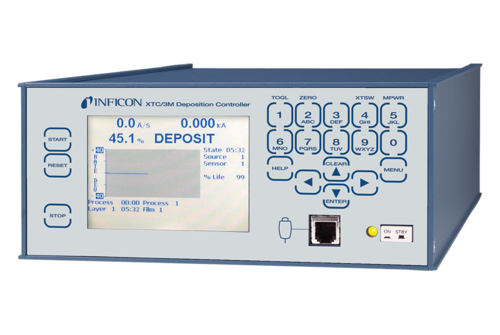 Product configurator
Gemini™ MxG5xx
Flange connection to vacuum chamber
Your configuration has been successfully sent!
Now get everything you want in a thin film deposition controller for single and multiple-layer processes. The XTC/3 with patented ModeLock provides proven mode hop prevention for consistent quality. With the XTC/3 Thin Film Deposition Controller, you get highly accurate control of deposition rate and thickness, the capacity for virtually any number of layers, easy installation, and extremely high reliability to ensure productivity.

INFICON, the global leader in thin film deposition control, now offers an instrument with a remarkably low cost of ownership for unprecedented value.

Whether your control needs reflect production or research and development use, you will find a precise match in the INFICON XTC/3.

Worldwide INFICON Support

No matter where you are, you get fast answers, attentive service, and maximum uptime. With offices around the world, INFICON is the only manufacturer of thin film deposition controllers to offer you local service and technical support around the world.
Features
Available in single-layer and multiple-layer models
Patented ModeLock technology prevents film thickness errors caused by mode-hopping
Supports INFICON Crystal 12®, Crystal Six®, and dual sensor automatic crystal switching for maximum productivity
XTC/3M multiple-layer model supports up to 99 processes, 999 layers, 32 films, 2 sensors, and two sources
XTC/3S single-layer model supports up to 9 films, 2 sensors, and two sources
Easy-to-read TFT LCD graphics displays
Films and processes can be assigned unique, descriptive names for easy retrieval
Ethernet connection available
Free-standing (no computer necessary) or optional Windows® software for PC operation
Plug-and-play replacement for INFICON XTC/2 controllers (limited to XTC/2 features and command set)
Typical Applications
High End Optical Coatings
Specifications
Measurement Frequency Range
6.0 to 5.0 MHz (fixed)
Thickness & Rate Resolution / Measurement (1)
±0.034 Å
Number of Sensor Inputs
2
Number of Source Outputs
2
(1) Tooling/density = 100/1, fundamental frequency = 6 MHz
Measurement Frequency Range
6.0 to 5.0 MHz (fixed)
Thickness & Rate Resolution / Measurement (1)
±0.034 Å
Number of Sensor Inputs
2
Number of Source Outputs
2
(1) Tooling/density = 100/1, fundamental frequency = 6 MHz
Part Number
Accessories
Accessories and Replacement Parts
Consumables
| | |
| --- | --- |
| Part Number | Description |
| 755-262-G1 | Handheld Power Controller (for manual power control) |
| 780-702-G1 | One unit rack mount kit - Provides all required materials to mount one XTC/3 unit in a standard 19 in. rack |
| 780-702-G2 | Two unit rack mount kit - Provides all required materials to mount two XTC/3 units side by side in a standard 19 in. rack |
| 780-032-G1 | Editor Software, XTC/3 |
| 779-220-G1 | CrystalTwo® Switch, 15.2 cm (6 in.) BNC Cables |
| 779-220-G2 | CrystalTwo® Switch, 50.8 cm (20 in.) BNC Cables |
| Oscillator kits | (Includes oscillator and cables) |
| 780-611-G15 | XIU PKG with 15 ft. (4.6 m) cable - Fore use with XTC/3 |
| 780-611-G30 | XIU PKG with 30 ft. (9.1 m) cable - For use with XTC/3 |
| 780-611-G50 | XIU PKG with 50 ft. (15.2 m) cable - For use with XTC/3 |
| 780-611-G100 | XIU PKG with 100 ft. (30.5 m) cable - For use with XTC/3 |
| 780-612-G15 | 4m XIU PKG with 15 ft. (4.6 m) XIU cable - Includes 4 m in-vacuum cable and 6 in. BNC (XIU to feedthrough) cable - For use with XTC/3 |
| 780-612-G30 | 4m XIU PKG with 30 ft. (9.1 m) XIU cable - Includes 4 m in-vacuum cable and 6 in. BNC (XIU to feedthrough) cable - For use with XTC/3 |
| 780-612-G50 | 4m XIU PKG with 50 ft. (15.2 m) XIU cable - Includes 4 m in-vacuum cable and 6 in. BNC (XIU to feedthrough) cable - For use with XTC/3 |
| 780-612-G100 | 4m XIU PKG with 100 ft. (30.5 m) XIU cable - Includes 4 m in-vacuum cable and 6 in. BNC (XIU to feedthrough) cable - For use with XTC/3 |
| 780-613-G15 | 4m XIU PKG with 15 ft. (4.6 m) XIU cable - Includes 3.5 m in-vacuum cable and 20 in. BNC (XIU to feedthrough) cable - For use with XTC/3 |
| 780-613-G30 | 4m XIU PKG with 30 ft. (9.1 m) XIU cable - Includes 3.5 m in-vacuum cable and 20 in. BNC (XIU to feedthrough) cable - For use with XTC/3 |
| 780-613-G50 | 4m XIU PKG with 50 ft. (15.2 m) XIU cable - Includes 3.5 m in-vacuum cable and 20 in. BNC (XIU to feedthrough) cable - For use with XTC/3 |
| 780-613-G100 | 4m XIU PKG with 100 ft. (30.5 m) XIU cable - Includes 3.5 m in-vacuum cable and 20 in. BNC (XIU to feedthrough) cable - For use with XTC/3 |
| Oscillator Only | (No cables included) |
| 780-600-G1 | XTC/3 XIU (oscillator) - For XIU to sensor head cable lengths of 6 in. to 72 in. (15 cm to 183 cm) |
| 780-600-G2 | XTC/3 XIU (oscillator) - For XIU to sensor head cable lengths of 118 in. to 157 in. (3 m to 4 m) |
| Cables | |
| 755-257-G6 | 15.2 cm (6 in.) BNC cable, XIU to vacuum feedthrough |
| 600-1261-P15 | 4.6 m (15 ft.) cable, Cgynus 2, IC6 or XTC/3 controller to XIU |
| 600-1261-P30 | 9.1 m (30 ft.) cable, Cygnus 2, IC6 or XTC/3 controller to XIU |
| 600-1261-P50 | 15.2 m (50 ft.) cable, Cygnus 2, IC6 or XTC/3 controller to XIU |
| 600-1261-P100 | 30.5 (100 ft.) cable, Cygnus 2, IC6 or XTC/3 controller to XIU |
The product is used in the following market