Front Load Single Sensor
Sensors & Feedthroughs
Front Load Single Sensor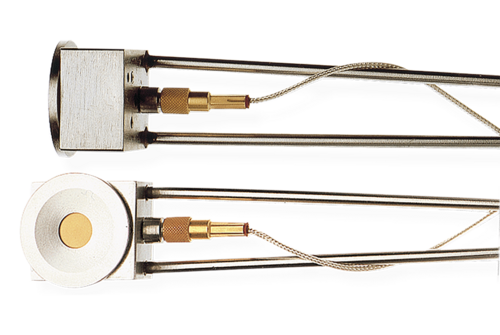 Product configurator
Gemini™ MxG5xx
Flange connection to vacuum chamber
Your configuration has been successfully sent!
INFICON Front Load Single crystal sensors offer proven reliability and durability and have the best thermal stability of any sensor head on the market.
The front load design allows for easy insertion of the crystal holder in applications lacking sufficient room for side insertion. Assembled mechanically rather than soldered, parts can be replaced conveniently in the field, if necessary. Sensors can be ordered individually or in a sensor / feedthrough combination that can be either welded or assembled with compression fittings.
Features
Front load crystal holder
Easy installation
Available with 2.54 cm (1 inch) bolt feedthrough / CF40 Feedthrough
Adjustable length if ordererd with compression fittings
Sensor / Feedthrough combinations available welded to customer specified lengths
No brazing required if ordered with compression fittings or welded to feedthrough
Specifications
Maximum operating isothermal environment temperature with minimum water flow
400° C
Water tube
1/8 in. (3.175 mm) O.D. seamless stainless steel
Crystal exchange
Front loading; self-contained package for ease of exchange
Feedthrough Specifications 1 in. bolt and Ultra-Torr (compression fitting) terminations:
Materials
304 stainless steel, Teflon®, ceramic, beryllium nickel, VITON®
Temperature
Operational environment to 300° C with water cooling or 165° C without
Mounting
1.015 in. ±0.010 in. diameter aperture
Download full specifications
Spare Parts
| | |
| --- | --- |
| Part Number | Description |
| 007-007 | Retainer spring (for crystal holder) |
| 007-023 | Ceramic Retainer |
| 080-018 | Set screw (for female coax) |
| 750-903-G1 | Standard Sensor Kit - Includes standard set screw, ceramic insulator, Teflon screw |
| 750-904-G1 | Compact Sensor Kit - Includes compact set screw, ceramic insulator, Teflon screw |
| 008-007 | CRYSTAL SNATCHER |
| 750-115-P4 | Coupling (installs onto bellows assembly) |
| 750-169-P2 | Bellows assembly (coupling not included) |
| 750-171-P1 | Finger spring contact |
| 750-172-G1 | Crystal holder (includes retainer spring) |
| 750-174-P2 | Female coax |
| 750-188-P3 | Leaf Spring |
| 750-210-G1 | Shutter module (bellows assembly, shaft assembly, and shutter assembly) |
| 750-215-G1 | Shaft assembly (part of shutter module) |
| 750-216-G1 | Shutter assembly (part of shutter module) |
| In-vacuum cables | |
| 321-039-G12 | In-vacuum cable, 15.2 cm (6 in.) |
| 783-500-023 | In-vacuum cable, 25.4 cm (10 in.) |
| 007-252 | In-vacuum cable, 30.5 cm (12 in.) |
| 321-039-G11 | In-vacuum cable, 61.0 cm (24 in.) |
| 783-500-024 | In-vacuum cable, 76.2 cm (30 in.) |
| 007-044 | In-vacuum cable, 78.1 cm (30.75 in.) |
| 007-059 | In-vacuum cable, 91.4 cm (36 in.) |
| 007-061 | In-vacuum cable, 121.9 cm (48 in.) - Requires ModeLock controller |
| 321-039-G13 | In-Vacuum Cable, 154.2 cm (60 in.) - Requires ModeLock controller |
| 321-039-G14 | In-vacuum cable, 182.9 cm (72 in.) - Requires ModeLock controller |
| 321-039-G15 | In-vacuum cable, 3.5 m (137.8 in.) - Requires ModeLock controller and 4 m XIU |
| 321-039-G16 | In-vacuum cable, 4 m (157.5 in.) - Requires ModeLock controller and 4 m XIU |
The product is used in the following market