Easy Rate Single Sensor
Sensors & Feedthroughs
Easy Rate Single Sensor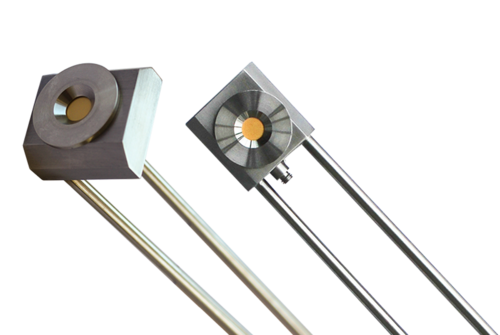 Product configurator
Gemini™ MxG5xx
Flange connection to vacuum chamber
Your configuration has been successfully sent!
Easy Rate Single Sensors are designed and manufactured to provide a cost effective solution to high-accuracy thickness monitoring for short optical and batch coating processes.

This sensor minimizes production cost with the lowest initial investment and total cost of ownership. It is also designed to maximize availability through a long-lasting sensor that has less maintenance.

Easy Rate Single Sensors are available in standard and right angle orientations, and they can be configured to include a feedthrough with or without bored-through tube fittings.

Note: Easy Rate Single sensors use 4.8 mm (3/16 in.) outer diameter (OD) water cooling tubes. They are not compatible with Ultra-Torr equipped Front Load Sensor feedthroughs and require a tubing adapter in order to be welded to a standard feedthrough with 4.8 mm (3/16 in.) OD water cooling tubes.
Features
Minimum investment with lowest upfront cost
Lowest total cost of ownership from extended sensor life
Maximum throughput with less maintenance
Easy installation
Available in standard and right angle configurations
Optional shutter available
Sensor / Feedthrough combinations available with or without bored-through tube fittings
Specifications
| | |
| --- | --- |
| Maximum operating isothermal environment temperature with minimum water flow | 400° C |
| | |
| Crystal exchange | Front loading; self-contained package for ease of exchange |
| | |
| Water Tubes | S-304, 4.76 mm (0.188 in) OD x 0.51 mm (0.020 in.) wall thickness seamless stainless steel tubing |
| | |
| Feedthrough Specifications-1 in. Bolt | |
| Materials | 304 stainless steel, Teflon®, ceramic, beryllium nickel, VITON® |
| Temperature | Operational environment to 300° C with water cooling or 165° C without |
| Mounting | 1.015 in. ±0.010 in. diameter aperture |
Download full specifications
Accessories
Accessories
Consumables
Spare Parts
| | |
| --- | --- |
| Part Number | Description |
| 784-205-G1 | Crystal Retainer Assembly |
| 784-204-G1 | Crystal Holder Assembly |
| 784-403-P1 | Crystal Finger Spring |
| 784-404-P1 | Retaining Ring |
| 784-300-P1 | Crystal Holder |
| 784-405-P1 | Holder Finger Spring |
| 750-174-P2 | Female coax |
| 080-011-P3 | SCREW 0-80 x .125 LG SLOT PAN HD SS GP |
| 080-013 | #0-80 Split washer |
| 784-209-G1 | Shutter Kit, Single (Unassembled Parts) |
| 784-305-P1 | Easy Rate Single Sensor Shutter |
| 784-206-G1 | Easy Rate Sensor Actuator Assembly |
| 784-306-P1 | Easy Rate Sensor Actuator Clamp |
| 084-054S | Split Washer #4 Stainless Steel Spare |
| 084-027 | Socket Screw |
| 783-500-023 | In-vacuum cable, 25.4 cm (10 in.) |
| 783-500-024 | In-vacuum cable, 76.2 cm (30 in.) |
Part Number
The product is used in the following market