Quartz Monitor Crystals
Quartz Monitor Crystals
Quartz Monitor Crystals
INFICON Crystals are 100% Tested for Accuracy and Reliability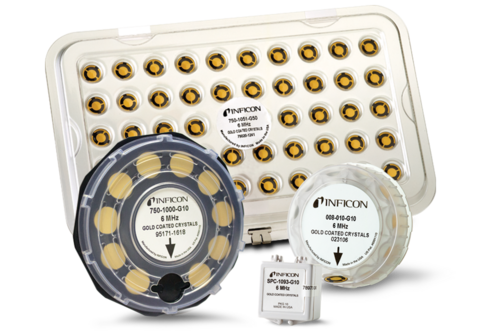 Product configurator
Gemini™ MxG5xx
Flange connection to vacuum chamber
Your configuration has been successfully sent!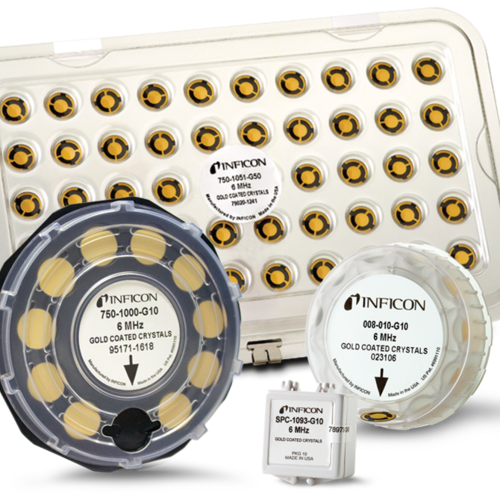 Request your free Quartz Crystals here
Experience Quality Quartz Crystals for Yourself
Request free sample
The stability and longevity of a crystal affect not only the accuracy of rate and thickness measurements, but more importantly the successful completion of the process being controlled. INFICON quartz crystals offer proven stability and reliability-proven by millions of successful process runs with a wide range of materials, applications and industries.

Our 6 MHz crystals are used with all INFICON controllers and monitors. Our 5 MHz crystals can be used with 5MHz instruments only; and are not compatible with some INFICON instruments. The 6 MHz and the 5 MHz crystals are available in gold, silver, or alloy electrodes and come in a variety of packages depending on your needs.

The INFICON clean room quartz crystal package enables convenient dispensing of the crystals directly from the package to the sensor, minimizing operator handling and risk of contamination. To make the crystal package more cleanroom-friendly, we eliminated the paper and foam inserts and made the packages stackable for easy storage.

Ask about our new 50 pack for customers with high crystal usage!
Mg Sensitive OLED Crystals
INFICON Quartz Crystals are uniquely designed and manufactured to bring process advantages to a variety of applications. The newest crystal line, the Mg Sensitive OLED Crystal line are designed specifically for magnesium deposition in the OLED industry. These high-level crystals significantly shorten the initial time delay in magnesium monitoring and increase the thickness accuracy of the OLED panel. In addition to those two grand benefits, these crystals preserve the high stability and reproducibility of the INFICON High Precision Sensor Crystals, including rate and activity stability. With INFICON, Maxtek, and Fil-Tech crystals, your process is never interrupted. In addition, you have access to the expert knowledge and worldwide applications support that INFICON offers.
High Precision Sensor Crystals
INFICON introduces improved gold crystals for OLED deposition OLED makers are using gold crystals to monitor and control the deposition of organic materials. Many OLED producers choose INFICON's crystals for this demanding task.
INFICON recently launched a new high-precision sensor crystal line that features improved activity stability, which leads to less activity dips and improved deposition rate stability.
To develop the new sensor crystal line, INFICON performed a detailed investigation into all components of crystal manufacturing and many process parameters including the shape and finish of the crystal, electrode thickness, electrode materials, and the coating rate of the electrode. The materials and process parameters were optimized by fabricating a wide variety of crystals, testing them, and analyzing the results thoroughly. INFICON is now producing the new crystals at its EDC plant, in Kansas, USA.
INFICON tested the new crystals and compared them to its competitor crystals, finding that the resistance of INFICON's crystal is lower, and the thermal shock is also significantly lower.

Fil-Tech Quality Crystals Now Manufactured and Distributed by INFICON
INFICON has successfully transferred the manufacturing of the Fil-Tech Quality Crystals® product line to our world class facility in Overland Park, Kansas. The quality and specifications for this crystal product line will remain unchanged so that your process is never interrupted. As a bonus, you will also have access to the expert knowledge and worldwide applications support that INFICON can offer.
Features
5 and 6 MHz
Gold, silver (for processes with high heat loads), and alloy (for optimizing optical and other high stress applications)
Three convenient packaging options--clean-room-compatible dispenser, flat-pack dispenser, and compact box
Custom crystals produced to your specific sizes and frequencies
Part Number
| | |
| --- | --- |
| INFICON Crystals | |
| | |
| 6 MHz INFICON Crystals | 0.550 in. (14 mm) diameter, 10 crystals per pkg |
| 008-010-G10 | 6 MHz Gold, in clean-room compatible dispenser |
| 008-009-G10 | 6 MHz Silver, in clean-room compatible dispenser |
| 750-679-G1 | 6 MHz Alloy, in clean-room compatible dispenser |
| 750-1000-G10 | 6 MHz Gold, in flat-pack carousel dispenser |
| 750-1001-G10 | 6 MHz Silver, in flat-pack carousel dispenser |
| 750-1002-G10 | 6 MHz Alloy, in flat-pack carousel dispenser |
| SPC-1093-G10 | 6 MHz Gold, in compact box |
| 750-1014-G10 | 6 MHz Silver, in compact box |
| 750-1015-G10 | 6 MHz Alloy, in compact box |
| SPC-1157-G10 | 6 MHz Gold, THERMAL SHOCK, in clean-room compatible dispenser |
| SPC-1194-G10 | 6 MHz Gold, THERMAL SHOCK, in flat-pack carousel dispenser |
| 5 MHz INFICON Crystals | 0.550 in. (14 mm) diameter, 10 crystals per pkg |
| 750-225-G2 | 5 MHz Gold, in clean-room compatible dispenser |
| 750-226-G2 | 5 MHz Silver, in clean-room compatible dispenser |
| 750-678-G1 | 5 MHz Alloy, in clean-room compatible dispenser |
| 750-1005-G10 | 5 MHz Gold, in flat-pack carousel dispenser |
| 750-1006-G10 | 5 MHz Silver, in flat-pack carousel dispenser |
| 750-1007-G10 | 5 MHz Alloy, in flat-pack carousel dispenser |
| 750-1016-G10 | 5 MHz Gold, in compact box |
| 750-1017-G10 | 5 MHz Silver, in compact box |
| 750-1018-G10 | 5 MHz Alloy, in compact box |
| 6 MHz Crystals | 0.550 in. (14 mm) diameter, 10 crystals per pkg |
| | |
| Maxtek Crystals | |
| | |
| 0.550 in. (14 mm) Diameter | Compatible with most sensors (INFICON, Maxtek, Sigma, Sycon, etc) |
| 103200-2 | 6 MHz Crystals, Gold, Box of 5 |
| 103204 | 5 MHz Crystals, Gold, box of 5 |
| 103220 | 6 MHz Crystals, Gold, Carousel of 10 |
| 103221 | 6 MHz Crystals, Silver, Carousel of 10 |
| 103240 | 6 MHz Crystals, Alloy, Carousel of 10 |
| 103222 | 5 MHz Crystals, Gold, Carousel of 10 |
| 103223 | 5 MHz Crystals, Silver, Carousel of 10 |
| 0.550 in. (14mm) Dia - Balzers | Compatible with Balzers sensors |
| 103207 | 5 MHz, Silver, Balzers pattern, box of 5 |
| 103224 | 5 MHz Crystals, Gold, Balzers pattern, Carousel of 10 |
| 0.490 in. (12.5 mm) Diameter | Compatible with Ulvac and Sloan sensors |
| 186201 | 5 MHz 0.490 in. Crystals, Gold, Carousel of 10 |
| 186200 | 5 MHz 12.5 mm (0.490 in.) Crystals, Silver, Carousel of 10 |
| | |
| Fil-Tech Crystals | |
| | |
| | 6 MHz Sensor Crystals 14 mm (0.550 in.) |
| QI8008NP | 6MHz Stress Relieving Alloy No Pattern 10/disc |
| QI8009 | 6MHz AG 10/disc |
| QI8010 | 6MHz AU 10/disc |
| QI8010NP | 6MHz AU No Pattern 10/disc |
| QI8012 | 6MHz Longer Life Gold 10/disc |
| QI8008 | 6MHz Stress Relieving Alloy 10/disc |
| QI8008F | 6MHz Spec Frequency Stress Relieving Alloy 10/disc |
| QXT8008 | 6MHz Alloy Extreme Temperature 10/disc |
| QXT8010 | 6MHz AU Extreme Temperature 10/disc |
| | |
| | 5 MHz Sensor Crystals 14 mm (0.550 in.) diameter |
| QB104A | 5MHz Alloy 10/disc |
| QB104ANP | 5MHz Alloy No Pattern 10/disc |
| QB104G | 5MHz AU 10/disc |
| QB104S | 5MHz AG 10/disc |
| | |
| | 5 MHz Sensor Crystals 12.4 mm (0.490 in.) diameter |
| QS3952 | 5MHz AU Sloan 10/disc |
| QS3952GL | 5MHz Longer Life Gold 10/disc |
| QS3954 | 5MHz Alloy Sloan 10/disc |
The product is used in the following markets