Crystal 12® Sensor
Sensors & Feedthroughs
Crystal 12® Sensor
Auto Crystal Switching Maximizes Production Time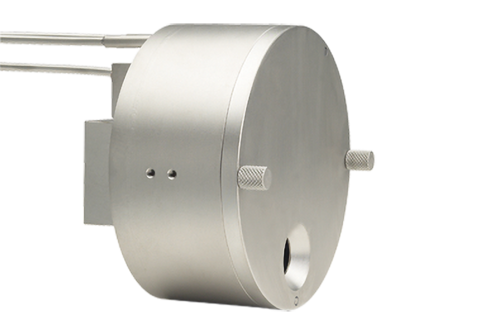 Product configurator
Gemini™ MxG5xx
Flange connection to vacuum chamber
Your configuration has been successfully sent!
The INFICON Crystal 12 Sensor replaces its crystals automatically without interrupting your process, when partnered with the INFICON IC6 Thin Film Deposition Controller.
Whenever a crystal becomes unstable or fails, IC6 signals the Crystal 12 sensor carousel to immediately rotate a new crystal into position, for continuous deposition rate monitoring. To further minimize downtime, crystals can be preloaded into a second optional carousel, which can then be quickly and easily exchanged with the carousel containing the exhausted crystals, minimizing the time the system is open.
Features
Holds 12 crystals with robust, automatic switching to maximize process up-time
Easy-to-remove carousel allows fast replacement of all 12 crystals
Stable crystal temperature, because crystal switching is pneumatically-driven (competitive units use heat generating motors)
Easy-to-remove front deposition shield protects the crystals and carousel from material accumulation, minimizing the need to remove entire sensor for maintenance
Optional mounting-post kit can be user-modified to accommodate metric hardware
Specifications
| | |
| --- | --- |
| Maximum bakeout temp with no water | 130°C |
| | |
| Maximum operating isothermal environment temperature with minimum water flow | 300° C |
| | |
| Size (maximum envelope) | 4.0 in. (102 mm) dia. x 3.3 in. (84 mm) high 4.75 in. (121 mm) dia. x 3.46 in. (88 mm) with optional mounting posts installed |
| | |
| Crystal exchange | Front-loading |
Download full specifications
Accessories
Consumables
Spare Parts
| | |
| --- | --- |
| Part Number | Description |
| 750-276-P3 | Actuator cover |
| 750-644-G1 | Housing |
| XL12-000100 | Deposition Shield, Crystal 12 Sensor |
| 750-286-P2 | Pneumatic actuator |
| 750-291-P1 | Detent |
| 750-902-G1 | Crystal 12 Kit |
| 750-294-P2 | Stop ratchet |
| 750-293-P2 | Ratchet |
| 750-256-P2 | Extension spring |
| 750-252-P2 | Spring post |
| 750-649-G1 | Electrical connection |
| 750-295-G1 | Pawl and actuator |
| 750-258-P2 | Bearing Shaft |
| 070-0779 | Ball bearing |
| XL12-001000 | Carousel Assembly, Crystal 12 Sensor |
| 750-650-P1 | Aperture plate (without dowel pin) |
| 070-1253 | Dowel pin |
| 750-651-P1 | Resistor network support |
| 750-655-P1 | Resistor network insulator |
| 750-642-G1 | Resistor Network |
| 750-661-P1 | Contact terminal (carousel component) |
| 750-656-P1 | Crystal insulator (carousel component) |
| 321-038-P6 | Leaf spring (carousel component) |
| 750-657-P1 | Grounding leaf spring |
| 750-671-P1 | Torsion spring |
| 750-626-P1 | Spring for sputtering head cover |
| 750-647-P1 | Spindle |
| 070-1268 | Spindle bearing (spindle component) |
| 070-1254 | E-Ring (spindle component) |
| 750-660-P1 | Location screw (spindle component) |
| 007-126 | 0.125 in. x 30 in. (3.175 mm x 762 mm) seamless tubing |
| 070-201 | #4 Split lockwasher |
| 084-004 | #4-40 X .187 Hex socket head screw |
| 070-398 | Retaining ring |
| 070-0867 | Shaft spacer |
| 070-170S | #2 Split Lockwasher SS Spare |
| 070-177 | #4-40 X 3.12 Hex head screw |
| 080-038S | Screw 0-80 x.375 LG Phil Pan HD SS Spare |
| 082-032S | Lock Washer #2 Stainless Steel Spare |
| 082-045 | #2-56 x .187 Phillips screw |
| 084-054 | #4 Split lock washer |
| 082-022 | #2 Flat washer |
| 082-024 | #2-56 x .250 Hex socket screw |
| 750-292-P2 | Detent spacer |
| 080-013 | #0-80 Split washer |
| 080-007-P1 | #0-80 x .170 Flat washer |
| 080-009-P1 | #0-80 X .188 Socket head screw |
| 084-048 | #4-40 x .250 Flat head screw |
| 750-665-P1 | #2-56 Torsion spring shoulder screw |
| 084-093S | Screw Socket HD 4-40 x 1.125 in Spare |
| 086-084-P2S | Screw Socket HD Set 6-32 x 0.125in Spare |
| 086-041 | #6 Flat washer |
| 086-038 | #6 Split lock washer |
| 086-036 | #6-32 x 3/8 socket head screw |
| In-vacuum cables | |
| 321-039-G12 | In-vacuum cable, 15.2 cm (6 in.) |
| 007-252 | In-vacuum cable, 30.5 cm (12 in.) |
| 321-039-G11 | In-vacuum cable, 61.0 cm (24 in.) |
| 007-044 | In-vacuum cable, 78.1 cm (30.75 in.) |
| 007-059 | In-vacuum cable, 91.4 cm (36 in.) |
| 007-061 | In-vacuum cable, 121.9 cm (48 in.) - Requires ModeLock controller |
| 321-039-G13 | In-Vacuum Cable, 154.2 cm (60 in.) - Requires ModeLock controller |
| 321-039-G14 | In-vacuum cable, 182.9 cm (72 in.) - Requires ModeLock controller |
| 321-039-G15 | In-vacuum cable, 3.5 m (137.8 in.) - Requires ModeLock controller and 4 m XIU |
| 321-039-G16 | In-vacuum cable, 4 m (157.5 in.) - Requires ModeLock controller and 4 m XIU |
The product is used in the following markets