IMM-100
Monitors
IMM-100
Making Excellence Repeatable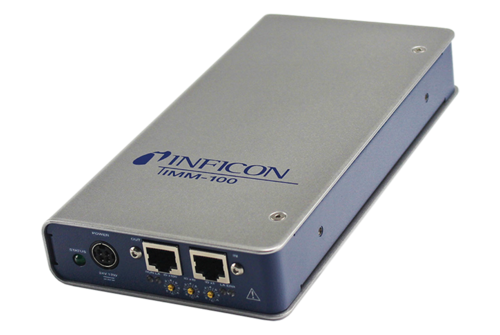 Product configurator
Gemini™ MxG5xx
Flange connection to vacuum chamber
Your configuration has been successfully sent!
Protect and Grow Your Profit with Precision Rate and Thickness Monitoring
IMM-100 is a deposition monitor built with ModeLock technology to maximize reproducibility and uniformity with the highest thickness accuracy, best measurement resolution, and lowest rate noise.

With the oscillator built-in IMM-100 can be easily integrated into an EtherCAT system with minimal hardware and footprint. This powerful and precise measurement monitor is sure to bring a new level of performance to your process.
Features
INFICON ModeLock technology provides the longest crystal life and ensures the most stable, highest resolution rate and thickness measurement available, even at very low rates
Maximize yield with the best QCM thickness measurement possible
Single channel rate and thickness monitor without unnecessary added features to minimize cost
±0.0035 Hz over 100 ms sample
EtherCAT communications for seamless integration
Compact size to minimize integration costs by saving tool real estate
Expert application support, able to discuss unique application needs and give greater support than the competition
RoHS compliant
Specifications
| | |
| --- | --- |
| Sensor inputs | 1 |
| | |
| Measurement frequency range | 6.0 to 4.5 MHz (fixed) |
| | |
| Rate and thickness resolution | 0.0042 Å (new crystal); 0.0076 Å (crystal @ 4.5 MHz) over 100 ms sample for material density = 1.0, Z-Ratio = 1.0 |
| | |
| Communication type | EtherCAT, 2 RJ45 jacks, supports data daisy chaining. Explicit device ID via switches |
Part Number
Accessories
Consumables
| | |
| --- | --- |
| Part Number | Description |
| 785-200-G1 | IMM-100 Unit |
| 785-600-G1 | IMM-100 Thin Film Deposition Monitor |
| | |
| --- | --- |
| Part Number | Description |
| | |
| Optional Power Supplies | The power supplies listed below are rated for an input of 100 to 249 V (ac), 2 A, 50 to 60 Hz with an output of 24V (dc), 3.34 A, 80 W maximum. |
| 961-021-G1 | Power Supply Kit 80 - 250 VAC / 4 ft (1.2m) US plug |
| 961-021-G2 | Power Supply Kit 80 - 250 VAC / 4 ft (1.2 m) US plug w/ 15 ft (4.5m) Extension Cable |
| 961-021-G3 | Power Supply Kit 80 - 250 VAC / 4 ft (1.2 m) US plug w/ 30 ft (9m) Extension Cable |
| 961-021-G4 | Power Supply Kit 80 - 250 VAC / 4 ft (1.2 m) 230V plug |
| 961-021-G5 | Power Supply Kit 80 - 250 VAC / 4 ft (1.2 m) 230V plug w/ 15 ft (4.5m) Extension Cable |
| 961-021-G6 | Power Supply Kit 80 - 250 VAC / 4 ft (1.2 m) 230V plug w/ 30 ft (9m) Extension Cable |
| 961-021-G7 | Power Supply Kit IL 240V |
| 961-021-G8 | Power Supply Kit IL 4.5 M Extension |
| 961-021-G9 | Power Supply Kit IL 9.0 M Extension |
| 961-021-G10 | Power Supply Kit UK 240V |
| 961-021-G11 | Power Supply Kit UK 4.5 M Extension |
| 961-021-G12 | Power Supply Kit UK 9.0 M Extension |
| | |
| Optional Mounting Bracket | |
| 785-202-G1 | Mounting bracket with four clean room compatible shock absorbing, female-to-female, stainless steel mounting feet |
| 785-201-G1 | Mounting bracket with four shock absorbing, male-to-female, black Neoprene rubber mounting feet |
| | |
| Optional Communications Cable | |
| 600-1190-P1 | ETHERNET COMUNICATION CABLE 1 METER |
| 600-1190-P2 | SPEC- ETHERNET COMMUNICATION CABLE .3M |
| 600-1190-P4 | ETHERNET COMUNICATION CABLES 4.3 METER |
| 600-1190-P8 | Ethernet 7m cable |
| 600-1190-P15 | Ethernet 15m cable |
The product is used in the following market