IQM-233
Controllers
IQM-233
Low-Cost Deposition Control on a PCI Express Card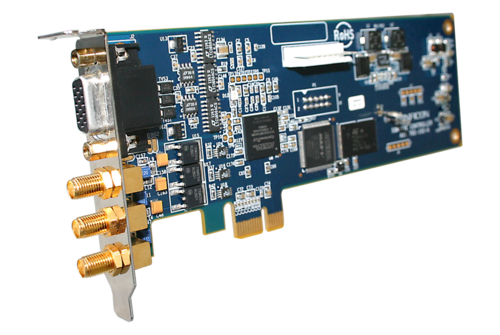 Product configurator
Gemini™ MxG5xx
Flange connection to vacuum chamber
Your configuration has been successfully sent!
The IQM-233 PCI Express card turns your PC into a thin film deposition controller. This INFICON designed and manufactured product is the ideal choice for system OEMs, or anyone wishing to incorporate a thin film deposition controller into an existing PC or PLC controlled system. Installation is simple—all you need is an unoccupied PCI Express slot. IQM-233 is available to fit in standard or small form factor PC towers.
Unparalleled Features
The IQM-233 features three QCM sensor inputs and three source outputs on each card. Up to two IQM-233 cards can be installed in a single PC (requires optional IQS-233 software), giving you a maximum of six sensor inputs and six source outputs. Only INFICON offers this level of flexibility in a fully integrated PC controlled QCM controller.

IQM-233 is compatible with INFICON oscillator IPN 782-900-010, so replacing an SQM-242 card does not require a new oscillator. It is also compatible with all INFICON single and dual sensor heads.
Choose The Software Solution Right For You
IQM-233 includes basic Windows® software for setup and control of simple sequential or codeposition processes with one IQM-233 card. The optional IQS-233 Codeposition Windows® software allows for more complex process setup, including multi-layer codeposition, graphing, and PLC integration with event selectable relay/input functions. IQS-233 software allows for use of up to two IQM-233 cards.

As an alternative for customers wanting to write their own software, the IQM-233 includes a LabVIEW™ sample program to provide basic functionality and demonstrate programming techniques.
Features
PCI Express
Three sensor inputs, three control outputs
Install multiple cards in a PC
Codeposition of multiple sources
Easy PLC integration to add I/O capabilities
Easy to use
Value price
Specifications
PC Interface
PCIe x1 - PCE Express Slot
(Std or SFF)
Sensor Inputs
3
Measurement frequency range
Adjustable:
4.0 MHz minimum,
6.1 MHz maximum
Thickness and rate resolution/measurement (1)
±0.12 Å
Source Outputs
3
(1)Tooling/density = 100/1, fundamental frequency = 6 MHz, 0.25 s measurement interval
Part Number
| | |
| --- | --- |
| Part Number | Description |
| 782-IQM-233-G1 | IQM-233 QCM controller card for standard PCI Express slot |
| 782-IQM-233-G2 | IQM-233 QCM controller card for Small Form Factor (SFF) PCI Express slot |
| 782-IQS-233 | IQS-233 Codeposition software |
Accessories
Accessories
Replacement Parts
Consumables
| | |
| --- | --- |
| Part Number | Description |
| 783-500-109-10 | 3 m (10 ft.) Oscillator Kit - includes OSC-100 oscillator, 15.2 cm (6 in.) BNC cable, and 3 m (10 ft.) BNC cable |
| 783-500-109-25 | 7.6 m (25 ft.) Oscillator Kit - includes OSC-100 oscillator, 15.2 cm (6 in.) BNC cable, and 7.6 m (25 ft.) BNC cable |
| 783-500-109-50 | 15.2 m (50 ft.) Oscillator Kit - includes OSC-100 oscillator, 15.2 cm (6 in.) BNC cable, and 15.2 m (50 ft.) BNC cable |
| 783-500-109-75 | 22.8 m (75 ft.) Oscillator Kit - includes OSC-100 oscillator, 15.2 cm (6 in.) BNC cable, and 22.8 m (75 ft.) BNC cable |
| | |
| Oscillator Only | (No cables included) |
| 783-500-013-G1 | OSC-100 oscillator only (no cables) |
| | |
| Cables | |
| 600-1441-P1 | SMA to BNC adapter for IQM-233 sensor inputs |
| 782-902-011 | 15.2 cm (6 in.) BNC cable, male/female |
| 782-902-012-10 | 3 m (10 ft.) BNC cable, male/male |
| 782-902-012-25 | 7.6 m (25 ft.) BNC cable, male/male |
| 782-902-012-50 | 15.2 m (50 ft.) BNC cable, male/male |
| 782-902-012-75 | 22.8 m (75 ft.) BNC cable, male/male |