STM-2 USB Thin Film Rate/ Thickness Monitor
Monitors
STM-2 USB Thin Film Rate/ Thickness Monitor
Small in Size and Price, Big in Performance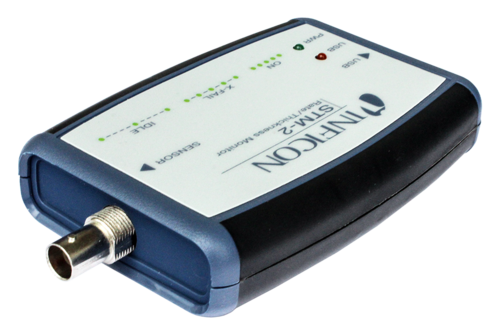 Product configurator
Gemini™ MxG5xx
Flange connection to vacuum chamber
Your configuration has been successfully sent!
STM-2 combines the simplicity of USB connectivity with the accuracy of a precision measurement engine, all in a compact, inexpensive package. The size and simplicity of STM-2 help make setup and operation easy and efficient.
Superior Performance
STM-2 is the most accurate USB powered thin film monitor in the industry. Ten measurements are taken per second while achieving a resolution of 0.037 Å per measurement (density of 1).
Easy and Flexible Installation
STM-2 comes with everything you need to connect your QCM sensor/feedthrough to a Windows® PC. Simply connect the included BNC cable from the feedthrough to STM-2, then connect the STM-2 to your PC using a standard mini USB cable (included). No external oscillator or power supply is required.

STM-2 features an internal oscillator that allows for simple and cost effective installation when STM-2 is located within 1 m (40 in.) of the quartz crystal. A standard INFICON® oscillator kit can be used for applications where STM-2 must be located farther away from the feedthrough.
STM-2 Software
STM-2 includes LabVIEW® software, capable of simple operation and data logging. Windows software is also included for operation and data logging of up to eight STM-2s simultaneously (each STM-2 requires a powered USB port).
Please Note:
The SMDP Server must be installed first for the STM-2 Windows Application Software or the STM-2 LabVIEW Application Software to function properly.
Features
Low cost instrument
USB connection
Internal oscillator
High accuracy at 10 measurements per second
Compatible with an external oscillator
Includes software
Specifications
| | |
| --- | --- |
| Sensor input | Female BNC |
| | |
| Measurement frequency range | 6.0 to 5.0 MHz (fixed) |
| | |
| Thickness and rate resolution/measurement | ±0.037 Å @ tooling/density = 100/1, fundamental frequency = 6 MHz |
| | |
| Interface | USB v1.1 or later capable of providing 400 mA, 5 V (dc) |
| | |
| Computer requirements | Any PC running Windows 2000, XP, Vista, 7, or 8 with one available USB 1.1 (or later) port for each STM-2 |
Part Number
Accessories
Consumables
| | |
| --- | --- |
| Part Number | Description |
| STM-2 | STM-2 USB Thin Film Rate/Thickness Monitor |
The product is used in the following market