SQM-160
Monitors
SQM-160
Measure rate and thickness in thin film deposition processes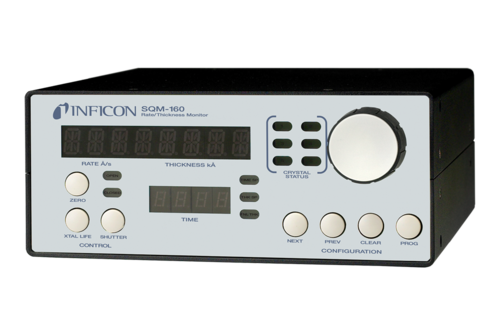 Product configurator
Gemini™ MxG5xx
Flange connection to vacuum chamber
Your configuration has been successfully sent!
The SQM-160 uses proven INFICON quartz crystal sensor technology to measure rate and thickness in thin film deposition processes. Two sensor inputs are standard and four additional sensor inputs are optional. Two recorder outputs provide analog rate and thickness signals.

Sensor inputs can be assigned to different materials, averaged for accurate deposition control in large systems, or configured for a dual sensor. The rate sampling mode allows a shuttered sensor to extend sensor life in high rate processes. Rate displays of 0.1Å/s or 0.01Å/s are user selectable.
In addition, Frequency or Mass displays can be selected. Four relay outputs allow the SQM-160 to control source or sensor shutters, signal time and thickness setpoints, and signal crystal failure. Digital inputs allow external signals to start/stop and zero readings.
Features
Two measurement channels standard, an additional four optional
Analog outputs for rate/thickness recording
High resolution option: 0.03Hz at 10 readings/sec
RS-232 standard, USB or Ethernet optional
Specifications
SQM-160 Standard Resolution
SQM-160 High Resolution
QCM Sensor Inputs
Standard: 2; optional: 4
Measurement Frequency Range
Adjustable:
1.0 MHz minimum
6.5 MHz maximum
Thickness and rate resolution/measurement (1)
± 0.37 Å
Stored Films
99
Digital Inputs/Outputs
Four inputs, four relay outputs
(1)Tooling/density = 100/1, fundamental frequency = 6 MHz, 0.10 s measurement interval
QCM Sensor Inputs
Standard: 2; optional: 4
Measurement Frequency Range
Adjustable:
1.0 MHz minimum
6.5 MHz maximum
Thickness and rate resolution/measurement (1)
± 0.037 Å
Stored Films
99
Digital Inputs/Outputs
Four inputs, four relay outputs
(1)Tooling/density = 100/1, fundamental frequency = 6 MHz, 0.10 s measurement interval
Part Number
Accessories
Accessories
Replacement Parts
Consumables
| | |
| --- | --- |
| Part Number | Description |
| 782-900-014 | 19 in. Rack Mount Kit for two SQM-160 or CI-100 instruments |
| 782-502-096-G1 | USB option card |
| 782-502-097-G1 | Ethernet option card |
| | |
| Oscillator kits | (Includes oscillator and cables) |
| 783-500-109-10 | 3 m (10 ft.) Oscillator Kit - includes OSC-100 oscillator, 15.2 cm (6 in.) BNC cable, and 3 m (10 ft.) BNC cable |
| 783-500-109-25 | 7.6 m (25 ft.) Oscillator Kit - includes OSC-100 oscillator, 15.2 cm (6 in.) BNC cable, and 7.6 m (25 ft.) BNC cable |
| 783-500-109-50 | 15.2 m (50 ft.) Oscillator Kit - includes OSC-100 oscillator, 15.2 cm (6 in.) BNC cable, and 15.2 m (50 ft.) BNC cable |
| 783-500-109-75 | 22.8 m (75 ft.) Oscillator Kit - includes OSC-100 oscillator, 15.2 cm (6 in.) BNC cable, and 22.8 m (75 ft.) BNC cable |
| | |
| Oscillator Only | (No cables included) |
| 783-500-013-G1 | OSC-100 oscillator only (no cables) |
| | |
| Cables | |
| 782-902-011 | 15.2 cm (6 in.) BNC cable, male/female |
| 782-902-012-10 | 3 m (10 ft.) BNC cable, male/male |
| 782-902-012-25 | 7.6 m (25 ft.) BNC cable, male/male |
| 782-902-012-50 | 15.2 m (50 ft.) BNC cable, male/male |
| 782-902-012-75 | 22.8 m (75 ft.) BNC cable, male/male |
The product is used in the following market