VGC50x
Vacuum Gauge Controller
VGC50x

Sustainable solution for process measurement, control and data log.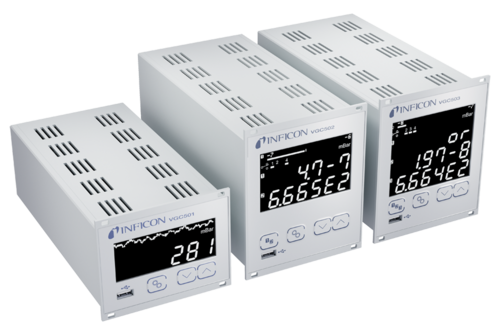 Product configurator
Gemini™ MxG5xx
Flange connection to vacuum chamber
Your configuration has been successfully sent!
Compatible to the wide range of INFICON active gauges, the new VGC50x series of active gauge controllers are able to monitor and data log the entire pressure range from 10⁻¹⁰ to 1500 mbar (10⁻¹⁰ to 1125 Torr) and the set point status.
Advantages
Simple operation with dot matrix menu guided display for parameter, sensor or general settings
Very bright and clear Display for long distance Instrument read- out
Bar graph display with setpoints's or pressure vs. time display
Data log and parameter log function with USB port (rear side) and USB stick (front side)
Ethernet interface
Firmware upgrade available online or with USB stick
Two free definable setpoints per channel with adjustable hysteresis
High Resolution - 16 bit A/D converter
Automatic identification of the INFICON active gauges
Programmable 0 to 10 V Chart Recorder Output with logarithmic/ linear characteristics for single gauge or gauge combination (only VGC502 and VGC503)
Specifications
Type
VGC501
Measurement channels
1
Display
LCD, LED backlight
Rate
1/s
10
Connectable gauges with display range
CDG (A/D)
Torr
1×10-3×F.S. …1×F.S.
PCG
mbarTorr
5×10-4…1500
PSG
mbarTorr
5×10-4…1000
MPG
mbarTorr
1×10-9…1000
PEG
mbarTorr
1×10-9…1×10-2
MAG
mbarTorr
1×10-9…1×10-2
BCG
mbarTorr
5×10-10…1500
BPG
mbarTorr
5×10-10…1000
HPG
mbarTorr
2×10-6…1000
Measurement unit (selectable)
mbar, Torr, Pa, hPa, Micron, V
Setpoints
Setpoint relays
Setpoint relays
2
Channel assignment
Channel assignment
1
Adjustment range
Adjustment range
sensor dependent
Hysteresis
Hysteresis
adjustable
Relay contact
Relay contact
floating changeover contact
Contact rating
V (ac) • AV (dc) • A
30 / 1
Connector
Connector
D-sub, 15-pin, male
Analog output
Range
V
0 ... 10.3, sensor analog output signal
Analog output
Analog output
1
Programmable analog output
Programmable analog output
-
Connector
Connector
D-Sub, 15-pin, male
Interface (digital)
Connector
Connector
USB slave, master and Ethernet, USB Typ A (stick), USB Type B, FCC68/RJ45
Power
Supply
V (ac)
100 ... 240
Frequency
Hz
50 ... 60
Consumption
W
≤45
Operation temperature (ambiance)
°C
+5 ... +50
Type
VGC502
Measurement channels
2
Display
LCD, LED backlight
Rate
1/s
10
Connectable gauges with display range
CDG (A/D)
Torr
1×10-3×F.S. …1×F.S.
PCG
mbarTorr
5×10-4…1500
PSG
mbarTorr
5×10-4…1000
MPG
mbarTorr
1×10-9…1000
PEG
mbarTorr
1×10-9…1×10-2
MAG
mbarTorr
1×10-9…1×10-2
BCG
mbarTorr
5×10-10…1500
BPG
mbarTorr
5×10-10…1000
HPG
mbarTorr
2×10-6…1000
Measurement unit (selectable)
mbar, Torr, Pa, hPa, Micron, V
Setpoints
Setpoint relays
Setpoint relays
4
Channel assignment
Channel assignment
1 or 2
Adjustment range
Adjustment range
sensor dependent
Hysteresis
Hysteresis
adjustable
Relay contact
Relay contact
floating changeover contact
Contact rating
V (ac) • AV (dc) • A
30 / 1
Connector
Connector
D-sub, 25-pin, female
Analog output
Range
V
0 ... 10.3, sensor analog output signal
Analog output
Analog output
Programmable analog output
Programmable analog output
1
Connector
Connector
D-Sub, 9-pin, male
Interface (digital)
Connector
Connector
USB slave, master and Ethernet, USB Typ A (stick), USB Type B, FCC68/RJ45
Power
Supply
V (ac)
100 ... 240
Frequency
Hz
50 ... 60
Consumption
W
≤65
Operation temperature (ambiance)
°C
+5 ... +50
Type
VGC503
Measurement channels
3
Display
LCD, LED backlight
Rate
1/s
10
Connectable gauges with display range
CDG (A/D)
Torr
1×10-3×F.S. …1×F.S.
PCG
mbarTorr
5×10-4…1500
PSG
mbarTorr
5×10-4…1000
MPG
mbarTorr
1×10-9…1000
PEG
mbarTorr
1×10-9…1×10-2
MAG
mbarTorr
1×10-9…1×10-2
BCG
mbarTorr
5×10-10…1500
BPG
mbarTorr
5×10-10…1000
HPG
mbarTorr
2×10-6…1000
Measurement unit (selectable)
mbar, Torr, Pa, hPa, Micron, V
Setpoints
Setpoint relays
Setpoint relays
6
Channel assignment
Channel assignment
1, 2 or 3
Adjustment range
Adjustment range
sensor dependent
Hysteresis
Hysteresis
adjustable
Relay contact
Relay contact
floating changeover contact
Contact rating
V (ac) • AV (dc) • A
30 / 1
Connector
Connector
D-sub, 25-pin, female
Analog output
Range
V
0 ... 10.3, sensor analog output signal
Analog output
Analog output
Programmable analog output
Programmable analog output
1
Connector
Connector
D-Sub, 9-pin, male
Interface (digital)
Connector
Connector
USB slave, master and Ethernet, USB Typ A (stick), USB Type B, FCC68/RJ45
Power
Supply
V (ac)
100 ... 240
Frequency
Hz
50 ... 60
Consumption
W
≤90
Operation temperature (ambiance)
°C
+5 ... +50
The product is used in the following markets