Trigon™ BCG552
Hot Ionization Gauges
Trigon™ BCG552
ATM to Ultra High Vacuum TripleGauge®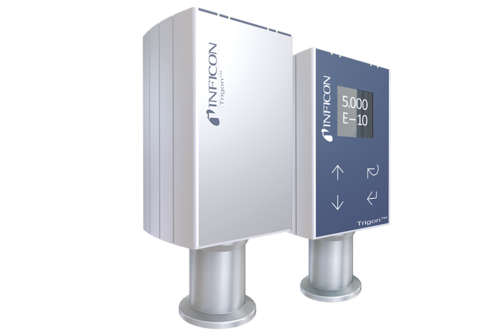 Product configurator
Gemini™ MxG5xx
Flange connection to vacuum chamber
Your configuration has been successfully sent!
The TripleGauge® BCG552 combines 3 vacuum sensing elements in one sensor flange. This flagship of the new TrigonTM family offers a extremely wide measurement range from UHV (5 x10-10) up to ATM (1500 mbar). With its added ATM sensor, BCG552 is well-suited for differential pressure measurement and for use as vacuum switch in several applications.
The supported Bayard-Alpert dual filament offers superior accuracy, repeatability and longevity in the UHV and HV range, while the miniaturized capacitance diaphragm gauge has superior accuracy in the ATM range and is gas type independent.
Advantages
3 + 1 sensing elements for extremely wide measurement range, cost reduction & space savings
2 filaments for Bayard-Alpert system
Gas type independent pressure measurement above 10 Torr provides more reliable load lock control for any gas mixtures
Differential pressure measurement eliminates uncertainty related to atmospheric pressure changes
Automatic high vacuum Pirani adjustment reduces operator interventions
Galvanic isolated electronics to avoid electric stray current
Sliding emission mode to avoid pressure jumps and freeze when switching the emission stream
Set point relays
Bright & big OLED display (90° rotatable) with user interface
Analog output, RS232C serial interface, EtherCAT®
Usable in conjunction with VGC50x Controller series
Backwards compatible to TripleGauge® BCG450
RoHS compliance
Typical applications
Pressure measurement in Semiconductor processes, transfer and loadlock chambers
Industrial coating
General vacuum measurement and control on systems in the low to ultra high vacuum range
Specifications
| | |
| --- | --- |
| Measurement range (air, O2, CO, N2) | 5 × 10-10 … 1500 mbar |
| | |
| Accuracy | |
| 950 ... 1050 mbar | ±2.5% of reading |
| 50 ... 950 mbar | ±5% of reading |
| 1 × 10-8 … 50 mbar | ±15 of reading |
| | |
| Repeatability | 5% of reading, 1 × 10-8 … 1050 mbar (after 10 min. stabilization) |
| | |
| Materials exposed to vacuum | stainless steel, NiFe, nickel plating, Hastelloy, glass, iridium, yttrium oxide (Y2O3), Ni, tungsten |
Part Number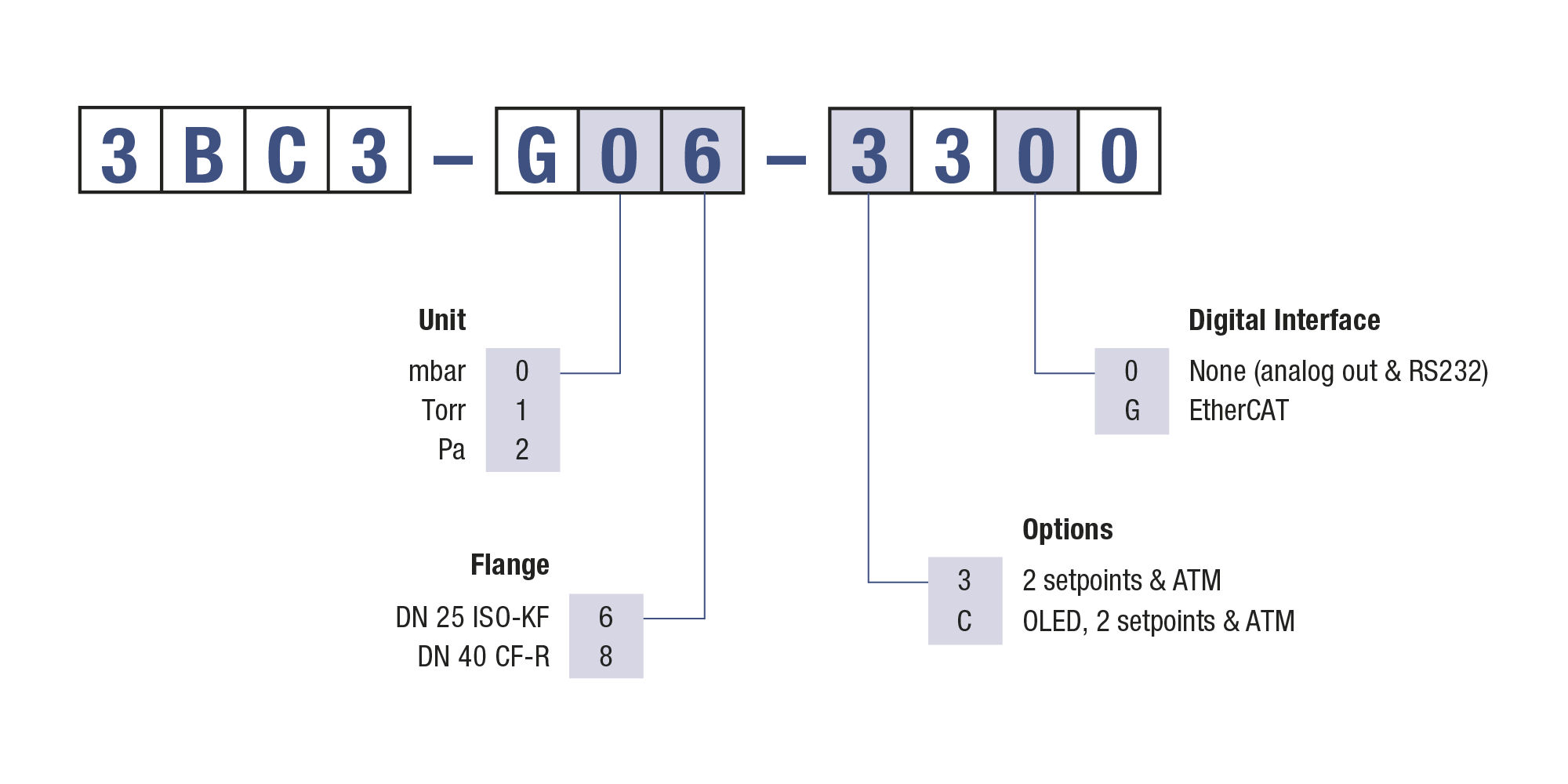 Spare Parts
| | |
| --- | --- |
| Part Number | Description |
| 354-423 | BCG552 Spare sensor head, KF25 |
| 354-424 | BCG552 Spare sensor head, CF40 |
The product is used in the following markets