PCG55x
Pirani Gauges
PCG55x
ATM TO MEDIUM VACUUM GAUGE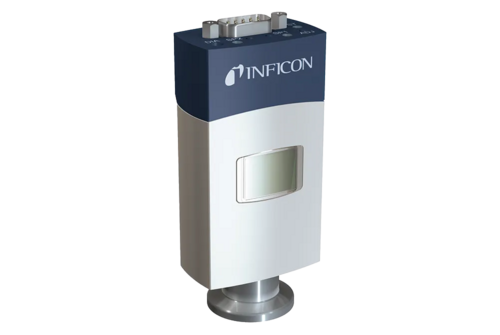 Product configurator
Gemini™ MxG5xx
Flange connection to vacuum chamber
Your configuration has been successfully sent!
The INFICON Pirani Capacitance Diaphragm Gauge (PCG55x) combines the INFICON Pirani technology with the advantages of a ceramic capacitance diaphragm sensor in a single product.
In the measurement range between 10 mbar and atmosphere the capacitance diaphragm technology provides gas-type independent, highly accurate values for reliable pressure measurement. The PCG55x offers also a variety of features which allows the right product configuration for the demanded application.
Advantages
Gas type independent above 10 mbar – allows safe venting with any gas mixture
High accuracy and reproducibility at atmosphere – for reliable, fast atmospheric pressure detection
Versatile of mounting orientation – provides engineering freedom in tool design
Available with Tungsten (PCG550) or Nickel (PCG552) filament or with a fully ceramic coated (PCG554) sensor unit for highly corrosive applications
Latest EtherCAT protocol Standard ETG.5003.2080 S (R) V1.3.0
Easy to exchange plug & play sensor element with on-board calibration data – guarantees high reproducibility and low cost of ownership
Selectable output signal for easy integration
Optional atmospheric switch, display and digital interfaces
Compliance & standards: CE, EN, UL, CSA, RoHS
Typical applications
Load Lock control
Fore vacuum pressure measurement
Safety circuits in vacuum systems
General vacuum measurement and control in the medium and rough vacuum range
Specifications
PCG550 Tungsten
PCG552 Nickel
PCG554 ceramic coated
Measurement range
mbar
Torr
5×10-5 … 1500
3.8×10-5 … 1125
Accuracy (N2)
5×10-4 … 1×10-3 mbar (N2)
% of reading
±50
1×10-3 … 100 mbar (N2)
% of reading
±15
100 … 950 mbar
% of reading
±5
950 … 1050 mbar
% of reading
±2.5
Repeatability
1×10-3 … 1100 mbar (N2)
% of reading
±2
Admissible temperature
Operation (ambient)
°C
+10 … +50
Storage
°C
-20 … +65
Bakeout at flange
°C
≤80
Bakeout at flange long tube
°C
≤250
Supply voltage
V (dc)
+15 … +30
Setpoint relay
Number of setpoints
2
Range (N2)
mbar
5×10-5 … 1000
Relay contact
Relay contact
n.o., potential free
Hysteresis
% of threshold
10
Contact rating solid state relays
V (dc)
A (dc)
≤30
≤0.3
Contact rating mechanical relays
V (dc)
A (dc)
≤30
≤1
Switching time
ms
≤30
Materials exposed to vacuum
W, Ni, NiFe, Al2O3, SnAg, stainless steel, glass
Measurement range
mbar
Torr
5×10-5 … 1500
3.8×10-5 … 1125
Accuracy (N2)
5×10-4 … 1×10-3 mbar (N2)
% of reading
±50
1×10-3 … 100 mbar (N2)
% of reading
±15
100 … 950 mbar
% of reading
±5
950 … 1050 mbar
% of reading
±2.5
Repeatability
1×10-3 … 1100 mbar (N2)
% of reading
±2
Admissible temperature
Operation (ambient)
°C
+10 … +50
Storage
°C
-20 … +65
Bakeout at flange
°C
≤80
Bakeout at flange long tube
°C
≤250
Supply voltage
V (dc)
+15 … +30
Setpoint relay
Number of setpoints
2
Range (N2)
mbar
5×10-5 … 1000
Relay contact
Relay contact
n.o., potential free
Hysteresis
% of threshold
10
Contact rating solid state relays
V (dc)
A (dc)
≤30
≤0.3
Contact rating mechanical relays
V (dc)
A (dc)
≤30
≤1
Switching time
ms
≤30
Materials exposed to vacuum
Ni, NiFe, Al2O3, SnAg, stainless steel, glass
Measurement range
mbar
Torr
5×10-5 … 1500
3.8×10-5 … 1125
Accuracy (N2)
5×10-4 … 1×10-3 mbar (N2)
% of reading
±50
1×10-3 … 100 mbar (N2)
% of reading
±15
100 … 950 mbar
% of reading
±5
950 … 1050 mbar
% of reading
±2.5
Repeatability
1×10-3 … 1100 mbar (N2)
% of reading
±2
Admissible temperature
Operation (ambient)
°C
+10 … +50
Storage
°C
-20 … +65
Bakeout at flange
°C
≤80
Bakeout at flange long tube
°C
≤250
Supply voltage
V (dc)
+15 … +30
Setpoint relay
Number of setpoints
2
Range (N2)
mbar
5×10-5 … 1000
Relay contact
Relay contact
n.o., potential free
Hysteresis
% of threshold
10
Contact rating solid state relays
V (dc)
A (dc)
≤30
≤0.3
Contact rating mechanical relays
V (dc)
A (dc)
≤30
≤1
Switching time
ms
≤30
Materials exposed to vacuum
Al2O3, stainless steel
Download full specifications
PCG550 Tungsten
Part Number
Description
211-001
Clamping ring DN 10-16 ISO-KF
350-050

Power Supply, PxG5xx,G-Cable FCC,1.8m

PCG552 Nickel
Part Number
Description
211-001
Clamping ring DN 10-16 ISO-KF
350-050

Power Supply, PxG5xx,G-Cable FCC,1.8m

PCG554 ceramic coated
Part Number
Description
211-001
Clamping ring DN 10-16 ISO-KF
350-050

Power Supply, PxG5xx,G-Cable FCC,1.8m

PCG550 Tungsten
Part Number
Description
211-097

Centering ring with fine filter DN 16 KF

PCG552 Nickel
Part Number
Description
211-097

Centering ring with fine filter DN 16 KF

PCG554 ceramic coated
Part Number
Description
211-097

Centering ring with fine filter DN 16 KF

PCG550 Tungsten
Part Number
Description
303-333

Diagnostic cable 1.9m (P3)

PCG552 Nickel
Part Number
Description
303-333

Diagnostic cable 1.9m (P3)

PCG554 ceramic coated
Part Number
Description
303-333
Diagnostic cable 1.9m (P3)
PCG550 Tungsten
Part Number
Description
357-925
PCG550 Spare Sensor, DN16ISO-KF
357-926
PCG550 Spare Sensor, DN16ISO-KF, long
357-927
PCG550 Spare Sensor, DN16CF-F
357-928
PCG550 Spare Sensor, DN16CF-R, long
357-929
PCG550 Spare Sensor, DN25ISO-KF
357-930
PCG550 Spare Sensor, 1/8" NPT
357-931
PCG550 Spare Sensor, 8-VCR
357-932
PCG550 Spare Sensor, 4-VCR
357-933
PCG550 Spare Sensor, 7/16-20 UNF
357-934
PCG550 Spare Sensor, 29x29mm
357-935

PCG550 Spare Sensor, 4-VCR / 90°

PCG552 Nickel
Part Number
Description
357-936
PCG552 Spare Sensor, DN16ISO-KF
357-937
PCG552 Spare Sensor, DN16ISO-KF, long
357-938
PCG552 Spare Sensor, DN16CF-F
357-939
PCG552 Spare Sensor, DN16CF-R, long
357-941
PCG552 Spare Sensor, 1/8" NPT
357-942
PCG552 Spare Sensor, 8-VCR
357-943
PCG552 Spare Sensor, 4-VCR
357-944
PCG552 Spare Sensor, 7/16-20 UNF
357-945
PCG552 Spare Sensor, 29x29mm
357-946

PCG552 Spare Sensor, 4-VCR / 90°

PCG554 ceramic coated
Part Number
Description
357-947
PCG554 Spare Sensor, DN16ISO-KF
357-948
PCG554 Spare Sensor, DN16ISO-KF, long
357-949
PCG554 Spare Sensor, DN16CF-F
357-950
PCG554 Spare Sensor, DN16CF-R, long
357-951
PCG554 Spare Sensor, DN25ISO-KF
357-952
PCG554 Spare Sensor, 1/8" NPT
357-953
PCG554 Spare Sensor, 8-VCR
357-954
PCG554 Spare Sensor, 4-VCR
357-955
PCG554 Spare Sensor, 7/16-20 UNF
357-956
PCG554 Spare Sensor, 29x29mm
357-957
PCG554 Spare Sensor, 4-VCR / 90°
Part Number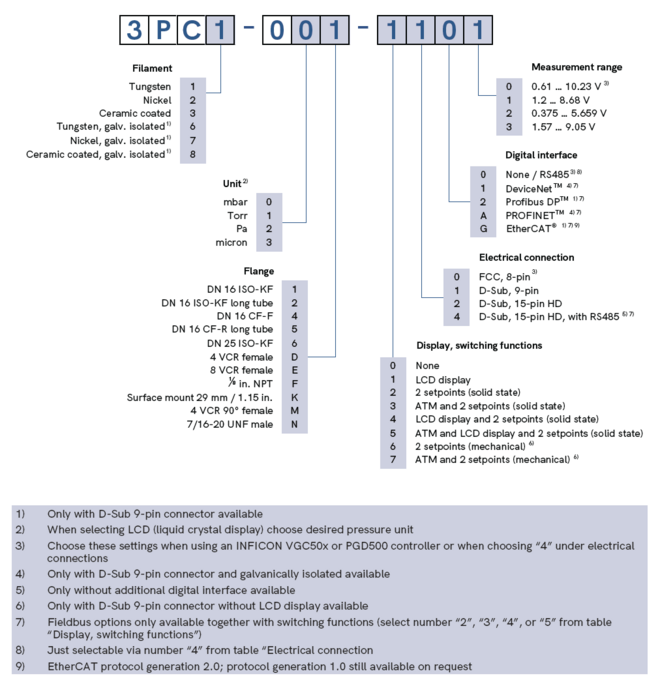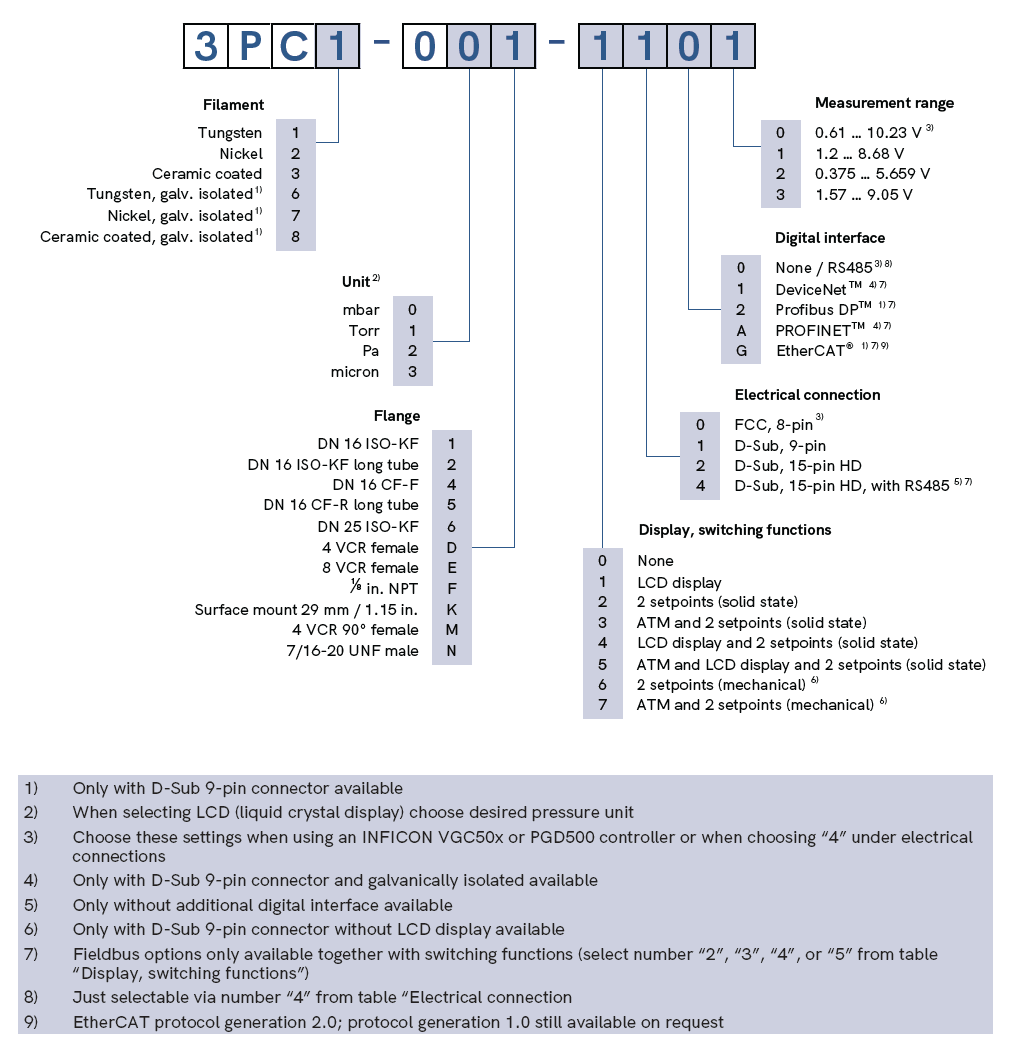 The product is used in the following markets