UL1000 Fab
Helium Leak Detector
UL1000 Fab
ULTRATEST™ sensor technology.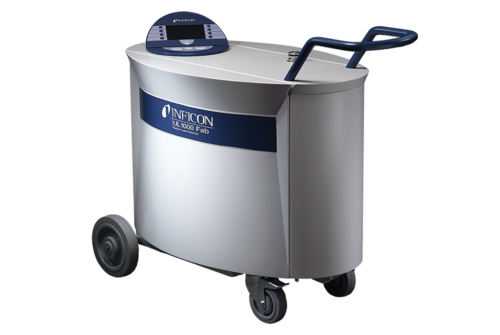 Product configurator
Gemini™ MxG5xx
Flange connection to vacuum chamber
Your configuration has been successfully sent!
The "Dry" Standard for Vacuum Leak Testing in Industrial Vacuum and Semiconductor Manufacturing
The INFICON UL1000 Fab Helium Leak Detector is the renowned standard when it comes to economic helium vacuum leak testing in industrial or semiconductor environments.
Potential contamination of the tested parts or equipment by carbon-hydrogen compounds or particles is eliminated through the instrument's dry pump technology. The UL1000 Fab provides the best compromise between high performance, unparalleled robustness, and affordability. It provides state-of-the art detection limits of 10-12 mbar*l/s combined with reasonable short pump down and response time. The compact design provides high maneuverability allowing easy access to maintenance areas with restricted space. The selectable background suppression (iZERO) enables continuous leak testing within at least two decades lower than existing background levels.
All features enable you to shorten the time of your leak testing efforts while assuring that all leaks can be identified at an economic scale.
Advantages
minimize leak testing efforts through quick pump down and response time
avoid need for multiple leak tests by using selectable background suppression (iZERO)
enable easy access to maintenance areas with restricted space through maneuverable design
low total cost of ownership (TCO) enabled by robust two hot filament ion source (3 years warranty) and counterflow vacuum system
easy to use with rotatable display, optical and audible leak indication, and optional remote control
low maintenance via a built-in test leak with auto calibration procedure
Typical Applications
industrial vacuum equipment manufacturing with high demand for cleanliness
vacuum components or sub-assemblies before they are installed in existing tools
maintenance work on vacuum tools, with or without support from their own pump
inspections and installations of process gas systems
Semiconductor, flat panel display or solar cell manufacturing
Specifications
Min. detectable leak rate for Helium (Vacuum mode)
mbar•L/s
< 5 • 10-12
Min. detectable leak rate for Helium (Sniffer mode)
mbar•L/s
< 5·10-8
Max. Inlet pressure GROSS mode
mbar
15
Max. Inlet pressure FINE mode
mbar
2
Max. Inlet pressure ULTRA mode
mbar
0.4
Pumping speed during evacuation
m³/h
25 at 50 Hz
Helium pumping speed ULTRA mode
L/s
2.5
Detectable masses
2,3,4 amu
Mass spectrometer Sector field
180°
Filaments ion source Iridium/Yttria coated
2
Calibrated built-in leak
mbar•L/s
∼ 10-7
Test port
DN 25 KF
1
Adjustable triggers
2
Interface
RS 232
Chart recorder output
V
2 x10
In/Outputs
PLC compatible
Permissable ambient temperature (during operation)
°C
+10 to +40
Weight
kg
lb
110
242
Dimensions (l x w x h)
mm
in.
1050 x 472 x 987
41 x 19 x 39
Supply voltage (EU)
V (ac)
230 (± 10 %) 50 Hz
Supply voltage (US)
V (ac)
100/115 V (± 10 %) 50/60 Hz
Power consumption (typ.)
VA
1100
Power consumption (max.)
VA
1100
| | |
| --- | --- |
| 550-100A | UL1000 Fab, 230 V AC, EU plug |
| 550-101A | UL1000 Fab, 100/115 V AC, US plug |
| | |
| --- | --- |
| 14022 | Extension cable for remote control RC1000, 8 m length |
| 551-000 | Toolbox, detachable,for UL1000 |
| 551-001 | Helium Bottle Holder for UL1000/5000 |
| 551-002 | ESD Mat for UL1000/5000 |
| 551-005 | TC1000Test Chamber,DN25KF,ESD wrist band |
| 551-010 | Remote Control RC1000C, wired, with 4m coiled cable |
| 551-015 | Remote Control RC1000WL, wireless, incl. wireless transmitter |
| 551-020 | Wireless transmitter for RC1000WL |
| | |
| RC1000 Remote Control | RC1000 Remote Control |
| TC1000 Test Chamber | TC1000 Test Chamber |
The product is used in the following markets