PPG570
Pirani Gauges
PPG570
ATM to Medium Vacuum Gauge + ATM Switch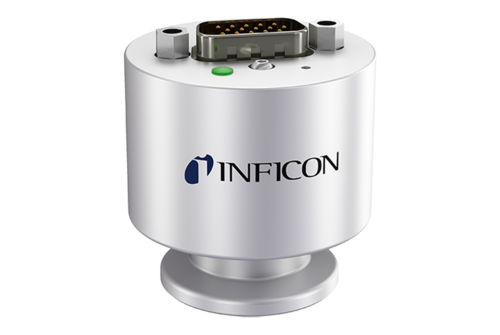 Product configurator
Gemini™ MxG5xx
Flange connection to vacuum chamber
Your configuration has been successfully sent!
The new INFICON Pirani Piezo combination gauge (PPG570) is based on the most advanced MEMS (Microelctromechanical Systems) sensor technology available, which is also used in our PPG550 "ATM to Medium Vacuum" Gauge.
What differentiate PPG570 from PPG550 is the additional installed ATM sensor that allows the use of PPG570 in classical Load-lock applications. For example in Semi-Conductor industries or any other vacuum applications where accurate pressure measurement relative to atmospheric ambient pressure is important.
The Pirani/ Piezo combination technology miniaturized in the MEMS process enables the construction of a very small and thus space-saving sensor, which makes it possible to keep the overall height of the measuring device very small.
In addition to the advantage of the low height, a Pirani based on MEMS technology also offers the advantage of measuring deeper and more accurately in the HV range than a classic Pirani. In combination with a MEMS piezo sensor, mounted in the same flange, the Pirani gauge becomes a real vacuum wide range gauge, extending the measuring range far beyond the usual 1000 mbar, also towards the atmosphere. At the same time the MEMS piezo sensor provides gas type independent pressure measurement in the range of 2 ... 1333 mbar. Another advantage of the technologies mentioned is the increased resistance to acceleration forces and vibrations.
Last but not least the new INFICON PPG570 can be used to direct drop in replace the so called MKS Instruments MKS901P "MicroPirani™ and Piezo Loadlock Vacuum Pressure Transducer". PPG570 offes same connectors/ pin assignment, analog output and RS232/485 digital communication protocol compatibility.
Advantages
Gas type independent above 2 mbar – allows safe venting with any gas mixture
High accuracy and reproducibility at atmosphere – for reliable, fast atmospheric pressure detection
Atmospheric ambient pressure measurement
Up to 3 solid state relays
Versatile of mounting orientation – provides engineering freedom in tool design
Selectable analog output signal for easy system integration
Digital interfaces RS232/ RS485
Able to direct drop in replace MKS901P "MicroPirani™ - and Piezo Loadlock Vacuum Pressure Transducer".
Compliance & standards: CE, EN, UL, CSA, RoHS
Typical applications
Semiconductor load-lock applications
Use in Analytical equipment/ mass sepctrometers
Physical vapor deposition
Physical vapor deposition
Specifications
| | | |
| --- | --- | --- |
| Measurement range (N2) | mbar | 1x10-6 … 1333 |
| | | |
| Accuracy | | |
| | | |
| 1100 ... 1333 mbar | % of reading | 0.5 |
| 800 ... 1099 mbar | % of reading | 0.25 |
| 100 ... 800 mbar | % of reading | 0.5 |
| 2 ... 99.9 mbar | % of reading | 1 |
| 1 x 10-4 ... 1.99 mbar | % of reading | 5 |
| 1 x 10-5 ... 9.99 x 10-5 mbar | % of reading | 25 |
| | | |
| Temperature compensation | °C | +10 … +50 |
| | | |
| Temperature measurement absolute accuracy | °C | +1.5 (0 … +80) |
| | | |
| Supply voltage at the gauge | V (dc) | +12 … +30 ripple max. 1 Vpp |
Download full specifications