PGE050
Pirani Gauges
PGE050
Convection enhanced passive Pirani gauge for VGC083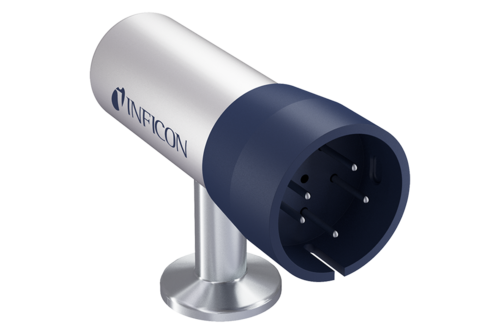 Product configurator
Gemini™ MxG5xx
Flange connection to vacuum chamber
Your configuration has been successfully sent!
The Pirani Gauge Enhanced 050 (PGE050) is the passive version of our active convection enhanced Pirani gauges PGE300 and PGE500. Equipped with the same sensor technology, the PGE050 works in conjunction with our VGC031 and VGC083 passive gauge controller units.
Thanks to its convection enhanced principle, PGE050 is capable of high accuracy readings in the measurement range between 1.3×10-4 to 1333 mbar. With its wider measuring range and unmatched accuracy, especially at near-atmospheric pressures, PGE050 is the first choice when replacing other Pirani or thermocouple gauges in your vacuum system. The robust sensor design makes the PGE050 a high value/low cost of ownership choice and qualifies for many applications where an economical vacuum measurement from atmosphere to high vacuum range is required.
Advantages
Convection enhanced Pirani technology for wide measurement range and higher accuracy near atmosphere
Gold plated tungsten filament
Mechanical robust and less susceptible to mechanical shock and vibration
Large choice of flange options
Compliance & standards: CE, RoHS
Direct drop in replaces Granville-Phillips® Convectron® gauge sensor (same plug/ pinouts)
PGE050 accepts Granville-Phillips® Convectron® controllers, cables and modules
Ideal gauge sensor for upgrading your installed Pirani and thermocouple gauge
(Granville-Phillips®, Convectron® and Mini-Convectron® are registered trademarks of MKS Instruments, Andover, MA)
Typical applications
General vacuum measurement and control from atmosphere to high vacuum range
Operating Units
Vacuum Gauge Controller VGC083 A/B/C and VGC031
Unique design features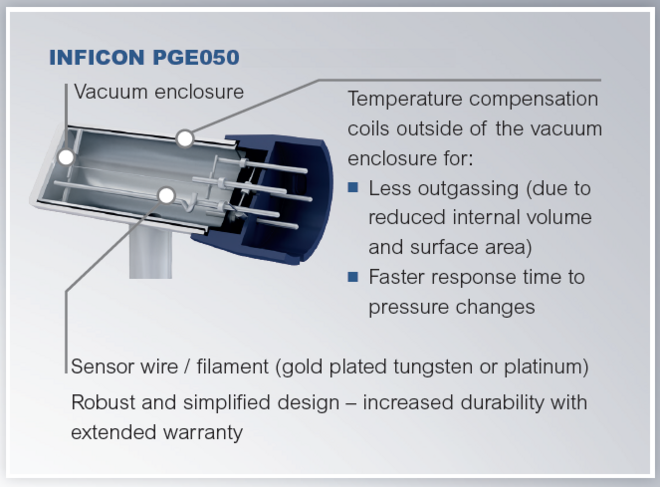 The product is used in the following markets