VGC031
Vacuum Gauge Controller
VGC031

Single channel controller for PGE050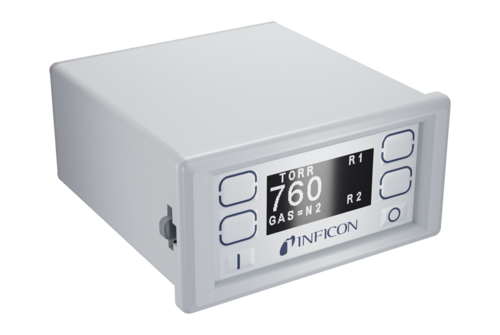 Product configurator
Gemini™ MxG5xx
Flange connection to vacuum chamber
Your configuration has been successfully sent!
The Vacuum Gauge Controller VGC031 is a single channel gauge controller for the Pirani Gauge Enhanced PGE050. VGC031 acts as a convenient power supply, control and readout for PGE050, allowing straightforward vacuum pressure monitoring and controlling from atmosphere down to high vacuum (1.3×10-4 mbar).
VGC031 supports a variety of technical features as 2 setpoint relays, 4 user selectable analog outputs and offers additionally RS232/ RS485 digital interfaces. The bright, sharp and clear OLED display with the integrated keypad user interface rounds out this user friendly vacuum gauge controller package. The housing of VGC031 allows straightforward panel mounting thus providing a great rack space saving capability. The combination VGC031-PGE050 is the best choice for many vacuum applications where economical vacuum measurement from atmosphere to high vacuum range is required.
Advantages
Display`s and control wide measurement range from 1.3×10-4 up to 1333 mbar
Bright digital OLED display with keypad for simple set up and Operation
4 user selectable analog output signals, 2 set point relays
RS232/RS485 digital Interface
Space saving design – 1/8" DIN panel mount housing for rack mount installation or as standalone unit
Powered through user supplied 12 to 28 V (dc) or by INFICON's VGC031 Power Supply
Compliance & standards: CE, RoHS
Replacement capability for Granville-Phillips® 375 and 475 controllers and 275 Convectron® gauge sensors and gauge cable (note: remote interface, relay and power connectors are different)
(Granville-Phillips® and Mini-Convectron® are registered trademarks of MKS Instruments, Andover, MA)
Available measurement configuration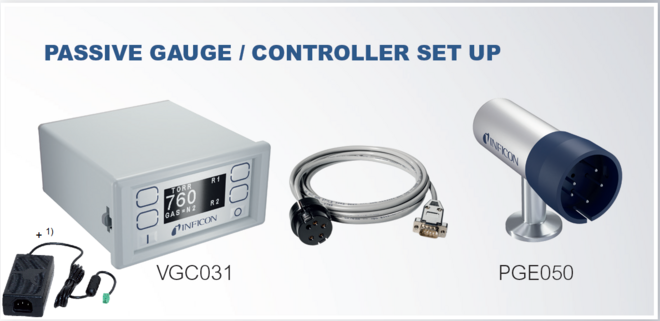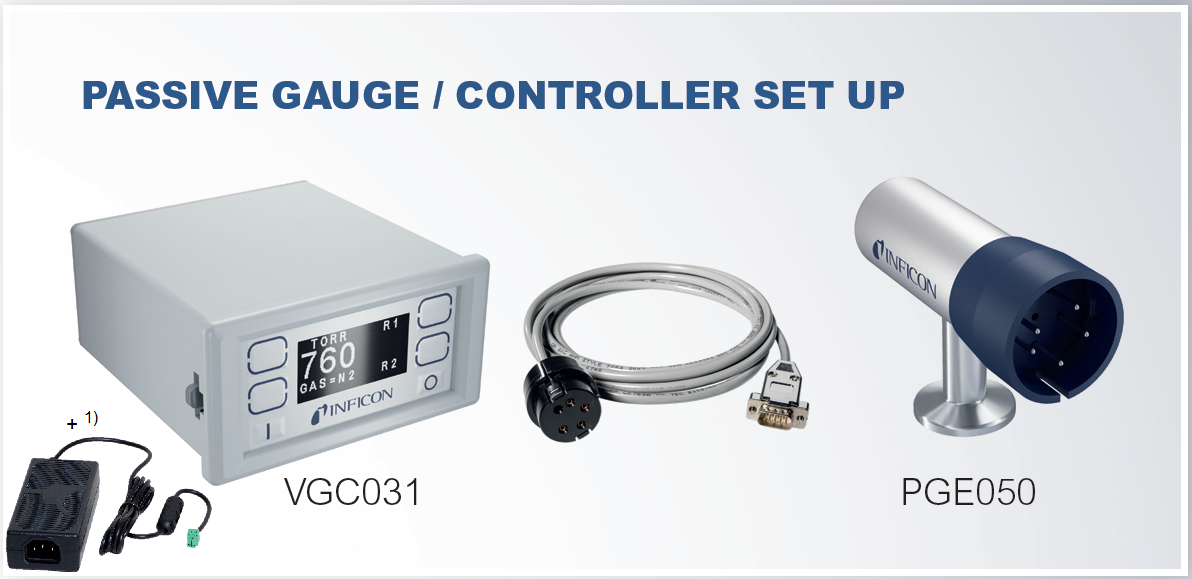 1) Power supply user-supplied or ordered separately (352-575)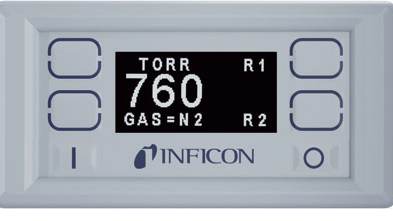 VGC031 Front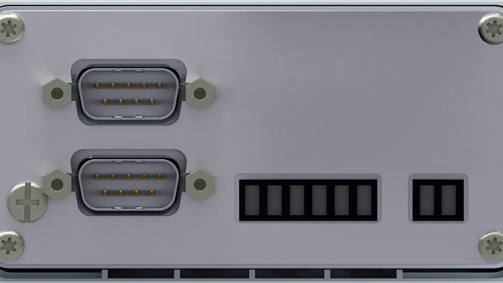 VGC031 Back
Gauges overview
PGE050
| | |
| --- | --- |
| Gauge type | Convection enhanced Pirani |
| | |
| Pressure measurement range | 1.3×10-4 mbar to 1333 mbar |
The product is used in the following markets