BPG400
Hot Ionization Gauges
BPG400
ATM to Ultra High Vacuum Gauge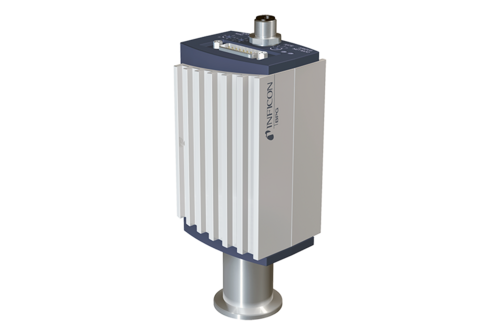 Product configurator
Gemini™ MxG5xx
Flange connection to vacuum chamber
Your configuration has been successfully sent!
The INFICON Bayard-Alpert Pirani Combination Gauge, BPG400, functions as two gauges in a single compact unit measuring from 5×10-10 mbar to atmosphere (3.8×10-10 Torr to atmosphere).
Combining technologies reduces the complexity of installation, setup, and integration. Choose the BPG400 for affordable and repeatable process to base pressure measurements in one economic package.
Advantages
Extremely wide measurement range from 5×10-10 mbar to atmosphere (3.8×10-10 Torr to atmosphere)
Excellent repeatability in the process pressure range from 10-8 … 10-2 mbar of 5%
The Pirani interlock protects the Bayard-Alpert system from premature filament burnout and excess contamination from high pressure operation
Long-life yttrium oxide coated iridium filament
Optional graphic display and Fieldbus interfaces available
Automatic high vacuum Pirani adjustment reduces operator interventions
RoHS compliance
General vacuum measurement and control in the low to ultra high vacuum range
Typical applications
Pressure measurement in semiconductor process and transfer chambers
Industrial coating
General vacuum measurement and control in the low to ultra high vacuum range
Specifications
Measurement range (air, O2, CO, N2)
mbar
Torr
5×10-10 … 1000
3.8×10-10 … 750
Accuracy
10-8 … 10-2 mbar
% of reading
±15
Repeatability
10-8 … 10-2 mbar
% of reading
5
Temperature
Operation (ambient)
°C
0 … +50
Storage
°C
-20 … +70
Bakeout at flange with extension
°C
150
Bakeout at flange without extension
°C
80
Bakeout electronics removed
°C
150
Supply voltage
V (dc)
A (dc)
+20 … +28
0.8
Materials exposed to vacuum
Yt2O3, Ir, Pt, Mo, Cu, W, NiFe, NiCr, stainless steel, glass
Download full specifications
Part Number
Accessories
Spare Parts
| | |
| --- | --- |
| Part Number | Description |
| 353-500 | BPG400 DN 25 ISO-KF |
| 353-501 | BPG400 LCD, DN 25 ISO-KF |
| 353-502 | BPG400 DN 40 CF-R |
| 353-503 | BPG400 LCD, DN 40 CF-R |
| 353-505 | BPG400-SP PBus, DN 25 ISO-KF |
| 353-506 | BPG400-SP PBus, DN 40 CF-R |
| 353-507 | BPG400-SD DNet, DN 25 ISO-KF |
| 353-508 | BPG400-SD DNet, DN 40 CF-R |
| | |
| --- | --- |
| Part Number | Description |
| 353-511 | Power supply BPG400 24VDC |
| 353-510 | 100 mm sensor extension tube |
| 353-512 | Baffle for BPG400 |
| 211-113 | Centering ring with baffle DN 25 KF |
| | |
| --- | --- |
| Part Number | Description |
| 354-490 | Spare sensor head BPG400, DN 25 ISO-KF |
| 354-491 | Spare sensor head BPG400, DN 40 CF-R |
| 354-498 | Spare electronic BPG400 without Display |
| 354-499 | Spare electronic BPG400 with Display |
The product is used in the following markets