BAG402
Hot Ionization Gauges
BAG402
Medium to Ultra High Vacuum Gauge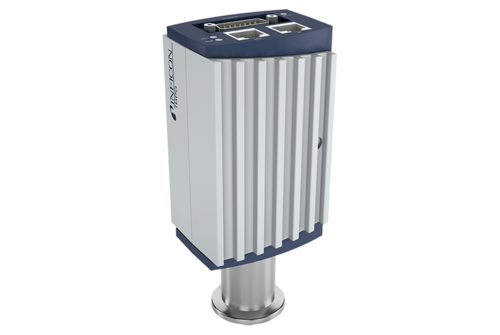 Product configurator
Gemini™ MxG5xx
Flange connection to vacuum chamber
Your configuration has been successfully sent!
The INFICON single Bayard-Alpert Hot Ion Gauge BAG402 covers a wide measurement range from 5×10-10 mbar to 2.7×10-2 mbar (3.75×10-10 Torr to 5×10-2 Torr). Choose the INFICON BAG402 for affordable and repeatable process to base pressure measurements in a compact active gauge package.
The unique, supported dual filaments offer superior accuracy, longtermstability and longevity.
Advantages
Measurement range from 5×10-10 mbar to 2.7×10-2 mbar (3.75×10-10 Torr to 5×10-2 Torr)
Excellent repeatability in the process pressure range from 10-8 … 10-2 mbar of 5%
Overpressure detection protects the filament from premature burnout
Two long-life yttrium oxide coated iridium filaments
Automatic emission current selection reduces control complexity
Easy to exchange sensing element with on-board calibration data guarantees high reproducibility
RoHS compliance
Typical applications
Pressure measurement in semiconductor process and transfer chambers
Industrial coating
General vacuum measurement and control in the low to ultra high vacuum range
Specifications
Measurement range (air, O2, CO, N2)
mbar
Torr
5×10-10 … 2.7×10-2
3.75×10-10 5×10-2
Accuracy
10-8 … 10-2 mbar
% of reading
±15
Temperature
Operation (ambient)
°C
0 … +50
Storage
°C
-20 … +70
Bakeout at flange without electronics
°C
80
Supply voltage
V (dc)
A (dc)
+20 … +28
≤0.8
Download full specifications
Part Number
Accessories
Spare Parts
| | |
| --- | --- |
| 353-600 | BAG402 DSUB9 KF25 |
| 353-601 | BAG402 DSUB9 CF40 |
| | |
| --- | --- |
| 303-333 | Diagnostic cable 1.9m (P3) |
| | |
| --- | --- |
| 354-484 | Spare sensor head BAG402 DN 25 ISO-KF |
| 354-485 | Spare sensor head BAG402 DN 40 CF-R |
The product is used in the following markets