BAG302
Hot Ionization Gauges
BAG302
Medium to Ultra High Vacuum Gauge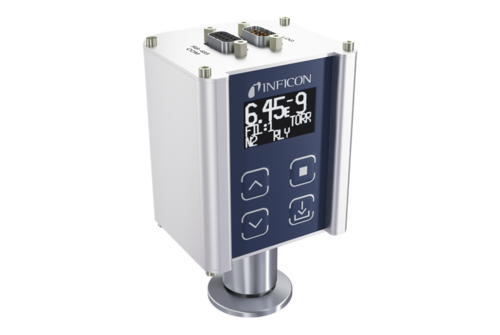 Product configurator
Gemini™ MxG5xx
Flange connection to vacuum chamber
Your configuration has been successfully sent!
The INFICON single Bayard-Alpert Hot Ion gauge BAG302 covers a wide measurement range from 1.3 × 10-9 to 6.7×10-2 mbar (1 × 10-9 to 5 × 10-2 Torr).
The compact All-In-One Hot Ion gauge BAG302 offers an easy to exchange dual filament sensor, a built in OLED display, set-point relay and a log-linear analog output as well as an integrated RS485 digital interface for increased integration flexibility. These features combined with the rugged design makes the BAG302 an affordable and repeatable process to base pressure measurement instrument of its own and provides a high value/ low cost of ownership choice.
Advantages
Wide measurement range from 1.3 × 10-9 to 6.7×10-2 mbar(1 × 10-9 to 5 × 10-2 Torr)
Two standard long-life yttrium oxide coated iridium filaments
All-in-One active gauge with built-in display, set-point, analog output and standard integrated RS485 digital interface
Bright digital OLED display with keypad for simple setup, operation and programming
User programmable set point relay
User programmable display units in mbar, Torr or Pa
User selectable Auto-ranging of emission current
Mechanical strength and ruggedness
Choice of various flange options
Easy to exchange sensing element
Compliance & standards: CE, RoHS
Direct drop in replaces Granville-Phillips® 354 Micro-Ion® Module – identical control functions including softwarecommands (RS485) (Granville-Phillips® and Micro-Ion® are registered trademarks of MKS Instruments, Andover, MA)
Typical applications
Pressure measurement in semiconductor process and transfer chambers
Industrial coating
General vacuum measurement and control in the low to ultra high vacuum range
Specifications
Measurement range (air, O2, CO, N2)
mbar
Torr
Pa
1.3 x 10-9 ... 6.7 x 10-2
1 x 10-9 ... 5 x 10-2
1.3 x 10-7 ... 6.7
Accuracy (N2)
1.3×10-8 … 6.7 ×10-2 mbar
% of reading
±15
1×10-8 … 5×10-2 Torr
% of reading
±15
Repeatability
% of reading
±5
Temperature
°C
+10 … +50
Operation (ambient)
°C
0 ... +40
Storage
°C
-40 ... +70
Bakeout at flange (sensor only, electrics removed)
°C
200
Supply voltage
V (dc)
+20 ... +28
Setpoint relay
1 (single-pole double-throw relay (SPDT))
1 A at 30 V (dc) resistive, or V (ac) non-inductive
Materials exposed to vacuum
Yt2O3, Ir, W, Ta, stainless steel, glass, Ni
Download full specifications
Part Number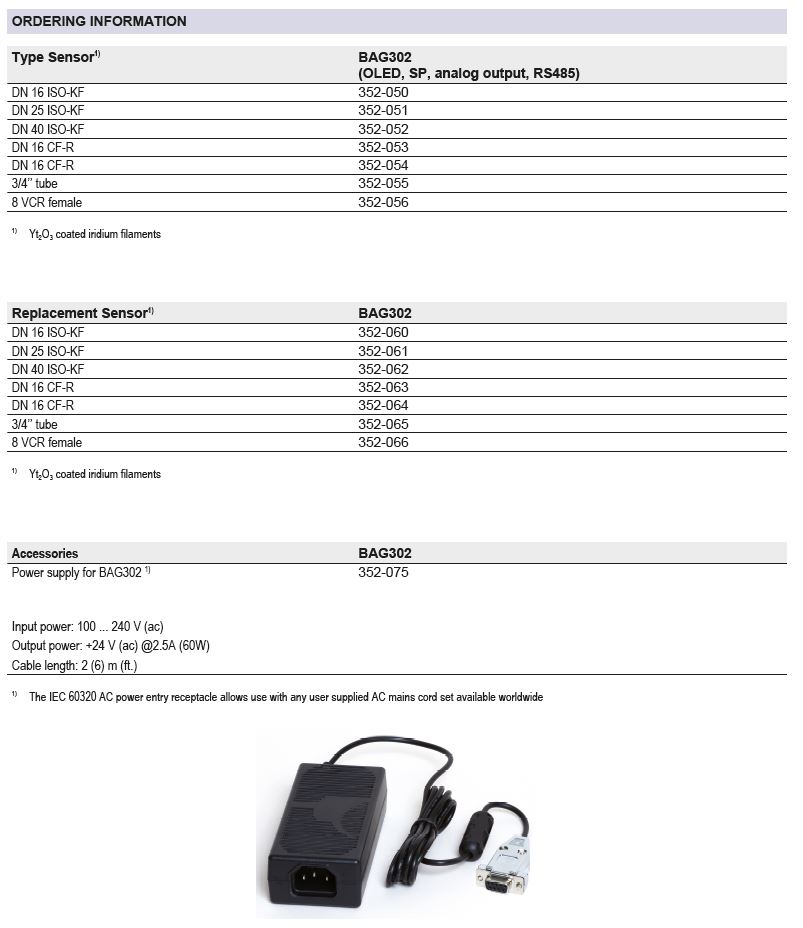 The product is used in the following markets