Transpector® MPS
Mass Spectrometers
Transpector® MPS

Excellent Performance and Great Value for General Vacuum Applications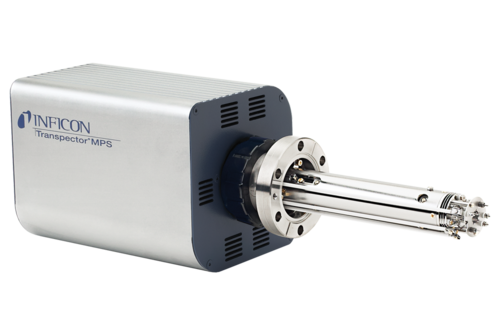 Product configurator
Gemini™ MxG5xx
Flange connection to vacuum chamber
Your configuration has been successfully sent!
As manufacturing technologies advance and quality standards change, the need to understand your process and maintain product quality is more important than ever. Transpector MPS can help you optimize your process by monitoring process conditions, detecting contaminants, and checking for leaks. Transpector MPS offers the robust performance of the Transpector brand of RGA at an excellent value for our customers.

Transpector MPS is available in both 100 amu and 200 amu versions, which gives you the flexibility of performing a wide variety of functions including general leak detection, vacuum diagnostics, and hydrocarbon analysis. This versatility makes Transpector MPS the sensor of choice for vacuum furnace, heat treating, and vacuum coating applications.
Features
Dual filaments
Field replaceable Electron Multiplier
Field replaceable anode, cathode and repeller filament assembly
Interchangeable sensors and electronics
TCP/IP Ethernet connectivity
Shorter sensors minimize installed footprint
Nine-decade dynamic range
Max. data rate of 3 ms per point for analog scans and selected peaks
MDPP of <1.5E-14 Torr
Sensors are assembled, tested and double bagged in a cleanroom environment
RoHS Compliant
Specifications
MPS100M
MPS100F
MPS200M
MPS200F
| | |
| --- | --- |
| Mass Range | 100 amu |
| | |
| Min. Detectable Partial Pressure | 1.5E-14 Torr |
| | |
| Sensitivity (FC) | 3E-4 amps/Torr |
| | |
| Sensitivity (EM) | 500 amps/Torr |
| | |
| Max. Operating Pressure | 5E-4 Torr |
| | |
| --- | --- |
| Mass Range | 100 amu |
| | |
| Min. Detectable Partial Pressure | 2.6E-12 Torr |
| | |
| Sensitivity (FC) | 3E-4 amps/Torr |
| | |
| Sensitivity (EM) | NA |
| | |
| Max. Operating Pressure | 5E-4 Torr |
| | |
| --- | --- |
| Mass Range | 200 amu |
| | |
| Min. Detectable Partial Pressure | 1.5E-14 Torr |
| | |
| Sensitivity (FC) | 3E-4 amps/Torr |
| | |
| Sensitivity (EM) | 500 amps/Torr |
| | |
| Max. Operating Pressure | 5E-4 Torr |
| | |
| --- | --- |
| Mass Range | 200 amu |
| | |
| Min. Detectable Partial Pressure | 2.6E-12 Torr |
| | |
| Sensitivity (FC) | 3E-4 amps/Torr |
| | |
| Sensitivity (EM) | NA |
| | |
| Max. Operating Pressure | 5E-4 Torr |
Download full specifications
Accessories
| | |
| --- | --- |
| 961-021-G1 | Power Supply Kit 80 - 250 VAC / 4 ft (1.2m) US plug |
| 961-021-G2 | Power Supply Kit 80 - 250 VAC / 4 ft (1.2 m) US plug w/ 15 ft (4.5m) Extension Cable |
| 961-021-G3 | Power Supply Kit 80 - 250 VAC / 4 ft (1.2 m) US plug w/ 30 ft (9m) Extension Cable |
| 961-021-G4 | Power Supply Kit 80 - 250 VAC / 4 ft (1.2 m) 230V plug |
| 961-021-G5 | Power Supply Kit 80 - 250 VAC / 4 ft (1.2 m) 230V plug w/ 15 ft (4.5m) Extension Cable |
| 961-021-G6 | Power Supply Kit 80 - 250 VAC / 4 ft (1.2 m) 230V plug w/ 30 ft (9m) Extension Cable |
| 600-1190-P8 | Ethernet 7m cable |
| 600-1190-P15 | Ethernet 15m cable |
| 600-1428-P1 | Power Supply Extension Cable- 15 ft (4.5m) |
| 600-1429-P1 | Power Supply Extension Cable - 30 ft (9m) |
| 961-417-G1 | Ethernet Router 4 port with Push Button Wi-Fi |
| 961-418-G1 | Ethernet Switch 8 port |
| 914-024-G1 | Angle Valve Kit, Manual (includes heater) |
| 961-029-G1 | MPH Heater Kit 120 VAC |
| 961-029-G2 | MPH Heater Kit 230 VAC |
Universal Spare Parts
Consumables
| | |
| --- | --- |
| 961-416-P1 | Spare MPH Heating Jacket |
| 914-407-P1 | Spare Valve Heating Jacket (required heater power cable if stand alone) |
| 600-1117-P1 | Spare Heater Power Cable 120 VAC |
| 600-1117-P2 | Spare Heater Power Cable 230 VAC |
| 914-410-P1 | Spare Angle Valve, Manual |
| 961-022-G1 | Spare O-Ring and Nut Kit |
| | |
| --- | --- |
| 961-700-G1 | Coated Iridium Filament Kit |
| 961-701-G1 | Coated Iridium Filament Ion Source |
| 961-2428-G2 | Electron Multiplier Replacement Kit |
Spare Parts
MPS100M
MPS100F
MPS200M
MPS200F
| | |
| --- | --- |
| 961-S1MAS | MPS100 EM Sensor with Y2O3/Ir Filaments |
| MP-S10S | MPS100 Electronics Box w/ Ethernet Comm |
| | |
| --- | --- |
| 961-S1FAS | MPS100 FC Sensor with Y2O3/Ir Filaments |
| MP-S10S | MPS100 Electronics Box w/ Ethernet Comm |
| | |
| --- | --- |
| 961-S2MAS | MPS200 EM Sensor with Y2O3/Ir Filaments |
| MP-S20S | MPS200 Electronics Box w/ Ethernet Comm |
| | |
| --- | --- |
| 961-S2FAS | MPS200 FC Sensor with Y2O3/Ir Filaments |
| MP-S20S | MPS200 Electronics Box w/ Ethernet Comm |
The product is used in the following markets