Transpector® MPH
Mass Spectrometers
Transpector® MPH

Unparalleled Performance for Increased Yields and Maximum Uptime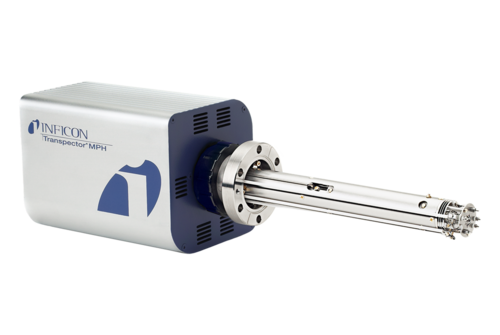 Product configurator
Gemini™ MxG5xx
Flange connection to vacuum chamber
Your configuration has been successfully sent!
The ever increasing price of silicon wafers and demand for finished products means that scrapped wafers cost more than ever before. Thus, understanding your process and monitoring for defects has become a much higher priority in semiconductor fabrication centers. The Transpector MPH Gas Analysis System is designed to unlock your process with industry leading performance for all of your gas analysis applications to help maximize chip yields and minimize tool downtime. Combined with a low overall cost of ownership and high mean-time-between-failures, Transpector MPH helps your bottom line more than any other residual gas analyzer (RGA) on the market.

INFICON has leveraged its expertise in gas analysis process control equipment to create an RGA with industry-leading data collection speed, minimum detectable partial pressure and signal-to-noise ratio. All this, without sacrificing any of the reliability you have come to expect from INFICON Transpector Gas Analyzers.
Features
Max. Data Rate of 1.8 ms per point for Analog Scans and Selected Peaks
TCP/IP Ethernet connectivity
Dual filaments
Field replaceable Electron Multiplier
Combined anode, cathode and repeller filament kit
Shorter sensors minimize installed footprint
Nine-decade dynamic range
MDPP of <2E-15 Torr (100 amu)
Increased Signal-to-Noise ratio
Interchangeable sensors and electronics
Sensors are assembled, tested and double bagged in a cleanroom environment
RoHS Compliant
Specifications
MPH100M
MPH100F
MPH200M
MPH200F
MPH300M
MPH300F
| | |
| --- | --- |
| Mass Range | 100 amu |
| | |
| Min. Detectable Partial Pressure | 2E-15 Torr |
| | |
| Sensitivity (FC) | 6E-4 A/Torr |
| | |
| Sensitivity (EM) | 500 A/Torr |
| | |
| Max. Operating Pressure | 5E-4 Torr |
| | |
| --- | --- |
| Mass Range | 100 amu |
| | |
| Min. Detectable Partial Pressure | 3E-13 Torr |
| | |
| Sensitivity (FC) | 6E-4 A/Torr |
| | |
| Sensitivity (EM) | NA |
| | |
| Max. Operating Pressure | 5E-4 Torr |
| | |
| --- | --- |
| Mass Range | 200 amu |
| | |
| Min. Detectable Partial Pressure | 3E-15 Torr |
| | |
| Sensitivity (FC) | 5E-4 A/Torr |
| | |
| Sensitivity (EM) | 500 A/Torr |
| | |
| Max. Operating Pressure | 5E-4 Torr |
| | |
| --- | --- |
| Mass Range | 200 amu |
| | |
| Min. Detectable Partial Pressure | 4E-13 Torr |
| | |
| Sensitivity (FC) | 5E-4 A/Torr |
| | |
| Sensitivity (EM) | NA |
| | |
| Max. Operating Pressure | 5E-4 Torr |
| | |
| --- | --- |
| Mass Range | 300 amu |
| | |
| Min. Detectable Partial Pressure | 4E-15 Torr |
| | |
| Sensitivity (FC) | 4E-4 A/Torr |
| | |
| Sensitivity (EM) | 250 A/Torr |
| | |
| Max. Operating Pressure | 5E-4 Torr |
| | |
| --- | --- |
| Mass Range | 300 amu |
| | |
| Min. Detectable Partial Pressure | 5E-13 Torr |
| | |
| Sensitivity (FC) | 4E-4 A/Torr |
| | |
| Sensitivity (EM) | NA |
| | |
| Max. Operating Pressure | 5E-4 Torr |
Accessories
| | |
| --- | --- |
| 961-021-G1 | Power Supply Kit 80 - 250 VAC / 4 ft (1.2m) US plug |
| 961-021-G2 | Power Supply Kit 80 - 250 VAC / 4 ft (1.2 m) US plug w/ 15 ft (4.5m) Extension Cable |
| 961-021-G3 | Power Supply Kit 80 - 250 VAC / 4 ft (1.2 m) US plug w/ 30 ft (9m) Extension Cable |
| 961-021-G4 | Power Supply Kit 80 - 250 VAC / 4 ft (1.2 m) 230V plug |
| 961-021-G5 | Power Supply Kit 80 - 250 VAC / 4 ft (1.2 m) 230V plug w/ 15 ft (4.5m) Extension Cable |
| 961-021-G6 | Power Supply Kit 80 - 250 VAC / 4 ft (1.2 m) 230V plug w/ 30 ft (9m) Extension Cable |
| 600-1190-P8 | Ethernet 7m cable |
| 600-1190-P15 | Ethernet 15m cable |
| 600-1428-P1 | Power Supply Extension Cable- 15 ft (4.5m) |
| 600-1429-P1 | Power Supply Extension Cable - 30 ft (9m) |
| 961-417-G1 | Ethernet Router 4 port with Push Button Wi-Fi |
| 961-418-G1 | Ethernet Switch 8 port |
| 961-702-G1 | Pirani Interlock Kit |
| 914-024-G1 | Angle Valve Kit, Manual (includes heater) |
| 914-026-G1 | MPH Angle Valve Kit, Electropneumatic 24 V(DC) (includes heater) |
| 961-029-G1 | MPH Heater Kit 120 VAC |
| 961-029-G2 | MPH Heater Kit 230 VAC |
Universal Spare Parts
Consumables
| | |
| --- | --- |
| 961-416-P1 | Spare MPH Heating Jacket |
| 914-407-P1 | Spare Valve Heating Jacket (required heater power cable if stand alone) |
| 600-1117-P1 | Spare Heater Power Cable 120 VAC |
| 600-1117-P2 | Spare Heater Power Cable 230 VAC |
| 914-410-P1 | Spare Angle Valve, Manual |
| 914-220-G1 | Spare Angle Valve, Air Operated |
| 961-206-G2 | MPH Extension Kit |
| 961-205-G2 | MPH HPR Extension Kit |
| 961-022-G1 | Spare O-Ring and Nut Kit |
| 074-5007-G1 | Gas Analysis Product Manuals CD |
| | |
| --- | --- |
| 961-700-G1 | Coated Iridium Filament Kit |
| 961-700-G2 | Tungsten Filament Kit |
| 961-701-G1 | Coated Iridium Filament Ion Source |
| 961-701-G2 | Tungsten Filament Ion Source |
| 961-2428-G2 | Electron Multiplier Replacement Kit |
Spare Parts
MPH100F
MPH100M
MPH200F
MPH200M
MPH300F
MPH300M
| | |
| --- | --- |
| 961-H1FAS | MPH Sensor, 100 AMU FC (MPH100F) w/ Y2O3/Ir Filaments |
| 961-H1FBS | MPH Sensor, 100 AMU FC (MPH100F) w/ Tungsten Filaments |
| MP-H10S | MPH Electronics Box, 100 AMU FC or EM/FC (MPH100F, MPH100M) w/ Ethernet |
| | |
| --- | --- |
| 961-H1MAS | MPH Sensor, 100 AMU EM/FC (MPH100M) w/ Y2O3/Ir Filaments |
| 961-H1MBS | MPH Sensor, 100 AMU EM/FC (MPH100M) w/ Tungsten Filaments |
| MP-H10S | MPH Electronics Box, 100 AMU FC or EM/FC (MPH100F, MPH100M) w/ Ethernet |
| | |
| --- | --- |
| 961-H2FAS | MPH Sensor, 200 AMU FC (MPH200F) w/ Y2O3/Ir Filaments |
| 961-H2FBS | MPH Sensor, 200 AMU FC (MPH200F) w/ Tungsten Filaments |
| MP-H20S | MPH Electronics Box, 200 AMU FC or EM/FC (MPH200F, MPH200M) w/ Ethernet |
| | |
| --- | --- |
| 961-H2MAS | MPH Sensor, 200 AMU EM/FC (MPH200M) w/ Y2O3/Ir Filaments |
| 961-H2MBS | MPH Sensor, 200 AMU EM/FC (MPH200M) w/ Tungsten Filaments |
| MP-H20S | MPH Electronics Box, 200 AMU FC or EM/FC (MPH200F, MPH200M) w/ Ethernet |
| | |
| --- | --- |
| 961-H3FAS | MPH Sensor, 300 AMU FC (MPH300F) w/ Y2O3/Ir Filaments |
| 961-H3FBS | MPH Sensor, 300 AMU FC (MPH300F) w/ Tungsten Filaments |
| MP-H30S | MPH Electronics Box, 300 AMU FC or EM/FC (MPH300F, MPH300M) w/ Ethernet |
| | |
| --- | --- |
| 961-H3MAS | MPH Sensor, 300 AMU EM/FC (MPH300M) w/ Y2O3/Ir Filaments |
| 961-H3MBS | MPH Sensor 300 AMU EM/FC (MPH300M) w/ Tungsten Filaments |
| MP-H30S | MPH Electronics Box, 300 AMU FC or EM/FC (MPH300F, MPH300M) w/ Ethernet |
The product is used in the following markets