Transpector® CPM 3
Mass Spectrometers
Transpector® CPM 3
Fast, Field-Ready Process Monitoring System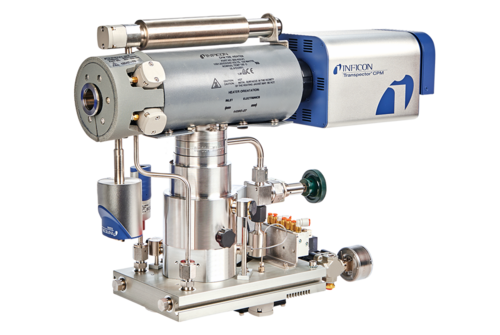 Product configurator
Gemini™ MxG5xx
Flange connection to vacuum chamber
Your configuration has been successfully sent!
Performance, Reliability, and Versatility
INFICON Transpector CPM has been the market-leading Residual Gas Analyzer (RGA) process monitoring system in the semiconductor industry for over a decade. Now Transpector CPM 3 provides industry leading measurement speed and sensitivity through a field proven pumping and inlet system integrated with a new sensor and electronics. Transpector CPM 3 is the ideal RGA process monitor for new and established semiconductor processes such as ALD, CVD, PVD, and Etch.
Transpector CPM 3 provides proven return on investment to our partners through:
Industry Leading Measurement Technology
Robust and Adaptive Architecture
Ease of Maintenance
Superior Product Support
Features
Residual Gas Analyzer for ALD, Etch, CVD and 300 mm Degas—enables real-time process monitoring and analysis
ALD-Ready with 1.8 ms per point (555 points per second) measurement speed
Field-proven durability and reliability in the most demanding CVD and Etch applications
Application Integration—Transpector CPM becomes a powerful process monitoring and diagnostics tool when integrated with FabGuard software and supported by INFICON world-class applications experts
Compact size—allows for easy integration into production semiconductor equipment
Hexblock™ with up to three pressure inlets and reduced surface area to minimize surface reactions and response times
Capacitance Diaphragm Gauge (CDG)—CDG allows user to monitor the process pressure and automatically protect the system from pressure excursions
Automated calibration—ensures long-term data stability and accuracy for sensor to sensor and tool to tool chamber matching
Specifications
100 AMU CPM
200 AMU CPM
300 AMU CPM
| | |
| --- | --- |
| Total Pressure Range | 5E-7 - 1E-3 Torr |
| | |
| Detection Limit | < 1 ppm |
| | |
| Process Pressure Range | 1E-8 Torr - 1.2 atm |
| | |
| Sensitivity (Low Emission) | > 4E-6 Amps/Torr |
| | |
| Sensitivity (High Emission) | > 2E-5 Amps/Torr |
| | |
| --- | --- |
| Total Pressure Range | 5E-7 - 1E-3 Torr |
| | |
| Detection Limit | < 2 ppm |
| | |
| Process Pressure Range | 1E-8 Torr - 1.2 atm |
| | |
| Sensitivity (Low Emission) | > 2E-6 Amps/Torr |
| | |
| Sensitivity (High Emission) | > 1E-5 Amps/Torr |
| | |
| --- | --- |
| Total Pressure Range | 5E-7 - 1E-3 Torr |
| | |
| Detection Limit | < 4 ppm |
| | |
| Process Pressure Range | 1E-8 Torr - 1.2 atm |
| | |
| Sensitivity (Low Emission) | > 1E-6 Amps/Torr |
| | |
| Sensitivity (High Emission) | > 5E-6 Amps/Torr |
Download full specifications
Consumables
100 AMU CPM
200 AMU CPM
300 AMU CPM
| | |
| --- | --- |
| Part Number | Description |
| 059-0196 | NI-4-VCR-2, 1/4" VCR GASKET NI |
| 059-0400 | Replacement c-ring |
| 070-1042 | O-Ring, 0.739 ID, 0.070 W, Viton, 75Duro (V4 only) |
| 923-418-G1 | CPM Replacement Diaphragm Kit 2 Stage |
| 923-706-G10 | 30 Torr HexBlock orifice (10.5 micron) |
| 923-706-G3 | 10 Torr HexBlock orifice (20 micron) |
| 923-706-G4 | 1 Torr HexBlock orifice (62 micron) |
| 923-706-G6 | 10 mtorr HexBlock orifice (750 micron) |
| 923-706-G7 | 360 mtorr HexBlock orifice (120 micron) |
| 923-706-G8 | 15 mtorr HexBlock orifice (350 micron) |
| 923-706-G9 | 3 Torr HexBlock orifice (35 micron) |
| 923-707-G1 | 10 Torr HexBlock sniffer (5 cm length) |
| 923-707-G2 | 100 Torr HexBlock sniffer (5 cm length) |
| 923-707-G3 | 7 Torr HexBlock sniffer |
| 961-707-G1 | Electron Multiplier Kit, Spare |
| 964-710-G1 | Filament Kit CPM Tungsten |
| 964-710-G2 | Filament Kit CPM Coated |
| 964-711-G1 | Ion Source Kit CPM Tungsten |
| 964-711-G2 | Ion Source Kit CPM Tungsten w/Liner |
| 964-712-G1 | Ion Source Kit CPM Coated |
| 964-712-G2 | Ion Source Kit CPM Coated w/Liner |
| | |
| --- | --- |
| Part Number | Description |
| 059-0196 | NI-4-VCR-2, 1/4" VCR GASKET NI |
| 059-0400 | Replacement c-ring |
| 070-1042 | O-Ring, 0.739 ID, 0.070 W, Viton, 75Duro (V4 only) |
| 923-418-G1 | CPM Replacement Diaphragm Kit 2 Stage |
| 923-706-G10 | 30 Torr HexBlock orifice (10.5 micron) |
| 923-706-G3 | 10 Torr HexBlock orifice (20 micron) |
| 923-706-G4 | 1 Torr HexBlock orifice (62 micron) |
| 923-706-G6 | 10 mtorr HexBlock orifice (750 micron) |
| 923-706-G7 | 360 mtorr HexBlock orifice (120 micron) |
| 923-706-G8 | 15 mtorr HexBlock orifice (350 micron) |
| 923-706-G9 | 3 Torr HexBlock orifice (35 micron) |
| 923-707-G1 | 10 Torr HexBlock sniffer (5 cm length) |
| 923-707-G2 | 100 Torr HexBlock sniffer (5 cm length) |
| 923-707-G3 | 7 Torr HexBlock sniffer |
| 961-707-G1 | Electron Multiplier Kit, Spare |
| 964-710-G1 | Filament Kit CPM Tungsten |
| 964-710-G2 | Filament Kit CPM Coated |
| 964-711-G1 | Ion Source Kit CPM Tungsten |
| 964-711-G2 | Ion Source Kit CPM Tungsten w/Liner |
| 964-712-G1 | Ion Source Kit CPM Coated |
| 964-712-G2 | Ion Source Kit CPM Coated w/Liner |
300 AMU CPM
Part Number
Description
059-0196
NI-4-VCR-2, 1/4" VCR GASKET NI
059-0400
Replacement c-ring
070-1042
O-Ring, 0.739 ID, 0.070 W, Viton, 75Duro (V4 only)
923-418-G1
CPM Replacement Diaphragm Kit 2 Stage
923-706-G10
30 Torr HexBlock orifice (10.5 micron)
923-706-G3
10 Torr HexBlock orifice (20 micron)
923-706-G4
1 Torr HexBlock orifice (62 micron)
923-706-G6
10 mtorr HexBlock orifice (750 micron)
923-706-G7
360 mtorr HexBlock orifice (120 micron)
923-706-G8
15 mtorr HexBlock orifice (350 micron)
923-706-G9
3 Torr HexBlock orifice (35 micron)
923-707-G1
10 Torr HexBlock sniffer (5 cm length)
923-707-G2
100 Torr HexBlock sniffer (5 cm length)
923-707-G3
7 Torr HexBlock sniffer
961-707-G1
Electron Multiplier Kit, Spare
964-710-G1
Filament Kit CPM Tungsten
964-710-G2
Filament Kit CPM Coated
964-711-G1
Ion Source Kit CPM Tungsten
964-711-G2
Ion Source Kit CPM Tungsten w/Liner
964-712-G1
Ion Source Kit CPM Coated
964-712-G2
Ion Source Kit CPM Coated w/Liner
Spare Parts
100 AMU CPM
200 AMU CPM
300 AMU CPM
| | |
| --- | --- |
| Part Number | Description |
| 032-0079 | Turbo Molecular Pump (w/CF40 flange) |
| 059-0400 | Replacement c-ring |
| 915-724-G1 | Package of three spare liners (used only with liner configured ion source) |
| 922-204-G1 | Capillary assembly - 1.5 m |
| 922-204-G3 | Capillary assembly - 3 m |
| 923-403-P2 | CPM Valve Controller Manifold Assembly |
| 923-417-G1 | Foreline Protection Kit, CPM |
| 923-710-G1 | HexBlock orifice replacement tools |
| 923-711-G1 | HexBlock valve replacement kit |
| 923-712-G1 | Spare HexBlock orifice gasket (pack of five) |
| 923-723-G2 | 2 Stage Diaphragm Foreline Pump |
| 964-208-G11 | CPM CDG Pressure Gauge Kit (1 Torr) |
| 964-208-G12 | CPM CDG Pressure Gauge Kit (10 Torr) |
| 964-208-G13 | CPM CDG Pressure Gauge Kit (100 Torr) |
| 964-208-G14 | CPM CDG Pressure Gauge Kit (1000 Torr) |
| 964-230-G1 | CPM Cable Box Assembly |
| 964-403-P1 | CPM Manifold Heater |
| 964-603-G2 | CPM Controller Box |
| 964-720-G1 | CPM CDG Pressure Gauge Kit (1000 Torr) w/ Gauge Interface Cable |
| 964-720-G2 | CPM CDG Pressure Gauge Kit (100 Torr) w/ Gauge Interface Cable |
| 964-720-G3 | CPM CDG Pressure Gauge Kit (10 Torr) w/ Gauge Interface Cable |
| 964-720-G4 | CPM CDG Pressure Gauge Kit (1 Torr) w/ Gauge Interface Cable |
| | |
| --- | --- |
| Part Number | Description |
| 032-0079 | Turbo Molecular Pump (w/CF40 flange) |
| 059-0400 | Replacement c-ring |
| 915-724-G1 | Package of three spare liners (used only with liner configured ion source) |
| 922-204-G1 | Capillary assembly - 1.5 m |
| 922-204-G3 | Capillary assembly - 3 m |
| 923-403-P2 | CPM Valve Controller Manifold Assembly |
| 923-417-G1 | Foreline Protection Kit, CPM |
| 923-710-G1 | HexBlock orifice replacement tools |
| 923-711-G1 | HexBlock valve replacement kit |
| 923-712-G1 | Spare HexBlock orifice gasket (pack of five) |
| 923-723-G2 | 2 Stage Diaphragm Foreline Pump |
| 964-208-G11 | CPM CDG Pressure Gauge Kit (1 Torr) |
| 964-208-G12 | CPM CDG Pressure Gauge Kit (10 Torr) |
| 964-208-G13 | CPM CDG Pressure Gauge Kit (100 Torr) |
| 964-208-G14 | CPM CDG Pressure Gauge Kit (1000 Torr) |
| 964-230-G1 | CPM Cable Box Assembly |
| 964-403-P1 | CPM Manifold Heater |
| 964-603-G2 | CPM Controller Box |
| 964-720-G1 | CPM CDG Pressure Gauge Kit (1000 Torr) w/ Gauge Interface Cable |
| 964-720-G2 | CPM CDG Pressure Gauge Kit (100 Torr) w/ Gauge Interface Cable |
| 964-720-G3 | CPM CDG Pressure Gauge Kit (10 Torr) w/ Gauge Interface Cable |
| 964-720-G4 | CPM CDG Pressure Gauge Kit (1 Torr) w/ Gauge Interface Cable |
| | |
| --- | --- |
| Part Number | Description |
| 032-0079 | Turbo Molecular Pump (w/CF40 flange) |
| 059-0400 | Replacement c-ring |
| 915-724-G1 | Package of three spare liners (used only with liner configured ion source) |
| 922-204-G1 | Capillary assembly - 1.5 m |
| 922-204-G3 | Capillary assembly - 3 m |
| 923-403-P2 | CPM Valve Controller Manifold Assembly |
| 923-417-G1 | Foreline Protection Kit, CPM |
| 923-710-G1 | HexBlock orifice replacement tools |
| 923-711-G1 | HexBlock valve replacement kit |
| 923-712-G1 | Spare HexBlock orifice gasket (pack of five) |
| 923-723-G2 | 2 Stage Diaphragm Foreline Pump |
| 964-208-G11 | CPM CDG Pressure Gauge Kit (1 Torr) |
| 964-208-G12 | CPM CDG Pressure Gauge Kit (10 Torr) |
| 964-208-G13 | CPM CDG Pressure Gauge Kit (100 Torr) |
| 964-208-G14 | CPM CDG Pressure Gauge Kit (1000 Torr) |
| 964-230-G1 | CPM Cable Box Assembly |
| 964-403-P1 | CPM Manifold Heater |
| 964-603-G2 | CPM Controller Box |
| 964-720-G1 | CPM CDG Pressure Gauge Kit (1000 Torr) w/ Gauge Interface Cable |
| 964-720-G2 | CPM CDG Pressure Gauge Kit (100 Torr) w/ Gauge Interface Cable |
| 964-720-G3 | CPM CDG Pressure Gauge Kit (10 Torr) w/ Gauge Interface Cable |
| 964-720-G4 | CPM CDG Pressure Gauge Kit (1 Torr) w/ Gauge Interface Cable |
The product is used in the following markets