Transpector® SPS
Mass Spectrometers
Transpector® SPS

Process monitoring at target pressure range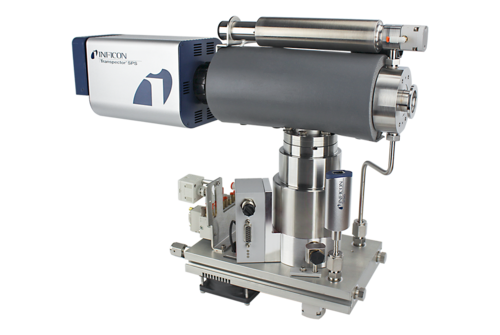 Product configurator
Gemini™ MxG5xx
Flange connection to vacuum chamber
Your configuration has been successfully sent!
The INFICON Transpector® Single Pressure Sampling (SPS) Residual Gas Analyzer provides the best semi wafer and display panel protection for targeted high pressure processes. Transpector SPS minimizes wafer and panel scrap with the most sensitive air leak and process contamination detection for single pressure applications. It delivers both industry-leading detection limits and measurement speeds to ensure both the quality and number of wafer and panel outs.
Transpector SPS maximizes process throughput and yield by providing the most reliable process monitoring for stable, high pressure processes. The instrument combines a simple and cost effective inlet system, with a field-proven ion source and pumping package to provide a low risk and high reward gas analysis solution. Ideal for general vacuum and industrial applications, the Transpector SPS is a proven solution for metallurgy and heat treat applications like Vacuum Arc Re-melting (VAR). Transpector SPS is configurable and may be tailored to specific applications and budgets. Standard orifice, capillary and bypass line combinations may be selected for sampling process pressures from 1E-4 Torr to atmosphere. The corrosive resistant inlet, ion source, and pumping package are designed for survivability in etch, CVD, ALD and other aggressive gas processes.
Advantages
Minimize total cost of ownership for wafer and panel protection with single pressure sampling inlet; Ideal for high pressure processes such as Diffusion, Epitaxy, and RTP
Provides the lowest level air leak and contamination detection for constant high pressure processes
Seamless fab integration and reliable interdiction through powerful data acquisition and synchronization
Enhances unique manufacturing capabilities with tailored recipe optimization
Protects critical process needs with immediate on-site response from experts
Typical Applications
PVD processes
Diffusion and epitaxy processes
Etch processes including: metal, dielectric, silicon etch, HDP-etch
CVD processes including: high k dielectrics, HDP-CVD, LP-CVD, SA-CVD, CVD Low k, PE-CVD
Specifications
100 AMU SPS
200 AMU SPS
300 AMU SPS
| | |
| --- | --- |
| Total Pressure Range | 5E-7 to 1E-3 Torr (6.6E-7 to 1.3E-3 mbar) |
| | |
| Detection Limit | <1 ppm |
| | |
| Process Pressure Range (with orifices/capillary) | 1E-4 Torr to 1.2 atmospheres |
| | |
| Sensitivity (@ Low Emission, FC mode) | >4.0E-6 amps/Torr (>3E-6 amps/mbar) |
| | |
| Sensitivity (@ High Emission, FC mode) | >2.0E-5 amps/Torr (>1.5E-5 amps/mbar) |
| | |
| --- | --- |
| Total Pressure Range | 5E-7 to 1E-3 Torr (6.6E-7 to 1.3E-3 mbar) |
| | |
| Detection Limit | <2 ppm |
| | |
| Process Pressure Range (with orifices/capillary) | 1E-4 Torr to 1.2 atmospheres |
| | |
| Sensitivity (@ Low Emission, FC mode) | >2.0E-6 amps/Torr (>1.5E-6 amps/mbar) |
| | |
| Sensitivity (@ High Emission, FC mode) | >1.0E-5 amps/Torr (>7.6E-6 amps/mbar) |
| | |
| --- | --- |
| Total Pressure Range | 5E-7 to 1E-3 Torr (6.6E-7 to 1.3E-3 mbar) |
| | |
| Detection Limit | <4 ppm |
| | |
| Process Pressure Range (with orifices/capillary) | 1E-4 Torr to 1.2 atmospheres |
| | |
| Sensitivity (@ Low Emission, FC mode) | >1.0E-6 amps/Torr (>7.6E-7 amps/mbar) |
| | |
| Sensitivity (@ High Emission, FC mode) | >5.0E-6 amps/Torr (>3.8E-6 amps/mbar) |
Download full specifications
The product is used in the following markets