Mobile Cart for Transpector® CPM
Mass Spectrometers
Mobile Cart for Transpector® CPM
Self-Contained Cart for Mobile Troubleshooting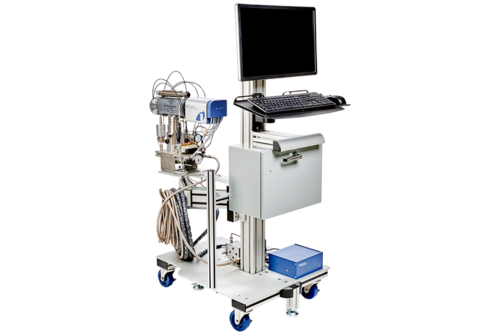 Product configurator
Gemini™ MxG5xx
Flange connection to vacuum chamber
Your configuration has been successfully sent!
The INFICON Mobile Cart allows the Transpector CPM (Compact Process Monitor) to become a mobile troubleshooting instrument.
The self-contained cart allows the system to be transported from tool to tool with the flexibility to adjust to various tool heights. the mechanical arm mechanism permits the sampling system to twist, rotate and move vertically which makes this Mobile Cart perfect for tight production spaces.
Features
Small Footprint - The open structure of the Mobile Cart along with its "elbow"-like support arm allows close coupling of the RGA to the tool without taking up valuable floor space.
Complete System - The Mobile Cart will carry and support the Transpector CPM System and a desktop or laptop computer. It also has a connection panel for compressed air, nitrogen, exhaust and power for the CPM system.
Available in 120 and 230 VAC versions.
Advantages
Flexibility - Can move the Transpector CPM close to the tool or vacuum system by moving the CPM horizontally and vertically, as well as the ability to rotate the system.
Part Number
Mobile Cart for CPM 120V
Part Number
Description
919-501-G3

Mobile Cart for CPM 120V

Mobile Cart for CPM 230V
Part Number
Description
919-501-G4
Mobile Cart for CPM 230V
The product is used in the following markets