VSA100A
Vacuum Switch
VSA100A
Setpoint 3 mbar below ambient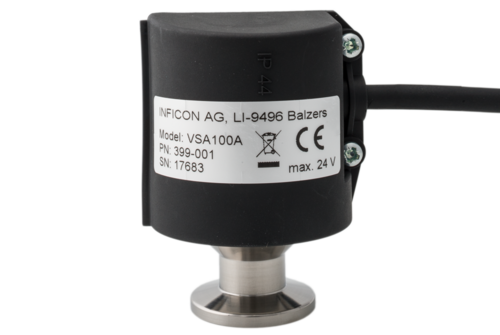 Product configurator
Gemini™ MxG5xx
Flange connection to vacuum chamber
Your configuration has been successfully sent!
The INFICON Vacuum Switch VSA100A is used as a safety switch in vacuum systems. For example, to automatically interrupt the gas supply when venting vacuum systems with a purge gas at a pressure of 6 mbar below atmospheric pressure.
At a differential pressure of 6 mbar resp. return switching pressure of 3 mbar below atmospheric pressure, an elastic diaphragm actuates a changeover contact which in turn may be used to switch directly any ancillary equipment.
Advantages
Reliable and budget-priced vacuum switch
High life time
Rugged design
Easy to integrate
IP 44 protection
Typical applications
Control of load lock chambers
Safety shutdown of vacuum systems
Specifications
Switching pressure
mbar
6 ±2 (below atmosphere)
Back switching
mbar
3 ±2 (below atmosphere)
Operating pressure (absolute)
bar
<2
Protective type
IP 44
Materials exposed to vacuum
stainless steel 1.4305, EPDM, PTFE (Teflon)
Technical Note: Due to the diaphragm material used (EPDM) the Vacuum Switch VSA100A is not suited for applications in which the process gascontains large quantities of helium. The leak rate of the diaphragm for helium is -6 mbar l/s.
Download full specifications
Part Number
| | |
| --- | --- |
| Part Number | Description |
| 399-001 | VSA100A Vacuum Switch DN16KF, 3m Cable |
The product is used in the following markets