SKY® CDG025D
Capacitance Manometers
SKY® CDG025D
Full scale 0.1 … 1000 Torr / mbar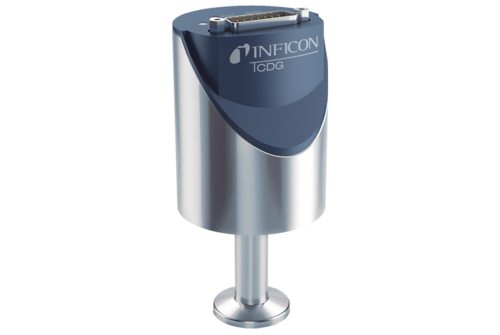 Product configurator
Gemini™ MxG5xx
Flange connection to vacuum chamber
Your configuration has been successfully sent!
The INFICON SKY CDG025D Capacitance Diaphragm Gauge line of highly accurate temperature compensated manometers is designed for stable performance in harsh manufacturing tool environments.
Advanced digital electronics improve gauge performance and offer easy handling features such as one pushbutton zero function and setpoint adjustment. The corrosion resistant ceramic sensor provides excellent zero stability with a long life expectancy of several million pressure cycles, including atmospheric bursts. A unique sensor shielding (patent pending) protects the gauge from process contamination.
A robust mechanical design and digital electronics improve EMC compatibility, long term stability and temperature compensation. The CDG025D sets new standards for fast stability after power on and fast recovery from atmospheric pressure exposure.
Advantages
Full scale ranges from 100 mTorr … 1000 Torr
Fast stability after power on
Fast recovery from atmospheric pressure
Corrosion resistant ceramic sensor
Excellent long term signal stability
Temperature compensated
Sensor protected from contamination
One pushbutton zero function
Wide range power supply
Typical applications
Semiconductor manufacturing equipment for Etch, CVD, PVD, ALD
Data storage and display manufacturing equipment
Industrial vacuum equipment
General high accuracy pressure measurement
Specifications
1000 Torr / 1100 mbar
500 ... 10 Torr / mbar
1 Torr / mbar
0.25 Torr
0.1 Torr / mbar
| | | |
| --- | --- | --- |
| Accuracy | % of reading | 0.2 |
| | | |
| Resolution | percent FS | 0.003 |
| | | |
| Output signal (analog) | V (dc) | 0 … +10 |
| | | |
| Response time | ms | 30 |
| | | |
| Materials exposed to vacuum | | Aluminum oxide ceramic (AI2O3), Vacon 70, stainless steel (AISI 316L), AgCuTi hard solder, sealing glass |
| | | |
| --- | --- | --- |
| Accuracy | % of reading | 0.2 |
| | | |
| Resolution | percent FS | 0.003 |
| | | |
| Output signal (analog) | V (dc) | 0 … +10 |
| | | |
| Response time | ms | 30 |
| | | |
| Materials exposed to vacuum | | Aluminum oxide ceramic (AI2O3), Vacon 70, stainless steel (AISI 316L), AgCuTi hard solder, sealing glass |
| | | |
| --- | --- | --- |
| Accuracy | % of reading | 0.2 |
| | | |
| Resolution | percent FS | 0.003 |
| | | |
| Output signal (analog) | V (dc) | 0 … +10 |
| | | |
| Response time | ms | 30 |
| | | |
| Materials exposed to vacuum | | Aluminum oxide ceramic (AI2O3), Vacon 70, stainless steel (AISI 316L), AgCuTi hard solder, sealing glass |
| | | |
| --- | --- | --- |
| Accuracy | % of reading | 0.25 |
| | | |
| Resolution | percent FS | 0.003 |
| | | |
| Output signal (analog) | V (dc) | 0 … +10 |
| | | |
| Response time | ms | 130 |
| | | |
| Materials exposed to vacuum | | Aluminum oxide ceramic (AI2O3), Vacon 70, stainless steel (AISI 316L), AgCuTi hard solder, sealing glass |
| | | |
| --- | --- | --- |
| Accuracy | % of reading | 0.5 |
| | | |
| Resolution | percent FS | 0.003 |
| | | |
| Output signal (analog) | V (dc) | 0 … +10 |
| | | |
| Response time | ms | 130 |
| | | |
| Materials exposed to vacuum | | Aluminum oxide ceramic (AI2O3), Vacon 70, stainless steel (AISI 316L), AgCuTi hard solder, sealing glass |
Download full specification
Part Number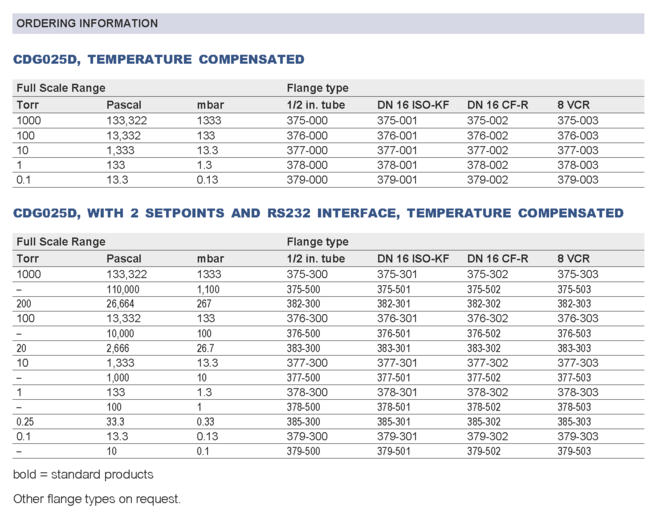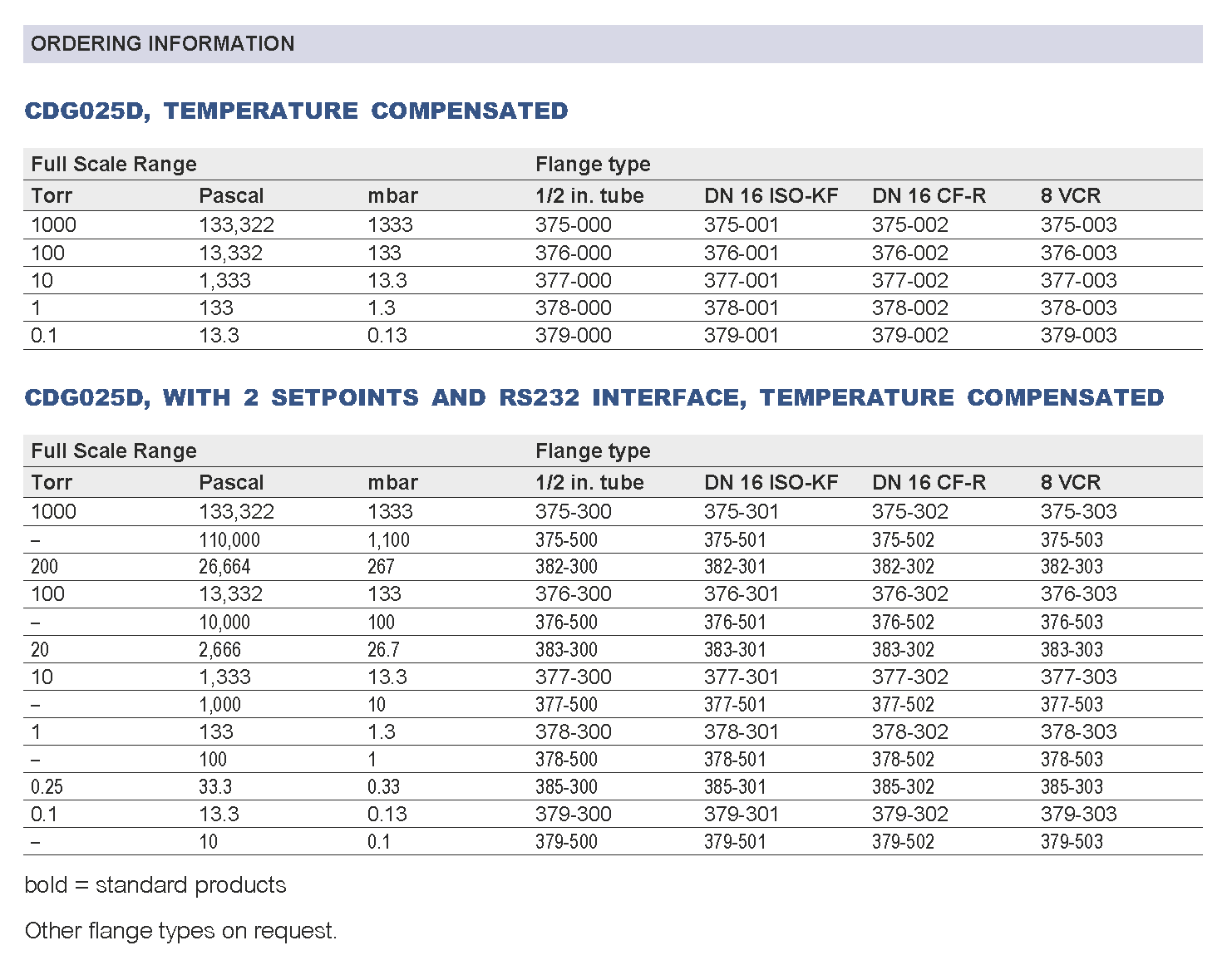 The product is used in the following markets