Cube® CDGsci
Capacitance Manometers
Cube® CDGsci
Full scale 0.1 … 1000 Torr / mbar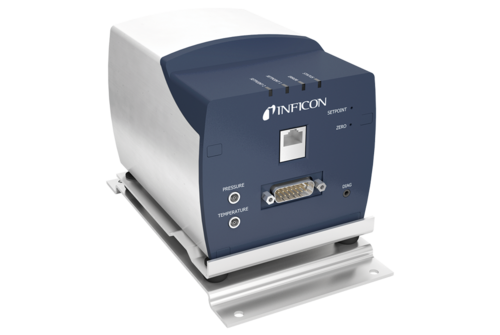 Product configurator
Gemini™ MxG5xx
Flange connection to vacuum chamber
Your configuration has been successfully sent!
The high end INFICON Cube Capacitance Diaphragm Instrument is the most accurate (≤ 0.025 % Rd accuracy; ≤ 50 ppm FS Repeatability) and most stable vacuum gauge available (< 5 ppm FS/ °C temperature stability; < 70 ppm FS/ year long term stability).
Cube is designed as a pure reference device to standardize vacuum measurement systems and is the only choice for vacuum research applications. The proven INFICON temperature controlled, corrosion resistant ultrapure ceramic sensor is the heart of the Cube`s outstanding performance.
Cube sets new standards in modern communication and user flexibility with a 20 Bit analog output and RS232-C, TCP / IP and HTML digital output connected through wireless or wired Ethernet interface. Each device comes with a quality assurance certificate, hand-signed by the Cube's leading product researchers. Delivery in a reusable hard shell suit case for storage or shipment to calibration laboratories underlines its professonality.
Advantages
True high precision pressure measurement – Ceramic technology
Full stable output – Proven by PTB
Flexible communication – Various modern interfaces
All functions integrated – No controller required
Direct mounting to chamber – Optimized center of gravity
Transportation without isolation valve possible
Typical applications
Transfer standard
Main reference gauge
Research
In-house standard
Specifications
1000 Torr
100 ... 1 Torr
100mTorr
| | | |
| --- | --- | --- |
| Accuracy | % of reading | 0.025 |
| | | |
| Output signal (analog) | V (dc) | 0 … +10 |
| | | |
| Response time | ms | 100 |
| | | |
| Materials exposed to vacuum | | Aluminum oxide ceramic (AI2O3), stainless steel (AISI 316L) |
| | | |
| | | |
| --- | --- | --- |
| Accuracy | % of reading | 0.025 |
| | | |
| Output signal (analog) | V (dc) | 0 … +10 |
| | | |
| Response time | ms | 100 |
| | | |
| Materials exposed to vacuum | | Aluminum oxide ceramic (AI2O3), stainless steel (AISI 316L) |
| | | |
| | | |
| --- | --- | --- |
| Accuracy | % of reading | 0.05 |
| | | |
| Output signal (analog) | V (dc) | 0 … +10 |
| | | |
| Response time | ms | 100 |
| | | |
| Materials exposed to vacuum | | Aluminum oxide ceramic (AI2O3), stainless steel (AISI 316L) |
| | | |
Download full specifications
Part Number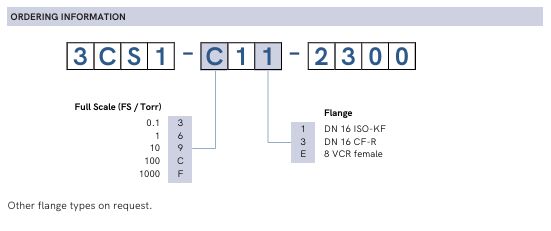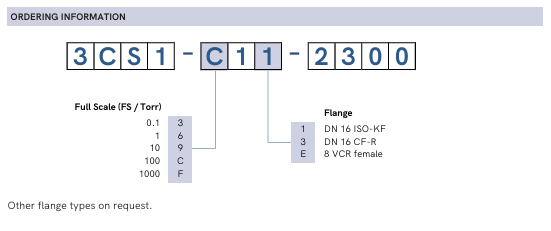 The product is used in the following markets