MAG084 & MAG086
Cold Cathode Gauges
MAG084 & MAG086
Magnetic field resistant cold cathode passive gauge head for VGC094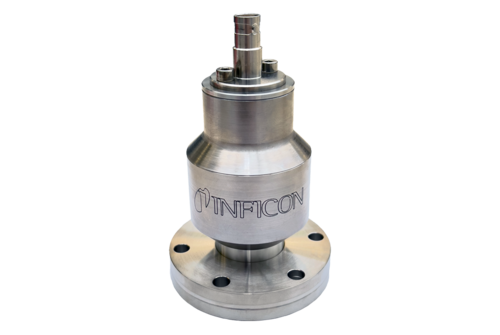 Product configurator
Gemini™ MxG5xx
Flange connection to vacuum chamber
Your configuration has been successfully sent!
The gauge head MAG084 is a unique magnetic field resistant inverted magnetron cold cathode gauge designed to operate with the Vacuum Gauge Controller VGC094. Its special design, fitting a double ionization chamber principle, allows vacuum measurement in the pressure range from 1×10-8 to 5×10-3 mbar even in presence of strong external magnetic fields.
Thanks to an all-metal design, NdFeB rare earth magnets, the optimised and closed magnetic circuit and the magnetic shielding enclosure, MAG084 is the answer for all special Fusion and R&D applications requiring the highest performance, including magnetic field immunity.
MAG084 has a bake-out temperature up to 230 °C and ionizing radiation resistance up to 107 Gy. The gauge head has an ignition aid mounted on the anode (reducing the cold cathode ignition time at low pressure) and can be easily disassembled and cleaned, allowing long term use with minimal downtime.
Advantages
Developed to sustain operation in strong external magnetic fields
Reliable and proven gauge head design, based on the inverted magnetron principle
Innovative double ionization chamber principle
Bakeable to 230 °C
Good ignition properties
Corrosion resistant with ceramic feedthrough
Radiation resistant design to 1×107 Gy
Easy to maintain, low cost of ownership
Features
Innovative double ionization chamber principle
NdFeB rare earth magnets
Optimised and closed magnetic circuit
Magnetic shielding enclosure
Typical applications
Special Fusion and R&D applications presenting strong external magnetic fields
Operating Units
Vacuum Gauge Controller VGC094
Magnetic field performance
Fully reversible recovery from short-term external magnetic field exposure up to 600 mT, at 230 °C (any orientation)
Operating max. allowable external magnetic field (3 dB margin) and relatively induced error: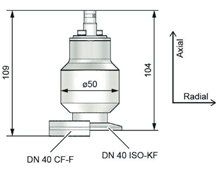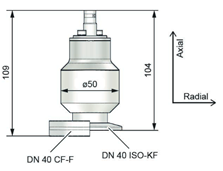 The product is used in the following markets