IE414, IE514
Hot Ionization Gauges
IE414, IE514
Hot cathode ionization passive gauge heads for IM540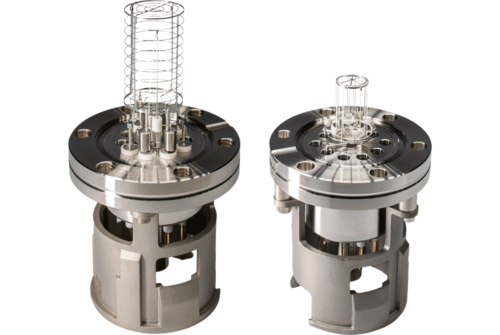 Product configurator
Gemini™ MxG5xx
Flange connection to vacuum chamber
Your configuration has been successfully sent!
The IE414 and IE514 are high-end vacuum sensors based on hot cathode ionization effect. IE414 is a Bayard-Alpert gauge while the IE514 is based on the extractor principle. These passive gauges are combined and controlled by the IM540 vacuum gauge controller.
Thanks to the modulation of the cathode emission current, the IE414 measurement range spans over 9 decades from 10-2 mbar down to 10-11 mbar. The extractor principle allows IE514 reaching a lower measurement limit of 2×10-12 mbar thanks to its intrinsic reduction of X-ray and ion desorption effects. The IE414 and IE514 gauge heads are designed for low outgassing vacuum systems and can be baked up to extreme high temperature (400 °C). The temperature resistant gauge head cable set is also designed for high bake-out temperature, exceeding 200 °C (250 °C at the flange of the sensor).
Advantages
High accuracy of the measurements due to individually calibrated sensing system
Exchangeable cathode
Extreme high temperature bake-out up to 400 °C
IE414
Bayard-Alpert sensing principle
Measurement range to 2×10-11 mbar
Modulation of the cathode emission current (in combination with the IM540 vacuum gauge controller)
IE514
Extractor sensing principle
Lowest measurement limit, down to 2×10-12 mbar
Significant reduction of X-ray and ion desorption effects
Typical applications
Scientific and R&D applications requiring precise vacuum measurement in the ultra-high vacuum range and high temperature bake-out
Operating Units
Vacuum Gauge Controller IM540
Specifications
Gauge type
Bayard-Alpert, hot cathode ionization
Measurement range
10-11 ... 10-2 mbar (modular emission current)
Feedthrough
Al2O3 ceramic feedthrough with NiFe lead-in pins
Bake-out temperature
≤400 °C
Material exposed to vacuum
NiFe, AI2O3, stainless steel, iridium, Mo, tungsten
Features

Iridium filament, coated with Y2O3

Molybdenum (Mo) anode
Gauge type
Extractor, hot cathode ionization
Measurement range
10-12 ... 10-4 mbar
Feedthrough
Al2O3 ceramic feedthrough with NiFe lead-in pins
Bake-out temperature
≤400 °C
Material exposed to vacuum
NiFe, AI2O3, stainless steel, iridium, Mo, CoNiCr, tungsten
Features

Iridium filament, coated with Y2O3

Stainless steel (EN 1.4404) anode
Part Number
| | |
| --- | --- |
| 399-661 | IE414 DN 40 CF Sensor |
| 399-663 | IE514 DN 40 CF Sensor |
| | |
| --- | --- |
| 399-676 | IE414 Replacement cathode |
| 399-677 | IE514 Replacement cathode |
The product is used in the following markets