BAG055
Hot Ionization Gauges
BAG055
Mini hot ion Bayard-Alpert passive gauge head for VGC083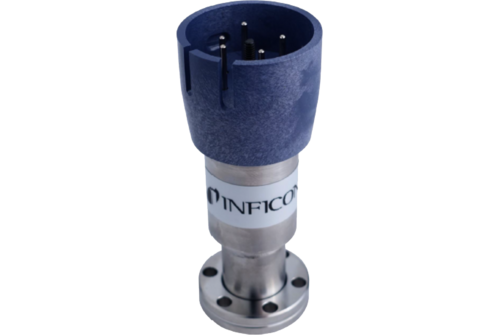 Product configurator
Gemini™ MxG5xx
Flange connection to vacuum chamber
Your configuration has been successfully sent!
The hot cathode ionization passive vacuum gauge head BAG055 is a miniature, metal enclosed Bayard-Alpert sensor designed for use with the Vacuum Gauge Controller VGC083A. BAG055 is an electron bombardment (EB) degas metal enclosed hot ionization vacuum gauge capable of pressure measurement down to 1×10-9 mbar.
Thanks to its compact size and a large selection of possible flanges and fittings, BAG055 can be installed in every vacuum system easily and with minimal footprint. BAG055 is offered with a dual yttrium oxide coated iridium filament and can be baked up to 200 °C. The high accuracy (15%) makes BAG055 a cost effective and robust choice for general vacuum industrial or R&D applications.
Advantages
Long standing, reliable and proven gauge head design
Drop-in replacement thanks to its compact size, large choice of connection flanges and fittings
Dual yttrium oxide coated iridium filament cathode assembly
Electron bombardment (EB) degassing
Typical applications
Industrial or R&D applications requiring precise vacuum measurement in the high vacuum range
Operating Units
Vacuum Gauge Controller VGC083A
The product is used in the following markets