Sputtering Sensor
Sensors & Feedthroughs
Sputtering Sensor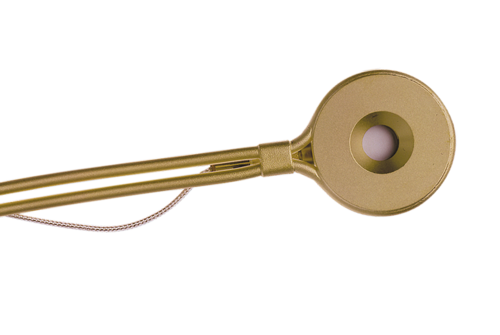 Product configurator
Gemini™ MxG5xx
Flange connection to vacuum chamber
Your configuration has been successfully sent!
The INFICON Sputtering Sensor is specifically designed for use in any sputtering process.
The sensor body and cooling tubes are gold plated beryllium copper for maximum cooling efficiency in the sputtering environment. A magnet built into the sensor head reduces excessive heating by energetic free electrons in sputtering systems by deflecting them with the external magnetic field. The rear loading crystal holder design allows easy crystal replacement without having to remove the sensor head from the system.
Features
Gold plated beryllium copper sensor body and cooling tubes for maximum cooling efficiency
Magnet to deflect free electrons away from the monitor crystal
Easy installation with bendable water tubes allowing flexibility in sensor placement
Rear load crystal insertion for easy crystal replacement
Specifications
| | |
| --- | --- |
| Maximum bakeout temp with no water | 105°C |
| | |
| Maximum operating isothermal environment temperature with minimum water flow | 400° C |
| | |
| Crystal exchange | Rear-loading |
| | |
| Magnet | ALNICO 5 Alloy |
Download full specifications
Part Number
| | |
| --- | --- |
| Part Number | Description |
| 750-618-G1 | Sputtering Sensor (sensor only, feedthrough not included) |
Accessories
Consumables
Spare Parts
Name
Description
QCM Sensor Feedthroughs

QCM Sensor Feedthroughs

Sputtering Sensor
Part Number
Description
750-420-G1
Solenoid Valve, 24V (for use with shuttered and multi-crystal sensors)
Sputtering Sensor
Part Number
Description
007-023
Ceramic Retainer
007-049
Crystal Holder, Sputtering Sensor
007-007
Retainer spring (for crystal holder)
007-047
Sputtering head cover with water lines
007-009
Magnet for sputtering head cover
070-0440
Retaining ring (installs onto shaft of shutter assembly)
070-0442
Retaining ring (installs onto shaft of shutter assembly)
070-0441
Spacer (installs onto shaft of shutter assembly)
082-044
Teflon screw (for leaf spring)
082-029-P1
2-56 x 1/8 in. set screw for 750-619-G1 sputtering head body
750-009-P2
Pivot cover (installs onto shaft of shutter assembly)
750-046-G2
Shutter assembly for pneumatic shutter assembly
750-048-P1
Retainer spring for 007-048 and 751-619-G1 sputtering head bodies
750-115-P4
Coupling (installs onto bellows assembly)
750-169-P4
Bellows assembly for pneumatic shutter assembly
750-174-P2
Female coax
750-175-P1
Insulator (underneath leaf spring)
008-007
CRYSTAL SNATCHER
750-188-P3
Leaf Spring
750-619-G1
Sputtering head body with coax connector
750-626-P1

Spring for sputtering head cover

In-vacuum cables
321-039-G12
In-vacuum cable, 15.2 cm (6 in.)
007-252
In-vacuum cable, 30.5 cm (12 in.)
321-039-G11
In-vacuum cable, 61.0 cm (24 in.)
007-044
In-vacuum cable, 78.1 cm (30.75 in.)
007-059
In-vacuum cable, 91.4 cm (36 in.)
007-061
In-vacuum cable, 121.9 cm (48 in.) - Requires ModeLock controller
321-039-G13
In-Vacuum Cable, 154.2 cm (60 in.) - Requires ModeLock controller
321-039-G14
In-vacuum cable, 182.9 cm (72 in.) - Requires ModeLock controller
321-039-G15
In-vacuum cable, 3.5 m (137.8 in.) - Requires ModeLock controller and 4 m XIU
321-039-G16
In-vacuum cable, 4 m (157.5 in.) - Requires ModeLock controller and 4 m XIU
The product is used in the following markets