Sensistor® Sentrac®
Hydrogen Leak Detector
Sensistor® Sentrac®
Ideal for finding small and big leaks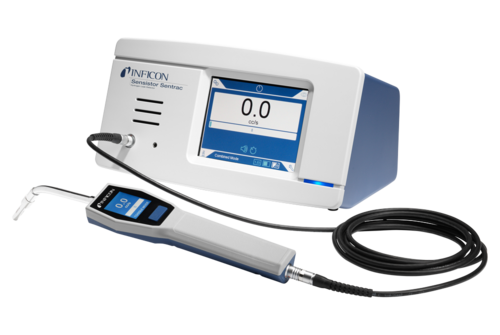 Product configurator
Gemini™ MxG5xx
Flange connection to vacuum chamber
Your configuration has been successfully sent!
The Sensistor Sentrac Hydrogen Leak Detector is a modern leak detector for industrial use. Based on the highly selective and sensitive Sensistor sensor, the instrument offers leak locating in a variety of situations both on the production and repair lines. Thanks to its unique ability to handle small and large leaks as well as high background levels of tracer gas, this leak detector is highly adaptable.

The leak detector's hand probe Strix® is designed for maximum ergonomics and efficiency. The unit is controlled by a multi-function button for fast access to frequently used functions. It is equipped with LED lamps illuminating the area tested for leaks for more reliable pinpointing. The probe is also equipped with an easy-to-read OLED display to provide information about the entire leak detection process directly in the palm of your hand.

For added flexibility, the Sensistor Sentrac leak detector is available in desktop, panel and portable models.
Features
Handles both small and large leaks
Quick reaction and fast recovery, even after large leaks
Highly sensitive and selective hydrogen sensor - incorporates proven Sensistor sensor technology
Can detect and locate leaks with a size variation within ten decades
Large touchscreen and intuitive HMI for easy menu navigation
Expanded viewing angle display on the probe for easy readability
Test results visible on the instrument screen and hand probe display
Hand probe with multi-function button, display for leak indication and LED-lights
Hand probe with flexible neck as option
Advantages
Detect a wide range of leaks thanks to the unique combination of high sensitivity, high selectivity, great dynamic range and fast recovery time
No pump, no maintenance
Suitable for both manual and robot-assisted leak detection
Robust and resilient for industrial environments
Lightweight and easy to carry
Available as desktop, panel and portable model
Typical Applications
Industry
Automotive
Aerospace
Packaging
RAC
Medical
Process
Specifications
Desktop Model
Portable Model
Panel Model
Minimum Detectable Leak Rate
Locating Mode
5x10-7 mbarl/s or cc/s with 5% H2
Measuring Mode
0,5 ppm H2; 5x10-7 mbar l/s or cc/s with 5% H2
Input/Output
- Probe Control Port (Digital 5 in/15 out), 24V (dc)
- USB-C (RS232, USB-Memory)
- BM1000 (Expansion Communication Module)
Maintenance
none
| | |
| --- | --- |
| Minimum Detectable Leak Rate | |
| Locating Mode | 5x10-7 mbarl/s or cc/s with 5% H2 |
| Measuring Mode | 0,5 ppm H2; 5x10-7 mbar l/s or cc/s with 5% H2 |
| | |
| Input/Output | USB-C (RS232, USB-Memory) |
| | |
| Maintenance | none |
Minimum Detectable Leak Rate
Locating Mode
5x10-7 mbarl/s or cc/s with 5% H2
Measuring Mode
0,5 ppm H2; 5x10-7 mbar l/s or cc/s with 5% H2
Input/Output
- Probe Control Port (Digital 5 in/15 out), 24V (dc)
- USB-C (RS232, USB-Memory)
- BM1000 (Expansion Communication Module)
Maintenance
none
Part Number
Accessories
Consumables
Spare Parts
Desktop model
590-970

Sensistor Sentrac Hydrogen Leak Detector, desktop model

Portable model
590-971

Sensistor Sentrac Hydrogen Leak Detector, portable model

Panel model
590-972
Sensistor Sentrac Hydrogen Leak Detector, panel model
Recommended Kit
590-970
Sensistor Sentrac Hydrogen Leak Detector, desktop model
590-730
Strix Hand Probe (rigid neck)
590-161
Probe Cable, 3m
Desktop model
590-730
Strix Hand Probe (rigid neck)
590-740
Strix Hand Probe (flexible neck)
590-890
Hand Probe P60 (rigid neck)
590-892
Hand Probe P60 Flex (flexible neck)
590-921
Robot Probe R50 (incl. C21 cable 3m and Combox60)
590-420
Calibration Leak Type A, 5x10E-2 mbarl/s @1bar
590-421
Calibration Leak Type B, 5x10E-3 mbarl/s @1bar
590-422
Calibration Leak Type C, 5x10E-4 mbarl/s @1bar
590-427
Calibration Leak Type E, 10g/a
590-429

Calibration Leak Type G, 3g/a

Portable model
590-730
Strix Hand Probe (rigid neck)
590-740
Strix Hand Probe (flexible neck)
590-890
Hand Probe P60 (rigid neck)
590-892
Hand Probe P60 Flex (flexible neck)
590-921
Robot Probe R50 (incl. C21 cable 3m and Combox60)
590-420
Calibration Leak Type A, 5x10E-2 mbarl/s @1bar
590-421
Calibration Leak Type B, 5x10E-3 mbarl/s @1bar
590-422
Calibration Leak Type C, 5x10E-4 mbarl/s @1bar
590-427
Calibration Leak Type E, 10g/a
590-429

Calibration Leak Type G, 3g/a

Panel model
590-730
Strix Hand Probe (rigid neck)
590-740
Strix Hand Probe (flexible neck)
590-890
Hand Probe P60 (rigid neck)
590-892
Hand Probe P60 Flex (flexible neck)
590-921
Robot Probe R50 (incl. C21 cable 3m and Combox60)
590-420
Calibration Leak Type A, 5x10E-2 mbarl/s @1bar
590-421
Calibration Leak Type B, 5x10E-3 mbarl/s @1bar
590-422
Calibration Leak Type C, 5x10E-4 mbarl/s @1bar
590-427
Calibration Leak Type E, 10g/a
590-429
Calibration Leak Type G, 3g/a
Desktop model
590-290
Replacement Hydrogen Sensor for Strix Hand Probe
590-300
Probe Tip Protection Caps, 50 pcs (for Strix Hand Probe)
590-305
Probe Tip Protection Caps, 500 pcs (for Strix Hand Probe)
590-310
Probe Tip Filters, 50 pcs (for Strix Hand Probe)
590-292
Replacement Hydrogen Sensor for Hand Probe P60, P60 Flex, P50, P50 Flex, PX57, PX50 Flex,PK50 and PK50 Flex
591-273
Probe Tip Protection Caps, 50 pcs (for Hand Probe P60, P60 Flex, P50, P50 Flex, PK50, PK50 Flex, H50 and H51)
590-625
Probe Tip Protection Caps, 500 pcs (for Hand Probe P50, P50 Flex, P60, P60 Flex, PK50, PK50 Flex, H50 and H51)
591-234

Probe Tip Filters, 50 pcs (for Hand Probe P60 and P50)

Portable model
590-290
Replacement Hydrogen Sensor for Strix Hand Probe
590-300
Probe Tip Protection Caps, 50 pcs (for Strix Hand Probe)
590-305
Probe Tip Protection Caps, 500 pcs (for Strix Hand Probe)
590-310
Probe Tip Filters, 50 pcs (for Strix Hand Probe)
590-292
Replacement Hydrogen Sensor for Hand Probe P60, P60 Flex, P50, P50 Flex, PX57, PX50 Flex,PK50 and PK50 Flex
591-234
Probe Tip Filters, 50 pcs (for Hand Probe P60 and P50)
591-273
Probe Tip Protection Caps, 50 pcs (for Hand Probe P60, P60 Flex, P50, P50 Flex, PK50, PK50 Flex, H50 and H51)
590-625

Probe Tip Protection Caps, 500 pcs (for Hand Probe P50, P50 Flex, P60, P60 Flex, PK50, PK50 Flex, H50 and H51)

Panel model
590-290
Replacement Hydrogen Sensor for Strix Hand Probe
590-300
Probe Tip Protection Caps, 50 pcs (for Strix Hand Probe)
590-305
Probe Tip Protection Caps, 500 pcs (for Strix Hand Probe)
590-310
Probe Tip Filters, 50 pcs (for Strix Hand Probe)
590-292
Replacement Hydrogen Sensor for Hand Probe P60, P60 Flex, P50, P50 Flex, PX57, PX50 Flex,PK50 and PK50 Flex
591-273
Probe Tip Protection Caps, 50 pcs (for Hand Probe P60, P60 Flex, P50, P50 Flex, PK50, PK50 Flex, H50 and H51)
590-625
Probe Tip Protection Caps, 500 pcs (for Hand Probe P50, P50 Flex, P60, P60 Flex, PK50, PK50 Flex, H50 and H51)
591-234
Probe Tip Filters, 50 pcs (for Hand Probe P60 and P50)
Desktop model
590-161
Probe Cable, 3m
590-175
Probe Cable, 6m
590-165
Probe Cable, 9m
598-461

Sensor Key

Portable model
590-161
Probe Cable, 3m
590-175
Probe Cable, 6m
590-165
Probe Cable, 9m
598-461

Sensor Key

Panel model
590-161
Probe Cable, 3m
590-175
Probe Cable, 6m
590-165
Probe Cable, 9m
598-461

Sensor Key
The product is used in the following markets