Calibration Leaks for Sensistor Industrial Hydrogen Leak Detectors
Calibration Leaks
Calibration Leaks for Sensistor Industrial Hydrogen Leak Detectors
The Easy Way to Test and to Calibrate - For Maximum Accuracy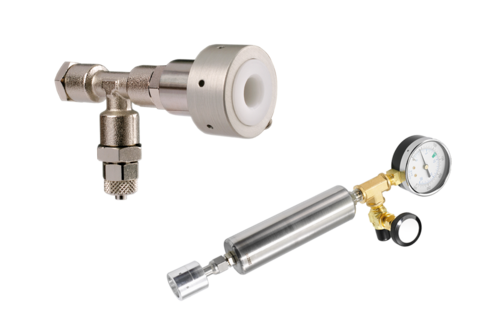 Product configurator
Gemini™ MxG5xx
Flange connection to vacuum chamber
Your configuration has been successfully sent!
To be able to correctly accept/reject test objects you need to measure to a set standard. You also need to calibrate your leak detector against a reliable reference leak. INFICON reference leaks for Sensistor industrial hydrogen leak detectors cover a wide range of leak rates to suit your specific application and include bigger leaks (Types A-C) and smaller leaks (Types E and G). Leak Type A is intended for accumulation testing only.
All leaks are traceable to NIST, NMIJ, NPL, PTB, etc., through the Mutual Recognition Arrangement of the BIPM.
Types and Connections
A, B and C
Sintered stainless steel leaks
Target flow between 5x10-2 and 5x10-4 (Air)

E and G
Crimped metal capillary leaks
Target flow between 7x10-5 and 2x10-5 (5%H2/95%N2)
Advantages
Suitable for industrial applications
Easy to use
Available in different leak rates
Traceable to NIST, NMIJ, NPL, PTB, etc.
Typical Applications
Test and Calibration of Sensistor Industrial Hydrogen Leak Detectors
Part Number
| | |
| --- | --- |
| 590-420 | Calibration Leak Type A, 5x10E-2 mbarl/s @1bar |
| 590-421 | Calibration Leak Type B, 5x10E-3 mbarl/s @1bar |
| 590-422 | Calibration Leak Type C, 5x10E-4 mbarl/s @1bar |
| 590-427 | Calibration Leak Type E, 10g/a |
| 590-429 | Calibration Leak Type G, 3g/a |
The product is used in the following market