HLD6000
Refrigerant Leak Detector
HLD6000
Leak Testing for the Highest Quality Demands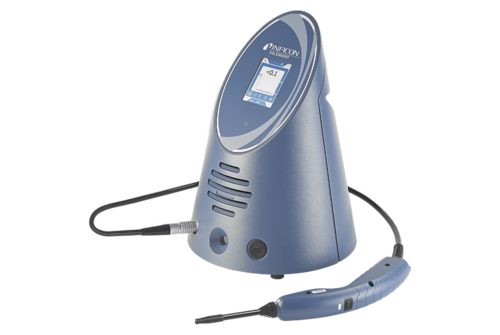 Product configurator
Gemini™ MxG5xx
Flange connection to vacuum chamber
Your configuration has been successfully sent!
INFICON is taking a further step toward leak detection at the highest level with the HLD6000 refrigerant leak detector. It is setting new standards in user-friendly handling, reproducibility of measuring results and integration into local networks.
The newly developed, slim and ergonomically shaped sniffer probe allows for more efficient leak detection. Furthermore, with its intuitive touchscreen display, the HLD6000 is even easier to operate than its predecessor the HLD5000. The HLD6000 leak detector also delivers the maximum in communication diversity. A USB interface as well as an optional I/O module and an optional fieldbus module are available for acquiring and using measurement data and integrating that data into local networks.
Features
Especially slim and ergonomically designed sniffer probe with status and LED lights
Intuitive touchscreen with leakage rate graph
USB interface for storing measurement data and for software updates
HLD6000 components (probes, base units, consumables and accessories) are compatible/interchangeable with its predecessor, the HLD5000 refrigerant leak detector
Newly designed COOL-Check holder for easy exchange intor ernal test leaks
Individual sniffer probes for CO2 and R600a/R290, and a universal Smart sniffer probe for halogen-based refrigerants are available
Optional I/O module and optional fieldbus module facilitate integration into local networks
ES-Filter for successfully adsorb of interfering substances such as alcohols, adhesives, outgassing foams and more
Advantages
Compact, Light And Slim
For optimal, efficient leak detection a compact sniffer probe is especially important. The HLD6000 sniffer probe is not only extra slim, but also light and ergonomically shaped. Two LED lights in the sniffer tip simplify leak detection at poorly lit inspection locations, facilitate precise leak location, and notify the user by flashing when the allowable leakage rate is exceeded. A color LED status light continually alerts the operator about the operational readiness, measuring operation, exceeding the allowable leakage rate, as well as errors and warnings.

Touchscreen Display
The new INFICON human-machine interface menu has intuitive menu navigation and makes using the leak detector especially easy. The leakage rate trend graphs any leaks on the easy-to read front panel making leak detection even more efficient.

Communicative Diversity
The HLD6000 offers a variety of analog and digital interfaces via the optional I/O module. An optional fieldbus module facilitates the integration of the HLD6000 into local networks. The USB interface allows transmitting measurement data to a connected USB flash drive.

High Reliability
The HLD6000 uses a long-life infrared sensor with high sensitivity and extremely short response time, and has been specifically developed for the detection of refrigerants. In addition the HLD6000 has a proven dual inlet system which continually compares the background concentration and the measured gas flow, thus keeping false alarms to a minimum.
Typical Applications
Air conditioners
Automotive air conditioners
RAC components
and similar products
Specifications
| | |
| --- | --- |
| Universal Smart probe | halogen-based refrigerants |
| | |
| Single gas probe (available for CO2 and R600a/R290) | 1g/ a |
| | |
| Universal Smart probe | 0.5 g/a (0.014 oz/yr) |
| | |
| Response time | < 1 s |
| | |
| Single gas probe | 0 - 100 g/a (0 - 3.57 oz/yr) |
Part Number
Part Number
Accessories
Consumables
| | |
| --- | --- |
| 510-025 | HLD6000 Refrigerant Leak Detector CO2 |
| 510-027 | HLD6000 Refrigerant Leak Detector Smart |
| 510-028 | HLD6000 Leak Detector R600a/R290 |
| 510-127 | HLD6000 Refrigerant Leak Detector Smart Plus |
| 510-128 | HLD6000 Refrigerant Leak Detector R600a/R290 Plus |
| | |
| --- | --- |
| 511-045 | SNIFFER LINE FOR HLD 6000, CO2 |
| 511-047 | SNIFFER LINE FOR HLD 6000, SMART |
| 511-147 | Sniffer Line for HLD6000 Smart Plus |
| 511-048 | SNIFFER LINE FOR HLD 6000, R600a/R290 |
| 511-148 | Sniffer Line for HLD6000 R600a/R290a Plus |
| 560-310 | I/O 1000 module |
| 560-315 | BM1000 Profibus module |
| 560-316 | BM1000 PROFINET IO module |
| 560-317 | BM1000 DeviceNet module |
| 560-318 | BM1000 Ethernet/IP module |
| 560-332 | Data Cable 2 m |
| 560-335 | Data Cable 5 m |
| 560-340 | Data Cable 10 m |
| 511-021 | Sniffer tip 100mm HLD5000 |
| 511-024 | Sniffer tip 400 mm |
| 511-022 | Sniffer tip, 400mm, prebent, 45°, |
| 511-020 | Extension tip 400mm |
| 511-029 | Extension for sniffer tip 45° |
| 511-025 | Water protection tip |
| 511-040 | Extension for probe cable |
| 511-042 | Adapter for CO2 calibration |
| | |
| --- | --- |
| 511-027 | Set of tip filter holders,20pcs |
| 511-018 | Set of filter cartridges,20pcs |
| 511-010 | Replacement COOL-CHECK leak |
The product is used in the following markets