Ecotec® E3000
Multigas Leak Detector
Ecotec® E3000
Setting New Standards for Sniffer Leak Detection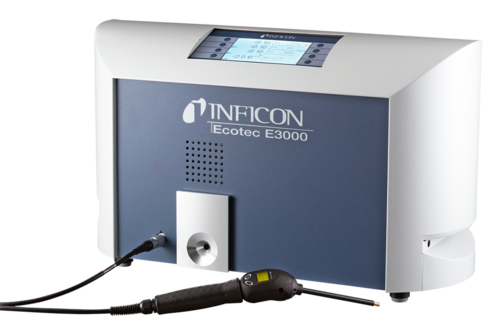 Product configurator
Gemini™ MxG5xx
Flange connection to vacuum chamber
Your configuration has been successfully sent!
The INFICON Ecotec E3000 multi-gas leak detector is bringing new levels of productivity and reliability to the final leak testing of refrigerators, freezers, automotive air conditoners and similar products.
Leaks that are not found increase your warranty costs. False alarms increase your rework costs. Therefore, improving the accuracy and reliability of your testing operation will provide immediate cost savings.
The Ecotec E3000 leak detector is specifically designed for demanding production environments. Numerous features make it easy and comfortable to use while making it more immune to careless operation and minimizing operator errors. It is also fast, to make the best use of your available cycle time. Innovative design and robustness keep the cost of ownership down and ensure very high up-time.
Advantages
Improved system design compensates for poor sniffing operation reducing the potential for missed leaks.
IGS (Interfering Gas Suppression) ensures only leaks are detected.
Built-in ECO-Check reference leak allows for easy and fast calibration at the production line at any time.
Multiple alarms make sure leaks can not be overlooked.
I-Guide (operator-guiding mode) ensures your operator tests the right locations with the right technique.
Unit can be operated via the probe display and probe buttons without access to the main unit.
Built-in illumination source on the probe helps precisely position the sniffer tip.
Ergonomic probe design allows for easy and comfortable use.
Operating software is available in many languages.
Specifications
| | |
| --- | --- |
| Min. detectable leak rate for | |
| Helium | 1E-6 mbarl/s |
| R600a | 0.05 g/a (0.002 oz/yr) |
| | |
| Response time incl. sniffer line | 0.8s |
| | |
| Max No. of gases detected simultaneously | 4 |
| | |
| Gas flow | 160 sccm |
Part Number
Accessories
Consumables
| | |
| --- | --- |
| 525-200 | IC1000 Interface Adapter |
| 530-001 | Leak detector EcotecE3000, 230V |
| 530-002 | Leak detector Ecotec E3000, 115 V |
| 530-101 | Ecotec E3000A, 230V, Aviation package |
| 530-102 | Ecotec E3000A, 115V, Aviation package |
| 530-103 | Ecotec E3000, RC, Multi Gas LD, 230V |
| 530-104 | Ecotec E3000, RC, Multi Gas LD, 115V |
| | |
| --- | --- |
| Part Number | Description |
| | |
| 12209 | Sniffer tip FT600, 600mm, flexible |
| 12215 | Sniffer tip ST385, 385mm, rigid |
| 12216 | Sniffer tip FT385, 385mm, flexible |
| 12218 | Sniffer tip ST200, 200mm, rigid |
| 12246 | Water protection tip for SL3000 |
| 12266 | Sniffer tip FT250, 250mm, flexible |
| 525-001 | SL3000-3, sniffer line 3 m length |
| 525-200 | IC1000 Interface Adapter |
| 525-002 | SL3000-5, sniffer line 5 m length |
| 525-003 | SL3000-10, sniffer line 10 m length |
| 525-004 | SL3000-15 sniffer line 15m length |
| 525-008 | Snifferline SL3000EX 10m |
| 525-009 | Snifferline SL3000EX 5m |
| 12272 | Sniffer tip, rigid, 500 mm. 45°angled |
| 551-100 | Control unit, desktop version |
| 551-101 | Display unit, rack installation |
| 551-102 | Cable 5 m for 551–100 |
| 551-103 | Connecting cable, ext. Control unit, 0.7 |
| 12213 | Sniffer Tip ST 312,120mm rigid |
| 12214 | Sniffer tip FT312, 120mm flexible |
| 525-005 | customer sniffer line adapterE3000/P3000 |
| 525-006 | Holder for sniffer line SL3000 |
| 525-007 | Cover for reference leak port |
| | |
| --- | --- |
| Part Number | Description |
| | |
| 12220 | Refrigerant Test Leak R134a, 2-5g/a |
| 12221 | Refrigerant Test Leak R600a, 2-5g/a |
| 12222 | Refrigerant Test Leak R404a, 2-5g/a |
| 12227 | Refrigerant Test Leak R152a, 2-5g/a |
| 12228 | Refrigerant Test Leak R407c, 2-5g/a |
| 12229 | Refrigerant Test Leak R410a,2-5g/a |
| 12231 | Refrigerant Test Leak R290,7-8g/a |
| 12232 | Refrigerant Test Leak CO2, 2-3.5g/a |
| 12235 | Refrigerant Test Leak R-1234 YF, 2-5 g/a |
| 12240 | Refrigerant Test Leak R134a,10-12g/a |
| 12241 | Refrigerant Test Leak R600a,15-18g/a |
| 12242 | Refrigerant Test Leak R404a,14-17g/a |
| 12275 | Refrigerant Test Leak R744 (CO2), 10-14g/a |
| 12301 | Refrigerant Test Leak R1234ze, 2-5 g/a |
| 12305 | Refrigerant Test Leak R452A, 2-5 g/a |
| 12321 | Refrigerant Test Leak R454C, 2-5 g/a |
| 12324 | Refrigerant Test Leak R513A, 2-5g/a |
| 531-001 | ECO-CHECK, R134 |
The product is used in the following markets