Quantus® LP100
Optical Gas Analyzers
Quantus® LP100
Real-time Endpoint Detection and Leak Detection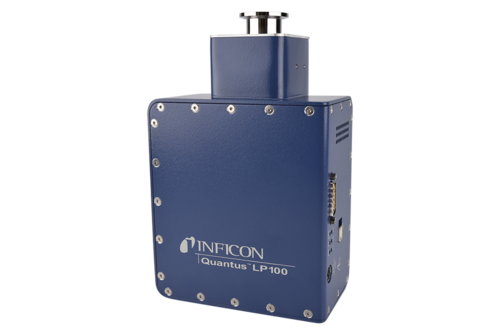 Product configurator
Gemini™ MxG5xx
Flange connection to vacuum chamber
Your configuration has been successfully sent!
The INFICON Quantus LP100 Gas Analyzer provides real-time leak detection and endpoint detection for your critical process environments. Many processes are sensitive to leaks or require endpoint detection.
The Quantus LP100 is a gas analyzer that is designed to react to small changes in sensitive process environments in real-time so that scrap is minimized and yields are improved.
Features
Convenient field-replaceable plasma cell
Easy installation using a standard KF25 connection
Low maintenance
Excellent detection limits down to low ppm levels
Operating range of 10 mTorr to 1 Torr
Long-term reliability: no pumps required
Low cost of ownership
Fast 10 Hz sampling frequency
Small footprint: (H x W x L) 87 x 151 x 241 mm (3.4 x 5.9 x 9.5 in.)
Support by experienced field-trained INFICON Engineers
Specifications
| | |
| --- | --- |
| Operating pressure | 0.01 to 1 Torr (application dependent) |
| | |
| Spectrometer performance | 200 to 850 nanometer wavelengths (UV-VIS) 16-bit full-scale resolution, 2048 pixels |
| | |
| Detection limit | To low ppm levels (application dependent) |
| | |
| Exposure time | Minimum of 1 ms |
| | |
| Vacuum fitting | KF25 |
Download full specifications
The product is used in the following markets