LDS3000
Helium Leak Detector
LDS3000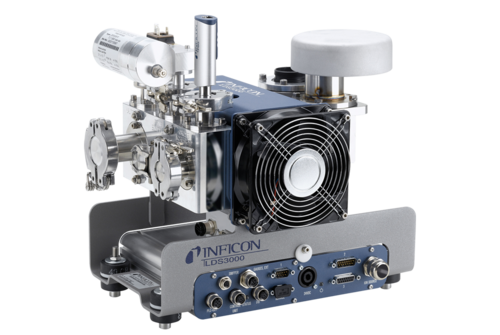 Product configurator
Gemini™ MxG5xx
Flange connection to vacuum chamber
Your configuration has been successfully sent!
Compact Performance at the Highest Level
With the LDS3000 leak detector, INFICON is opening a new chapter in the success story of leak testing systems. The successor to the LDS2010 is setting new standards for accuracy, reproducibility of measurement results and speed of leak testing.

The LDS3000 is extremely compact. The small dimensions, 13 X 9.45 X 11.1 in. (330 X 240 X 280 mm), make it even easier to integrate it into leak testing systems. More importantly, the space requirements and installation expense have been reduced even further by dispensing with a 19" control module and improving the cabling considerably. In addition, there is an optional touch screen for easy operation and an optional field bus connection.
The LDS3000 is also available as LDS3000 AQ for the use in accumulation systems. The LDS3000 product family is the most versatile solution for automated testing sytems.
INFICON also offers a wide variety of calibrated test leaks for almost every application. To simplify and speed up the order process, please use the Order Form for customized calibrated leaks for testing system.
Features
Compact design allows individualized, custom integration into leak detection systems
Communicative diversity through a wide range of analog and digital interfaces
Considerably improved cabling
Fast, optimized response times with I·CAL
LDS2010 compatibility mode
The new, patented routine allows calibration of the LDS3000 leak detector within 20 seconds.
Advantages
More Compact And Easier To Integrate
Optimizing space requirements and installation costs – that is the fine art of systems engineering. Small dimensions, a significantly more compact design and improved cabling are the LDS3000 leak detector's answer to these challenges for leak testing systems. Its performance is not only better than its predecessor the LDS2010 leak detector, but is so much more compact in its design that integration into leak testing systems is easier and more flexible. In addition, there are individualized, custom configuration possibilities such as touch screen operation or connection to field bus systems, which are available as an option.

Communicative Diversity
The LDS3000 leak detector includes a wide range of analog interfaces, as well as a variety of digital interfaces. RS232, RS485, USB and optional Profibus a variety of users'needs.

High Reliability
The LDS3000 leak detector provides both high throughput rates and great quality and reliability. Downtimes and frequent maintenance are a thing of the past. Calibration times of 20 seconds are especially fast, but are seldomly needed. Leak rates of up to 1 x 10-11 mbar l/s are detected in less than 1 second.
Typical Applications
Airbag parts
Evaporators, condensers, compressors
Valves
Brake lines, fuel lines
Hydraulic components
Engines
Specifications
Min. detectable leak rate for Helium "ULTRA"-Mode
mbar•L/s
<1E-11
Min. detectable leak rate for Helium "FINE"-Mode
mbar•L/s
<5E-11
Min. detectable leak rate for Helium "GROSS"-Mode
mbar•L/s
<1E-9
Min. detectable leak rate for Helium "Sniffer"-Mode
mbar•L/s
<1E-7
Measuring units
mbar•L/s, Pa•m³/s, Atm cm³, g/a, ppm
Max. inlet pressure "ULTRA"-Mode
mbar
0.2
Max. inlet pressure "FINE"-Mode
mbar
0.9
Max. inlet pressure "GROSS"-Mode
mbar
18
Response time
s
<1
Digital inputs/outputs (if used with IO1000 Modul)
10 inputs / 8 outputs
Control input
V
max. 35 (PLC compatibel)
Ion Source
2 yttrium/iridium long-life cathodes (3 years guarantee)
lin/log recorder output
V
0-10
Serial interface (with IO1000 / BM1000)
RS232, RS485, Fieldbus
Dimensions (L x W x H)
mm
in
330 x 240 x 280
13 x 9.45 x 11.1
Ambient temperature range
C
F
10 - 45
50-113
Vacuum connections
DN 16 KF, DN 25 KF
For the operation of the LDS3000 leak detector you need as basis one data cable and a IO1000 Module or BM1000-Modul
Part Number
Accessories
Spare Parts
| | |
| --- | --- |
| 560-300 | LDS3000 Leak Detector (additionally 1 data cable and a I/O-Module or BM1000-Module needed) |
| 560-310 | I/O 1000 module |
| 560-315 | BM1000 Profibus module |
| 560-316 | BM1000 PROFINET IO module |
| 560-317 | BM1000 DeviceNet module |
| 560-318 | BM1000 Ethernet/IP module |
| 560-320 | CU1000 Control unit (additionall 1 data cable needed) |
| 560-332 | Data Cable 2 m |
| 560-335 | Data Cable 5 m |
| 560-340 | Data Cable 10 m |
| | |
| --- | --- |
| Part Number | Description |
| | |
| 14511 | Pump module, D4B, AC motor, 230 V |
| 14520 | Sniffer valve |
| 14521 | Sniffer line, 3m |
| 14522 | Sniffer line, 5m |
| 14523 | Sniffer line, 10m |
| 560-319 | XL Sniffer Adapter |
| 560-320 | CU1000 Control unit (additionall 1 data cable needed) |
| 560-323 | Internal Helium Test Leak TL7 for LDS3000 |
| 560-324 | DIN Rail Power supply 24v, 10A |
| 560-330 | Membrane pump, 4-stages ( Recommendet to use with XL Sniffer Adapter) |
| | |
| --- | --- |
| Part Number | Description |
| | |
| 20004642 | Replacement Sniffer tip, 400 mm |
The product is used in the following markets