Stripe® CDG100Dhs
Capacitance Manometers
Stripe® CDG100Dhs
100°C temperature controlled, full scale 0.1 … 1000 Torr / mbar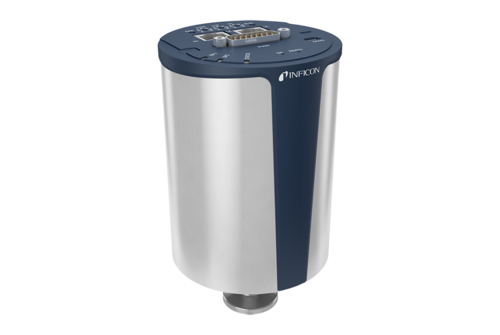 Product configurator
Gemini™ MxG5xx
Flange connection to vacuum chamber
Your configuration has been successfully sent!
INFICON Stripe high-speed Capacitance Diaphragm Gauges are the fastest, highly accurate vacuum measurement instruments available. With a less than 2 ms response time combined with the EtherCAT fieldbus interface it opens up a total new field of applications.
The proven temperature controlled, corrosion resistant, ultra-pure ceramic sensor provides superior span stability over many years paired with state-of-the-art zero stability. Stripe comes with the INFICON patented unique sensor shield which protects the gauge from undesired process by-products.
INFICON Stripe using an innovative heating concept, which provides a cool to the touch surface, and its unique speed capabilities,enabling an unprecedented productivity increase, making it the most advanced vacuum instrument of its kind.
Advantages
High productivity – Faster than 2 ms response time
Flexible integration – EtherCAT fieldbus
Long lifetime – Proven ceramic sensor
Forget recalibration – 90 ppm/year full scale stability
Typical applications
Atomic layer deposition
High speed process control
PVD, CVD, Etch
General high temperature vacuum applications
Specifications
1000 ... 500 Torr / mbar
200 ... 1 Torr / mbar
0.5 ... 0.1 Torr / mbar
| | | |
| --- | --- | --- |
| Accuracy | % of reading | 0.2 |
| | | |
| Resolution | percent FS | 0.003 |
| | | |
| Output signal (analog) | V (dc) | 0 … +10 |
| | | |
| Response time | ms | 2 ... 20 |
| | | |
| Materials exposed to vacuum | | Aluminum oxide ceramic (AI2O3), stainless steel (AISI 316L) |
| | | |
| | | |
| --- | --- | --- |
| Accuracy | % of reading | 0.2 |
| | | |
| Resolution | percent FS | 0.003 |
| | | |
| Output signal (analog) | V (dc) | 0 … +10 |
| | | |
| Response time | ms | 2 ... 20 |
| | | |
| Materials exposed to vacuum | | Aluminum oxide ceramic (AI2O3), stainless steel (AISI 316L) |
| | | |
| | | |
| --- | --- | --- |
| Accuracy | % of reading | 0.4 |
| | | |
| Resolution | percent FS | 0.003 |
| | | |
| Output signal (analog) | V (dc) | 0 … +10 |
| | | |
| Response time | ms | 2 ... 20 |
| | | |
| Materials exposed to vacuum | | Aluminum oxide ceramic (AI2O3), stainless steel (AISI 316L) |
| | | |
Download full specifications
Part Number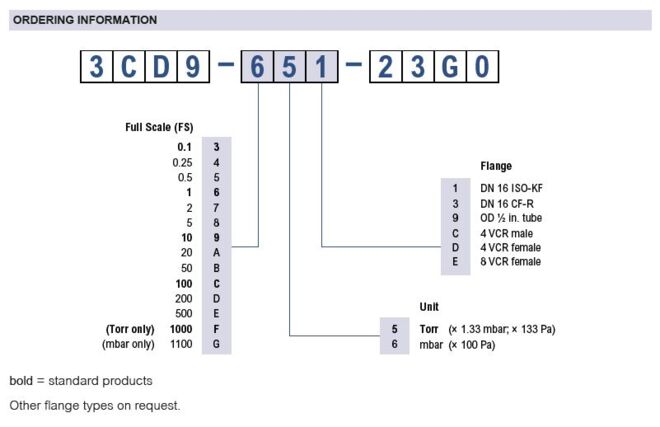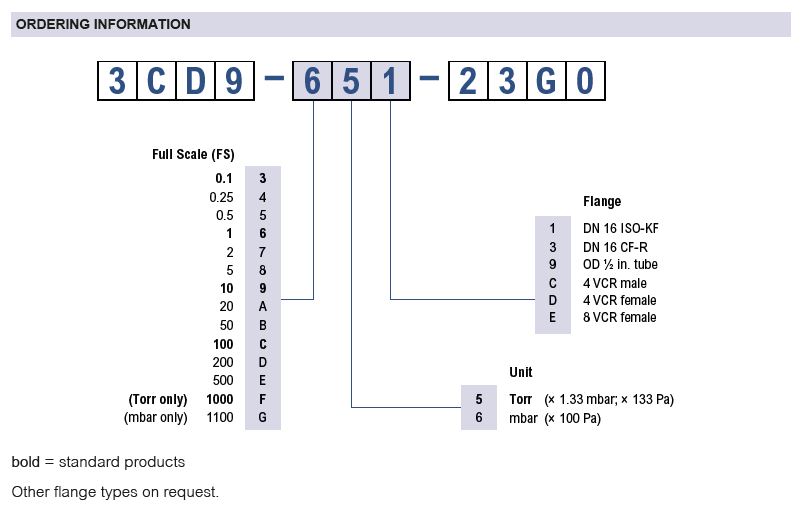 The product is used in the following markets