Spot™ CDS500D
Capacitance Manometers
Spot™ CDS500D
Full scale 10 … 1000 Torr / mbar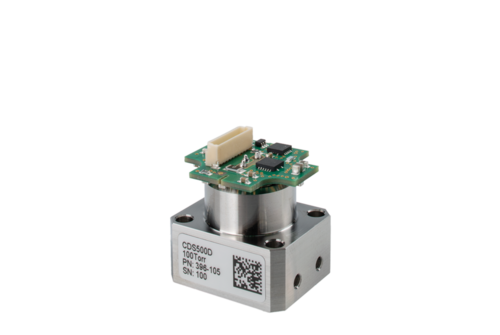 Product configurator
Gemini™ MxG5xx
Flange connection to vacuum chamber
Your configuration has been successfully sent!
The Spot CDS500D ceramic capacitance diaphragm sensor is designed for integration into the limited space in your specific vacuum instruments and systems.

The miniature sensor offers a high accuracy, is corrosion resistant as the alumina ceramic cell and a weldable stainless steel feedthrough are all alumina coated. The sensor electronics provides a digital SPI interface for easy integration.

The sensor features a fast data cycle time for instant response to pressure changes, outstanding repeatability and long-term stability.
Advantages
Miniature Alumina (Al2O3) ceramic coated capacitance diaphragm sensor is highly corrosion resistant with UHP compliant wetted surface
Excellent repeatability and long-term stability
Weldable feedthrough for custom integration and calibration, or welded custom flange for integration of factory calibrated sensor
Sensor electronics with SPI interface for easy integration
Fast response time
High overpressure capability
Typical applications
For integration into custom vacuum instrumentation and systems
The product is used in the following markets