PSG010, PSG017 & PSG018
Pirani Gauges
PSG010, PSG017 & PSG018
Pirani passive gauge heads for VGC094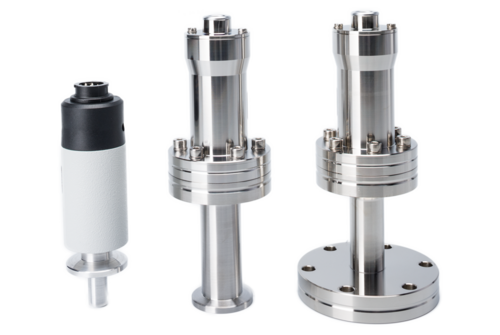 Product configurator
Gemini™ MxG5xx
Flange connection to vacuum chamber
Your configuration has been successfully sent!
The gauge heads PSG010, PSG017 and PSG018 are long-established passive Pirani gauges intended to operate with the Vacuum Gauge Controller VGC094. They are designed for vacuum measurement of gases in the pressure range of 8×10-4 to 1000 mbar. The compact metal design provides a robust solution suitable for general vacuum applications.
While PSG010 is suited for general vacuum applications, PSG017 and PSG018 respond to needs of demanding applications requiring bake-out temperature up to 250 °C or high ionizing radiation resistance, thanks to a metal sealing design. PSG017 has a Nickel filament suitable for corrosive media applications.
Advantages
Elastomer (PSG010) or metal-sealed (PSG017, PSG018) design
Specified high measurement accuracy and repeatability
Bake-out temperature up to 100 °C (PSG010) / 250 °C (PSG017, PSG018)
Ionizing radiation resistant up to 106 Gy (PSG017, PSG018)
Corrosion resistance with Ni filament (PSG017)
Cable length up to 100 m (500 m with PI 300 DL/CP 300 T11L)
Typical applications
General vacuum measurement and control for demanding and/or high temperature applications from low to the high vacuum range
Operating Units
Vacuum Gauge Controller VGC094
The product is used in the following markets