Easy Rate Sensor Feedthroughs
Sensors & Feedthroughs
Easy Rate Sensor Feedthroughs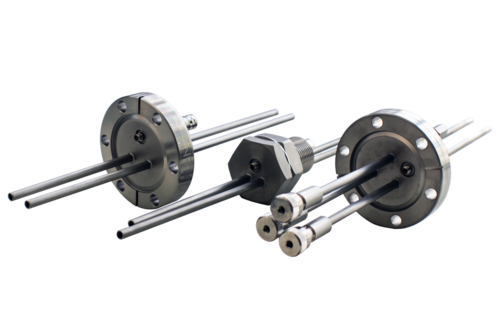 Product configurator
Gemini™ MxG5xx
Flange connection to vacuum chamber
Your configuration has been successfully sent!
INFICON offers a variety of Quartz Crystal Monitor (QCM) sensor feedthroughs to accommodate the Easy Rate Sensors. CF40 (2.75 in. ConFlat®) and 2.54 cm (1 in.) bolt style feedthroughs are available with various combinations of electrical connections, water cooling, and air tubes.
INFICON feedthroughs designed specifically for the Easy Rate Sensors may also be optionally equipped with bored-through tube fittings for easily installing user-customized sensor lengths.
A typical feedthrough electrical connection consists of a coaxial BNC connector on the atmosphere side and a Microdot® connector on the vacuum side. This style of electrical connection is meant for use with the in vacuum cables ordered with or in addition to the Easy Rate Sensors.

Note: Water adapter tubes on the feedthroughs have a 6.35 mm (1/4 in.) outer diameter (OD) and are accepting of a 4.8 mm (3/16 in.) OD tube.

The following table is a quick reference for feedthrough requirements and part numbers based on sensor type.
Features
2.54 cm (1 in.) bolt or CF40 (2.75 in. ConFlat®) styles available
Available with bored-through tube fittings
The product is used in the following markets