Modul1000
Helium Leak Detector
Modul1000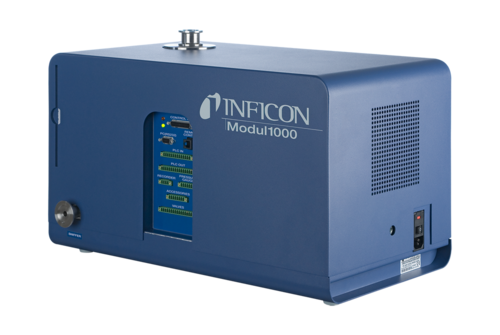 Product configurator
Gemini™ MxG5xx
Flange connection to vacuum chamber
Your configuration has been successfully sent!
Helium Leak Testing with a reliable, intelligent and repeatable platform, Optimize your production.
The Modul1000 is a plug-and-play helium leak detector for universal integration into industrial leak testing systems (vacuum or sniffer mode). With flexible vacuum architecture, the Modul1000 provides the adaptability to accommodate changes in production specifications.
INFICON offers a wide variety of calibrated test leaks for almost every application demand.
To simplify and speed up the order process, please use the Order Form for customized calibrated leaks for system application.
Features
Compact design for easy integration in benchtop or rack systems
Plug & play installation; flexible interfaces
Wide range detection system: from 0.1 to < 5 x 10-12 mbar l/s
Supports any size of foreline pump
Software algorithm I.CAL provides accurate test results in all measurement ranges
Wide range power supply
Integrated test leak
Flexible control via optional display unit, remote control, PLC or PC
Self-diagnostics capability
Storage of parameter settings for easy data transfer on an integrated, removable I.STICK
Advantages
Reliable for maximum uptime
The Modul1000 provides maximum measurement stability and ambient conditions isolation for repeatable measurement over long periods of time in changing conditions. The ion source filament is designed for long life and is supported with a 3-year replacement guarantee to minimize costly unscheduled downtime and maintenance expenses.

Intelligent Design improves measurement certainty
The software algorithm I.CALTM provides accurate measurements at unsurpassed speed in all measurement ranges. This enables the Modul1000 to recognize and communicate the true leak rate faster. To facilitate unit exchange, user setups are stored in the removable I.Stick for easy, fast parameter transfer.The Modul1000 offers flexible inputs and status outputs for PLC control. Additionally, control and data acquisition is available via the RS232 communication port. The optional display unit supplies easy operation through an intuitive menu structure and software

Easy setting of automated procedures
Implemented software functions allow direct valve control of test systems without the need for an additional PLC.
Typical Applications
Evaporators, condensers, compressors
Valves
Brake lines, fuel lines
Hydraulic components
Engines
Specifications
Min. detectable leak rate "Vacuum"-Mode
mbar•L/s
<5E-12
Min. detectable leak rate "Sniffer"-Mode
mbar•L/s
<5E-8
Max. inlet pressure
mbar
0.4, 3 mbar for Modul1000b
Operational Mode
wide range without crossover (12 decades)
Helium pumping speed at inlet
L/s
2.5, 0.1 (Modul1000b)
Ion Source
2 longlife iridium filaments, Ytrium-oxide coated
Start-up time
min
<3
Inlet port / fore-vacuum port
'DN 25 KF
Power supply
V
100-240, Hz 50/60
Control inputs
V
max. 35 (8xPLC compatible)
Status / Valve control / Trigger outputs
9 / 11 / 3 x relay contacts (max. 60 V AC / 25 V DC / 1 A)
Chart recorder output lin/log
V
2 x 0 - 10 (programmable)
Recommended fore-vacuum pump
m³/h
2.5 - 16 (wet or dry)
Dimensions (W x D x H)
mm
in
535 x 350 x 339
21.1 x 13.8 x 13.4
Weight
kg
lb
30
66
| | |
| --- | --- |
| 550-300A | ULTRATEST Modul1000,Helium leak detector |
| 550-310A | Leak detector Modul1000, V and S |
| 550-330A | ULTRATEST MODUL1000b,LD w/sniffer |
| | |
| --- | --- |
| Part Number | Description |
| | |
| 14005 | SL200, Sniffer Probe for UL1000/5000 Modul1000, 4m length |
| 14022 | Extension cable for remote control RC1000, 8 m length |
| 551-005 | TC1000Test Chamber,DN25KF,ESD wrist band |
| 551-010 | Remote Control RC1000C, wired, with 4m coiled cable |
| 551-015 | Remote Control RC1000WL, wireless, incl. wireless transmitter |
| 551-020 | Wireless transmitter for RC1000WL |
| 551-100 | Control unit, desktop version |
| 551-101 | Display unit, rack installation |
| 551-102 | Cable 5 m for 551–100 |
| 551-103 | Connecting cable, ext. Control unit, 0.7 |