ELT3000 PLUS
Electrolytes
ELT3000 PLUS
ELT3000 PLUS electrolyte leak detector sets new standards for inline testing in automated high-speed battery production lines and ensures non-destructive battery leak testing of liquid electrolyte-filled battery cells of all formats.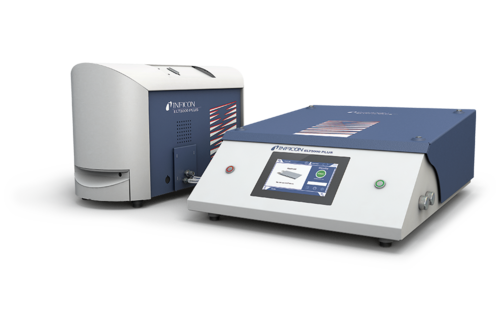 Product configurator
Gemini™ MxG5xx
Flange connection to vacuum chamber
Your configuration has been successfully sent!
Precise down to micrometer, highly sensitive and significantly faster
From powering electric and fuel cell vehicles to powering mobile communication devices, power tools and medical equipment, metal-ion batteries, like lithium-ion, sodium-ion or even aluminium-ion batteries, are essential to our everyday lives. That's why it's just as important to prevent metal-ion battery leakage as it is to prevent moisture ingress from any leaks to ensure safety, longevity and reliability.
Detecting lithium-ion battery leaks down the micrometer range
With the ELT3000 PLUS Battery Electrolyte Leak Detector, INFICON offers a unique, non-destructive leak testing solution for all metal-ion battery cells, including fragile pouch cells. It is the only system that detects electrolyte leakage directly, rather than through indirect parameters (like pressure changes). Based on mass spectrometer technology, it can find leaks down to the micrometer range, up to 1,000 times smaller than the ones found with traditional pressure test methods.
Automating the process for high throughput end-of-line testing
The modular design and modern field bus interfaces make it easy to integrate the ELT3000 PLUS into your automated processes. Short cycle times, customized test chambers and optional batch testing of several battery cells at a time ensure high throughput end-of-line testing. Testing results are recorded for full traceability and can be handed over to a QM system automatically.
Advantages at a glance
High-speed throughput due to short measurement times and simultaneous testing
Integration capability in automated production lines due to a large selection of interfaces
Quality through innovative end-of-line testing
High operational readiness due to integrated gross leak detection: ELT3000 PLUS is protected from severe contaminations
Universally capable
Inline mode for easy integration into automated processes
Stand-alone mode for manual operation, such as in battery development or pilot projects
Standard, customized chamber for manual operation
Intuitive operation, no time-consuming training required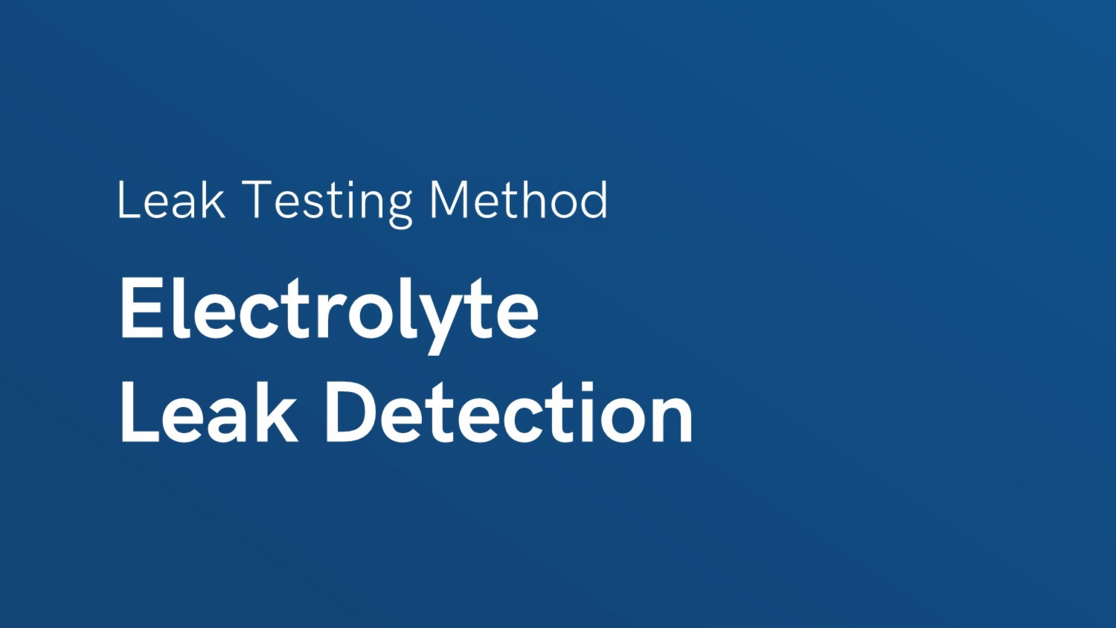 Typical Applications
Markets
Automotive
3C (Computing, Communication, Consumer Electronics Industry)
Manual or automated leak testing of lithium-ion battery cells
Soft pouch cells
Prismatic cells
Round cells
Coin cells / button cells
Specifications
| | |
| --- | --- |
| Smallest detectable leak rate | 5x10-7mbar·l/s (Helium equivalent leak rate) |
| | |
| Measuring range | 3 Decades |
| | |
| Detection sensor | Quadropole mass spectrometer (2 cathodes) |
| | |
| Serial interfaces | USB 2.0; M12 (for connection I/O1000); RJ45 (network connection) |
Part Number
Accessories
Consumables
| | |
| --- | --- |
| 600-201 | ELT3000 PLUS Battery Leak Detector, 230 V, 50 Hz |
| 600-202 | ELT3000 PLUS Battery Leak Detector, 115 V, 60 Hz |
| | |
| --- | --- |
| 600-100 | TC3000S rigid chamber (180mm x 180mm x 27 mm) |
| 600-101 | TC3000L rigid chamber (400mm x 210mm x 120mm) |
| 600-102 | FTC3000, flexible chamber (400mm x 350 mm) |
| 560-310 | I/O 1000 module |
| 560-315 | BM1000 PROFIBUS module |
| 560-316 | BM1000 PROFINET IO module |
| 560-317 | BM1000 DeviceNet module |
| 560-318 | BM1000 Ethernet/IP module |
| 560-332 | Data Cable 2 m |
| 560-335 | Data Cable 5 m |
| 560-340 | Data Cable 10 m |
| | |
| --- | --- |
| 600-105 | E-Check Calibration Leak |
The product is used in the following markets