Complete Gas Injection Kit
Tracer Gas Filler
Complete Gas Injection Kit
Complete Gas Injection Kit for the Extrima, Ex-certified Hydrogen Leak Detector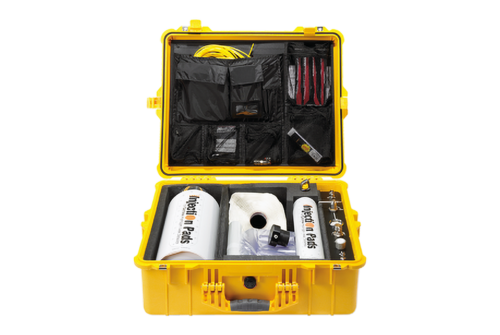 Product configurator
Gemini™ MxG5xx
Flange connection to vacuum chamber
Your configuration has been successfully sent!
The Complete Gas Injection Kit is an accessory to the Extrima, Ex-certified Hydrogen Leak detector, for injecting tracer gas into fuel leaks during maintenance of aircrafts. The kit includes a complete set of accessories that you need for efficient leak detection in many different kind of situations, all delivered in a smart and heavy-duty transport case. The equipment includes Injection Pads, Injection Fix Kit and Injection Panel which incorporates a certified leak for calibration of the detector.
Accessories included (or offered separately) in the Complete Gas Injection Kit:
Injection Pads
During leak detection the Injection Pads are used to inject tracer gas via the leak exit point. When the gas has been injected, the Ex-certified leak detector Extrima is recommended for pin-pointing the leak on the fuel system. The pads are available in sizes Small (60 mm) and Large (150 mm).

Injection Fix Kit
When fuel leaks are found in tricky places, the Injection Fix Kit allows for adapting the injection tool to a specific situation. The kit includes PVC tubes, cutter, aluminum tape, injection plug, mylar film and sealant tape.

Injection Panel
The Injection Panel is the complete Gas Injection Kit without the Injection Pads and the Injection Fix Kit.
Features
Accessory to the Extrima, Ex-certified Hydrogen Leak Detector
Includes Injection Pads which are used to inject tracer gas via the leak exit point
Includes the Injection Fix Kit, the easiest way to find leaks when they are located on uneven surfaces
Includes the Injection Panel, for easy tracer gas injection from bottle to Injection Pads, check the pressure and that your instrument is calibrated
The Injection Pads, Injection Fix Kit and the Injection Panel can also be delivered separately
Advantages
Makes back tracing aircraft fuel leaks controlled and efficient
Can be operated by one operator
Includes all you need between the tracer gas bottle and the leak
Helps keep your detector calibrated
Delivered in a durable and heavy-duty transport case
Part Number
| | |
| --- | --- |
| 590-621 | Complete Gas Injection Kit (incl. Injection Panel, Injection Fix Kit and Injection Pads) |
| 590-619 | Injection Panel, for easy gas injection from bottle to Injection Pad |
| 590-618 | Injection Fix Kit, for injecting tracer gas to leaks on uneven surfaces |
| 590-616 | Injection Pads Large, 150 mm, 10 pcs (for filling tracer gas into fuel tanks) |
| 590-615 | Injection Pads Small, 60 mm, 10 pcs (for filling tracer gas into fuel tanks) |