Compass®
Refrigerant Leak Detector
Compass®
A new direction in features, function and value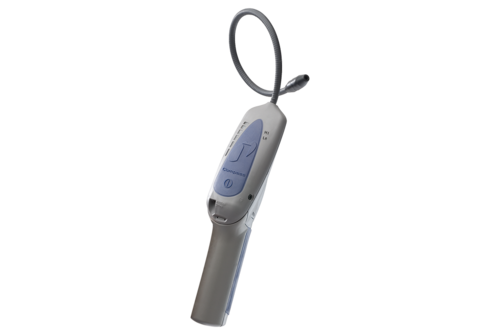 Product configurator
Gemini™ MxG5xx
Flange connection to vacuum chamber
Your configuration has been successfully sent!
Integral to Compass is the INFICON heated diode sensor technology, delivering outstanding sensitivity to all refrigerants yet resisting jobsite contaminants such as dust, dirt and oil.

For maximum versatility and ease of use, Compass has features such as rechargeable batteries, the ability to operate on AC power, adjustable high/low sensitivity and a series of LED leak indicators. The ergonomic design with rubberized grip fits your hand perfectly for comfortable, secure operation.
Features
Runs on NiMH batteries or AC adapter
Headphone jack
Made in USA
2-year over-the-counter replacement warranty
Advantages
Heated diode sensor provides excellent sensitivity
Detects R22, R134a, R404a, R410a, R448a, R507 (AZ-50), R32, HFO1234yf, and all other CFCs, HCFCs, HFCs, and HFOs
Automatic background adjustment ("zeroing")
Intuitive, easy one button operation
Power indicator shows when battery is low
Specifications
| | |
| --- | --- |
| Base unit includes | Sensor, NiMH battery, spare filters, wall charger, 12 V car charger, hard plastic carrying case |
| | |
| Minimum sensitivity | 0.15 oz/year (4 g/a) |
| | |
| Power source | NiMH battery, AC adapter |
| | |
| Certifications | CE marking per safety and EMC |
Download full specifications
| | |
| --- | --- |
| 717-202-G1 | Compass,115V US adapter, English manual |
| | |
| 717-202-G4 | Compass, 100V Japanese adapter, Japanese manual |
| | |
| 717-202-G6 | Compass, 230V Euro adapter, English manual |
| | |
| | |
| --- | --- |
| 703-020-G1 | Replacement Sensor |
| | |
| 712-700-G1 | Spare Power Stick (batteries) |
| | |
| 717-701-G1 | Replacement filters and probe cap |
| | |
The product is used in the following market