Calibration Leaks for System Integration
Calibration Leaks
Calibration Leaks for System Integration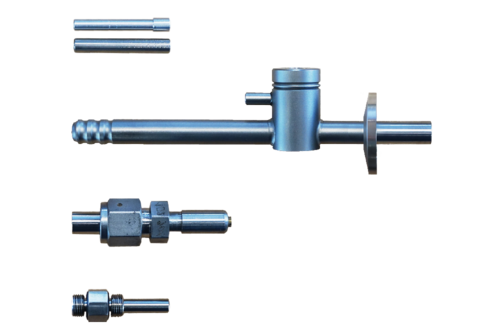 Product configurator
Gemini™ MxG5xx
Flange connection to vacuum chamber
Your configuration has been successfully sent!
Manufacturers of helium leak testing systems require
calibrated leaks of various sizes with individually adjusted
leak rates for the purpose of setting up and calibrating their systems.
Depending on the type of application, these calibrated
leaks are either installed in the test sample as a master leak or are installed in the test chamber itself.
INFICON offers calibrated leaks which are capable of meeting the requirements
concerning type and required leak rate.

These types of calibrated leaks are only available on request. Please use the
Order Form on the webpage www.inficon.com/lof to get a feedback about
feasibility and to get all important information for the order.
Advantages
Various types adapted to different customer requirements
Simple to operate
Easy to install
Ideal installations dimensions
All calibration leaks are supplied with a factory certificate indicating their leak rate
Typical Applications
As a master calibration leak built directly into the test sample
Directly installed to the test chamber
Use as a calibration leak for sniffer applications
Part Number
| | |
| --- | --- |
| 14300 | Calib leak,screw-in sleeve 5mm |
| 14304 | Calibration leak, Pin type casing and VCO fitting |
| 14308 | Calibration leak, pin-type casing and hose nozzle |
| 14312 | Calibration leak, cylindrical casing and VCO fitting |
| 14316 | Calibbration leak, screw-in sleeve 6mm |
| 14320 | Calibration screw-in leak |
| 15565 | Calibration leak, pin-type casing and hose nozzle, TL4 |
| 15566 | Calibration leak, pin-type casing and hose nozzle, TL6 |
The product is used in the following market