Solid Phase Microextraction (SPME) Sampling System
Accessories
Solid Phase Microextraction (SPME) Sampling System
Identify an Expanded Range of Chemicals in Hard to Reach or Dangerous Environments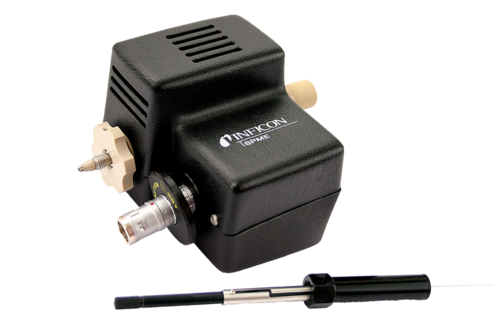 Product configurator
Gemini™ MxG5xx
Flange connection to vacuum chamber
Your configuration has been successfully sent!
The Solid Phase Microextraction (SPME) Sampling System expands the chemical identification capabilities of the field-proven, person-portable HAPSITE ER Chemical Identification System.
Small and lightweight, SPME technology maximizes sampling opportunities in hard to reach or dangerous areas for actionable results on-scene. The accessory is easily attached to the HAPSITE ER universal interface for fast sample analysis utlizing the Gas Chromatograph/Mass Spectrometer (GC/MS) or MS (Mass Spectrometer) only. SPME provides identifiable results in minutes allowing for rapid decisions affecting life, health and safety.
Features
Fast sampling using SPME Survey
Enhanced HAPSITE ER performance with low volatility compounds including V-agents and explosive taggants
Increased portability and mobility
Numerous fibers can be brought to the field for sampling and analyzed at a central location
Samples flammable and explosive materials as well as various unknown compounds
Quickly and easily attaches to HAPSITE ER via the Universal Interface (UI)
Integrates with HAPSITE ER IQ software, for access to NIST and the NIOSH database
Specifications
| | |
| --- | --- |
| SPME Fiber | 23 gauge, various coating options, approx. 50 injections per fiber |
| | |
| SPME Liner | Deactivated stainless steel with intrinsic 2μ particle filter, removable/replaceable |
| | |
| SPME Fiber Seal Life (Typical) | 200 injections |
| | |
| Water Sampling Detection Limits | Trichloroethylene (TCE) low ppb |
| | |
| --- | --- |
| Part Number | Description |
| 934-707-G1 | SPME Spare Parts Kit |
| 934-707-G2 | SPME Sampling Fiber Kit |
| 934-707-G3 | SPME Red Fiber Kit |
| 934-707-G4 | SPME Blue Fiber Kit |
| 934-707-G5 | SPME Black Fiber Kit |
| 934-707-G6 | SPME Fiber Holder Kit |
| | |
| --- | --- |
| Part Number | Description |
| 934-458-P1 | Ship Case, SPME |
| 934-707-G1 | SPME Spare Parts Kit |
| 934-707-G2 | SPME Sampling Fiber Kit |
| 934-707-G3 | SPME Red Fiber Kit |
| 934-707-G4 | SPME Blue Fiber Kit |
| 934-707-G5 | SPME Black Fiber Kit |
| 934-707-G6 | SPME Fiber Holder Kit |
The product is used in the following markets